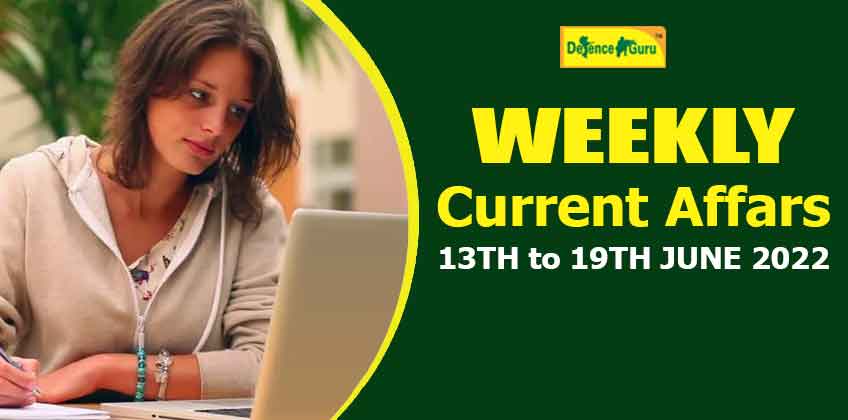 WEEKLY CURRENT AFFAIRS AND STATIC GK ( 13 June to 19 June 2022) FOR NDA ,CDS, MNS, SSB AND ALL COMPETITIVE EXAMS
This article has revision questionnaire on current affairs for you to practice for your exams. Current affairs play an important role in the student life. It will help the students at the crucial time when they want to study for the examinations. Current means recent, day to day life and affairs mean events and issues, etc. Therefore current affairs relate to the day to day incidents and events around us. The growing importance of Current Affairs poses the question on the utility of exerting energy on updating oneself with news. The significance of current affairs is undoubtedly different for different people who fall in different age brackets, pursue different objectives and have different interests. However, it can be stated that all social beings are bound to be affected by Current Affairs in more ways than one.
Now many competitive exams contain questions related to the latest current affairs updates. Apart from the academic knowledge students should know the importance and must be aware of daily current affairs. There are many difficult examinations like NDA, CDS, MNS and various others, in which the students must clear a section based on current affairs which took place in the world. After clearing the exam, even in the interview also they give a situation based ongoing latest current affairs and take your views based on it.
Therefore, reading current affairs and making it a daily habit will be much more useful for all the competitive exams. Make use of practicing quiz on current affairs which like the one published below.
1. Which state government has launched "The Farmer Registration & Unified Beneficiary Information System" or FRUITS software for Aadhar-based, single-window registration for the farmer schemes?
(a) Karnataka (b) Gujarat
(c) Odisha (d) Kerala
Ans - (a) Karnataka
2. Indian government has finalized deals with South Africa and Namibia to introduce cheetahs into the
wild at Kuno Palpur National Park by the end of 2022. Kuno Palpur National Park is located in which state?
(a) Gujarat (b) Uttar Pradesh
(c) Himachal Pradesh (d) Madhya Pradesh
Ans - (d) Madhya Pradesh
3. The twelfth WTO Ministerial Conference took place on 12-15 June 2022 at Geneva, Switzerland.
The Conference has been co-hosted by which country?
(a) Kazakhstan (b) Uzbekistan
(c) Tajikistan (d) Kyrgyzstan
Ans - (a) Kazakhstan
4. Rabab Fatima has been appointed as the Under Secretary General or Assistant Secretary General
of the United Nations. She is the Permanent Representative of which country to the United Nations?
(a) Uzbekistan (b) Saudi Arabia
(c) Bangladesh (d) Lebanon
Ans - (c) Bangladesh
5. Who among the following has recently been awarded honorary Doctorate by Maharashtra"s
HSNC University?
(a) Shiv Nadar (b) Gautam Adani
(c) Mukesh Ambani (d) Ratan Tata
Ans - (d) Ratan Tata
6. India is set to simultaneously launch the first Human Space Mission "Gaganyaan" as well as the
first manned Human Ocean Mission in
__________.
(a) 2023 (b) 2024
(c) 2025 (d) 2026
Ans - (a) 2023
7. Who has won the Azerbaijan Formula One Grand Prix 2022?
(a) Sebastian Vettel
(b) Max Verstappen
(c) Charles Leclerc
(d) Lewis Hamilton
Ans -(b) Max Verstappen
8. Manpreet Kaur broke National record in Inter- State Athletics Meet, Chennai. She is related to
which sports?
(a) Pole vault (b) Javelin Throw
(c) Fencing (d) Shot Put
Ans - (d) Shot Put
9. Name the Indian weightlifter who has won gold medal in 55-kilogram event at IWF Youth World
Championships in Leon, Mexico.
(a) Akanksha Vyavahare
(b) Saanapathi Gurunaidu
(c) Soumya Sunil Dalvi
(d) Vijay Prajapati
Ans - (b) Saanapathi Gurunaidu
10. National Commission for Protection of Child Rights (NCPCR) is celebrating Elimination of
Child Labour Week from 12-20 June 2022. Where is the headquarters of NCPCR?
(a) New Delhi (b) Mumbai
(c) Hyderabad (d) Bengaluru
Ans - (a) New Delhi
11.An Abnormal Titanosaurid Dinosaur Egg has been discovered in which Indian state?
a) Jharkhand b) Gujarat
c) Madhya Pradesh d) Telangana
Ans – c) Madhya Pradesh
12. Which Indian city is sinking at an average rate of 2mm every year?
(a) Kochi (b) Mumbai
(c) Panaji (d) Chennai
Ans – (b) Mumbai
13. What is India's current rank in ICC Men's ODI Team Rankings 2022?
(a) 3rd (b) 4th
(c) 5th (d) 6th
Ans – (b) 4th
14.What is the upper age limit of Agniveer recruitment?
(a) 25 (b) 26
(c) 22 (d) 21
Ans – (d) 21
15. When is World Blood Donor Day observed?
(a) June 11th (b) June 12th
(c) June 13th (d) June 14th
Ans – (d) June 14th