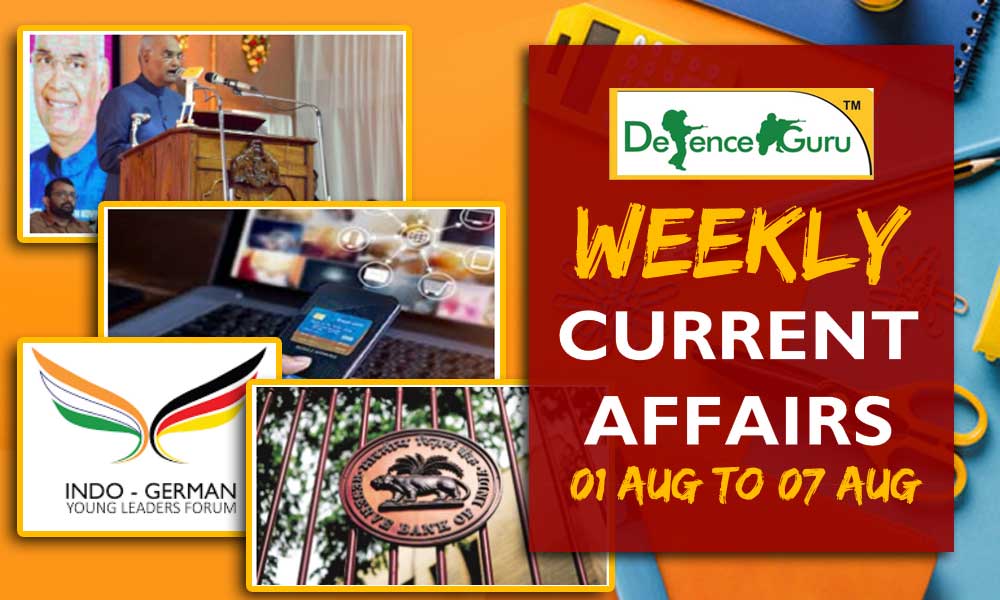 Weekly Current Affairs August 2018 - 01 Aug to 07 Aug
Current Affairs play a very crucial role in the preparation of Defence and other exams 2018. Here you can read weekly current affairs to know what is happening in India and around the world. Read the weekly current affairs 2018 below to improve your General Knowledge (GK).
Weekly Current Affairs August 2018 - Week 1 (August 01- August 07)
1. Kumar Mangalam Birla, Y.C. Deveshwar appointed non-official directors in Air India
Renowned industrialists Kumar Mangalam Birla and Y.C. Deveshwar were appointed as non-official independent directors in Air India.
It is perhaps for the first time that big industrialists like them have been named on the board of a public sector enterprise.
The Appointments Committee of the Cabinet headed by Prime Minister Narendra Modi approved the appointment of Mr. Birla and Mr. Deveshwar as non-official independent directors in Air India for a period of three years.
2. GST Council sets up committee to look at MSME grievances
To address the issues, challenges and concerns of the Micro, Small and Medium Enterprises (MSME), the apex decision making body of GST Council in its 29th meeting has decided to create a sub-committee headed by MoS Finance Shiv Pratap Shukla to look into various issues and submit a report.
The committee will consist of Manish Sisodia, Sushil Modi, Himanta Biswa Sarma, Thomas Isaac and Manpreet Badal.
The issues discussed today would be taken up in detail and presented before the full GST Council at a later date.
3. India elected president of Asia-Pacific Institute for Broadcasting Development
India has been elected as the President of the Asia-Pacific Institute for Broadcasting Development (AIBD) for a period of two years.
India got elected against Iran during voting which took place at the 44th annual gathering of AIBD in Colombo.
Director General of All India Radio F. Sheheryar was re-elected as chair of the executive board while Sri Lanka was elected as vice-chair.
4. Gopal Krishna Gandhi to get Rajiv Gandhi Sadbhavana Award
Former West Bengal Governor Gopal Krishna Gandhi has been selected for this year's Rajiv Gandhi National Sadbhavana Award.
It was decided in the meeting held on July 28 that the 24th Rajiv Gandhi National Goodwill Award will be given to Gopalakrishna Gandhi for the contributions made to promote communal unity, peace and harmony.
Rajiv Gandhi National Goodwill Award is given on the occasion of birth anniversary of former Prime Minister Rajiv Gandhi.
5. President of India Presents Outstanding Parliamentarian Award for the years 2013-2017
The President of India, Shri Ram Nath Kovind, presented the Outstanding Parliamentarian Award for the years 2013-2017 in New Delhi.
Speaking on the occasion, the President congratulated all those being conferred with the Outstanding Parliamentarian Award.
Smt Najma Heptulla: 2013
Shri Hukmdev Narayan Yadav: 2014
Shri Ghulam Nabi Azad: 2015
Shri Dinesh Trivedi: 2016
Shri Bhartruhari Mahtab: 2017
6. Indian-origin mathematician Akshay Venkatesh gets prestigious Fields Medal
Akshay Venkatesh, a renowned Indian-Australian mathematician, is one of four winners of mathematics' prestigious Fields medal, known as the Nobel Prize for math.
New Delhi-born Venkatesh, 36, who is currently teaching at Stanford University, has won the Fields Medal for his profound contributions to an exceptionally broad range of subjects in mathematics.
The Fields medals are awarded every four years to the most promising mathematicians under the age of 40.
7. Kambaku won the Governor's Cup
The winner is owned by Rajagiri Rubber & Produce Co. Ltd rep by. Mr. Dilip Thomas and trained by Arjun Mangalorkar.
8. Veteran screenwriter Jalees Sherwani passes away
Jalees Sherwani, who had penned lyrics for several films like Dabangg, Wanted and Tere Naam, passed away. He was 70.
Apart from writing dialogues for Sangam and Loafer, Sherwani also penned lyrics for films like Partner, Hello, Garv and Hello Brother.
9. Escorts Group chairman Rajan Nanda dead
Escorts Group chairman Rajan Nanda passed away at the age of 76 on 5 August.
Escorts Group is an Indian engineering company that operates in the sectors of agri-machinery, construction and material handling equipment, and railway equipment.
10. Gaganjeet Bhullar claims his first European Tour title
Indian golfer Gaganjeet Bhullar fired a sizzling six-under 66 in the final round to claim the Fiji International title, his first win on the European Tour.
Bhullar, 30, thus became the most successful Indian player on Asian Tour and the first Indian to win on Australasia Tour.
This was his ninth Asian Tour and 10th international title.
11. Badminton World C'ships: Carolina Marin Beats PV Sindhu in Final
Carolina Marin has beaten PV Sindhu 21-19, 21-10 in the women's singles final at the Badminton World Championships.
Marin is the first women's player to win three World Championship golds.
This is Sindhu's second silver medal in two years after she lost the final in 2017 as well.
12. Teenage Saudi gamer wins FIFA eWorld Cup
An 18-year old Saudi national has been crowned champion of the FIFA eWorld Cup Grand Final, taking home the competition's $250,000 prize.
The gamer, Mosaad Aldossary, won 4-0 on aggregate against Belgium's Stefano Pinna in the two-legged final.
13.India ranks 96th in UN's E-Government index 2018
India ranks 96th in the biannual United Nation's E-Government Index 2018 among 193 countries released by UN.
India has a total score of 0.9551. It has emerged as sub-region leader.
Denmark ranked first in both E-Government index and E-Participation sub-index.
14. 4th India International Footwear Fair 2018 inaugurated
Indian footwear Industry has a huge potential for export and employment generation said Union Minister of Commerce & Industry and Civil Aviation, Suresh Praabhu.
He was speaking at the inaugural programme of the 4th India International Footwear Fair 2018 (IIFF) at Pragati Maidan in New Delhi.
India will soon become a global hub for manufacturing of footwear to cater to growing demand.
The government of India is formulating a strategy for greater coordination with States as well as trade bodies for global promotion of India's footwear industry.
15. Zimbabwe's Mnangagwa wins president election
 
Mnangagwa received 50.8 % of the vote while main opposition challenger Nelson Chamisa received 44.3 %.
The opposition is almost certain to challenge the results in the courts.
Mr. Mnangagwa called for an "independent investigation" into violence, saying those responsible "should be identified and brought to justice."
16. Opening Ceremony Indo - Thailand Joint Exercise Maitree 2018
Exercise Maitree is a joint military exercise between Indian Army and Royal Thai Army which will be conducted from 06 to 19 August 2018 in Thailand.
It is a platoon level exercise which comprises of infantry component.
The opening ceremony started with familiarization of organisation and display of weapons & equipment of both armies.
The exercise will emphasize to hone the tactical and technical skills in joint counter insurgency and counter terrorist operations in rural and urban scenario under UN mandate.
17. Swachhta Pakhwada celebrated successfully by the Ministry of Petroleum & Natural Gas
Ministry of Petroleum & Natural Gas (MoPNG), its attached offices and Oil & Gas CPSEs under the administrative control of MoPNG celebrated Swachhta Pakhwada fortnight with full zeal and enthusiasm from 01stto15th July, 2018.
The main theme of MoPNG initiatives in this Pakhwada were "Innovation" and "Sustainability".
A maiden initiative of Swachhata ranking of Oil & Gas CPSEs/ attached offices was undertaken, wherein, based on their performance in Swachhta Pakhwada, rankings were finalized by a Committee.
ONGC emerged as the winner; IOCL stood second and HPCL came third.
Additionally, our attached office PPAC has been adjudged in the highly recommended category.
18. Startup India Yatra begins in Chhattisgarh
The Startup India Yatra was launched on July 30th in Raipur. Students queued up in large numbers to register for the first boot camp at Raipur.
The yatra will travel to Bilaspur for the second boot camp at the Government Engineering College in Bilaspur.
The Startup India van will also travel to other cities of Chhattisgarh like Korba, Koria, Surguja, Jashpur, Raigarh, Balodabazar, Durg, Rajnandgaon, Balod, Dhamtari, Kanker, Kondagaon, Jagdalpur and Dantewada and hold boot camps in the Government Engineering colleges and Polytechnic Institutes.
19. The Walled City of Jaipur is the next proposed site for UNESCO World Heritage recognition
The site namely "The Walled City of Jaipur, Rajasthan, India" has been proposed for World Heritage.
As per Operation Guidelines 2017, only one site can be nominated by the state party each year.
The recognition of World Heritage is a matter of great pride. It impacts the local economy by giving a boost to domestic and international tourism leading to increased employment Generation, creation of World class infrastructure and augmentation of sale of local handicrafts, handlooms and heritage memorabilia.
Besides, it adds to the prestige of the country as well as prescribed site.
There are a total of 37 World Heritage sites in India at Present.
20. Health Ministry signs MoU with Ministry of Electronics and Information Technology
National Health Agency (NHA) under Ministry of Health and Family Welfare, the apex body for the implementation of Ayushman Bharat-National Health Protection Mission (AB-NHPM), and Common Service Centres (CSC) scheme under the Digital India Programme, have signed an MoU to provide information and eligibility validation services to beneficiaries, especially in remote areas.
Shri J P Nadda, Minister of Health and Family Welfare and Shri Ravi Shankar Prasad, Union Minister for Law and Justice & Information Technology presided over the MoU signing ceremony.
As the benefits under AB-NHPM are based on entitlement and not on enrolment, over 3 lakh CSCs spread across the rural India can become the key point of information for potential beneficiaries and help in validating their entitlement.
21. Declaring SAI Stadia as "Plastic Free Zones"
Ministry of Youth Affairs & Sports are celebrating Swachhta Pakhwada from 1st to 15th August, 2018 under the Swachh Bharat Mission Programme of Ministry of Drinking Water & Sanitation. On this occasion, Department of Sports has taken two major initiatives.
First initiative will be for making all five SAI Stadia namely Jawaharlal Nehru Stadium, Major Dhyan Chand National Stadium, Indira Gandhi Stadium Complex, Dr. Karni Singh Shooting Range and Dr. SPM Swimming Pool Complex as "Plastic Free Zone".
This initiative will start on the 1st August, 2018 and by the 2nd October, 2018, these five Stadia will strengthen its internal organizational set up like availability of drinking water facilities at appropriate place, alternative to disposable plastic materials, suitable arrangements of waste disposal, proper sensitization of user and staff of the Stadia, etc. towards implementation of plastic free zone.
Second initiative will be for giving Swachhta Rank to these Stadia namely Jawaharlal Nehru Stadium, Major Dhyan Chand National Stadium, Indira Gandhi Stadium Complex, Dr. Karni Singh Shooting Range and Dr. SPM Swimming Pool Complex on the implementation of Swachhta activities carried out during the Swachhta Pakhwada.
22. Solar Charkhas to Generate Direct Employment to One Lakh Persons
Ministry of Micro, Small and Medium Enterprises (MSME) has launched the Mission Solar Charkha for implementation of 50 Solar Charkha Clusters across the country with a budget of Rs.550 crore for the year 2018-19 and 2019-20.
The scheme will generate direct employment to nearly one lakh persons. Minister of State (I/C) for Micro, Small and Medium Enterprises Shri Giriraj Singh informed this in a written reply in Rajya Sabha.
Solar Charkha Units have been classified as village industries.
The Mission was launched by the President of India, Shri Ram Nath Kovind, on 27th June, 2018 on the occasion of UN SME Day.
23. Nationwide 'State Energy Efficiency Preparedness Index' released
As part of its commitment to create awareness about energy efficiency as a resource and also to develop an action plan for energy conservation initiatives, Bureau of Energy Efficiency (BEE) and Alliance for an Energy Efficient Economy (AEEE), released the 'State Energy Efficiency Preparedness Index', which assesses state policies and programmes aimed at improving energy efficiency across various sectors.
The nationwide Index is a joint effort of the NITI Aayog and BEE.
The 'Front Runner' states in the inaugural edition of the Index are: Andhra Pradesh, Kerala, Maharashtra, Punjab, and Rajasthan based on available data.
24. NITI Aayog to host Investors' Conference for the Holistic Development of Islands
NITI Aayog will host an Investors' Conference on August 10, 2018 at Pravasi Bharatiya Kendra for the Holistic Development of Islands. The Conference will be inaugurated by Shri. Amitabh Kant, CEO, NITI Aayog.
It will attract investment for the sustainable development of eco-tourism projects in Andaman & Nicobar and Lakshadweep islands.
The 11 anchor tourism projects are proposed to be implemented with private sector participation under suitable risk-sharing model and through open-competitive bidding.
NITI Aayog, along with the respective UT Administration is organizing an Investors' Conference on 10th August, 2018, with stakeholders.
25. Rajasthan becomes the first Indian state to implement biofuel policy
Rajasthan became the first Indian state to implement the national policy on biofuels unveiled by the centre in May this year.
High-power Biofuel Authority approved this implementation. Soon, the State Government will release Biofuel Rules, 2018.
26. Cabinet approves Extension of Concessional Financing Scheme (CFS)
he Union Cabinet chaired by Prime Minister Shri Narendra Modi has approved the first extension of Concessional Financing Scheme(CFS) to support Indian Entities bidding for strategically important infrastructure projects abroad.
Under the CFS, the Govt. of India has been supporting Indian Entities bidding for strategically important infrastructure projects abroad since 2015-16.
Since the objectives of the Scheme continue to be relevant, it is proposed to extend the Scheme for another five years from 2018 to 2023.
27. Cabinet approves Re-structuring of the Agricultural Scientists' Recruitment Board (ASRB)
The Union Cabinet chaired by Prime Minister Shri Narendra Modi has approved the proposal for restructuring of Agricultural Scientists'Recruitment Board (ASRB).
The ASRB will now be a 4 Member body instead of 3 Members. It will have a Chairperson and 3 Members.
ASRB would be for a period of three years or till attainment of 65 years of age, whichever is earlier.
28. Government launches the scheme Seva Bhoj Yojna
The Ministry of Culture, Government of India has launched the new scheme namely 'Seva Bhoj Yojna' starting 01.08.2018, with a total outlay of Rs. 325.00 Crores for Financial Years 2018-19 and 2019-20.
The scheme envisages to reimburse the Central Government share of Central Goods and Services Tax (CGST) and Integrated Goods and Service Tax (IGST)so as to lessen the financial burden of such as Religious / Charitable Institutions who provide Food/Prasad/Langar (Community Kitchen)/Bhandara free of cost without any discrimination to Public/Devotees.
The Religious / Charitable Institutions such as Temples, Gurudwara, Mosque, Church, Dharmik Ashram, Dargah, Matth, Monasteries etc. which have been in existence for at least Three years before applying for financial assistance/grant and who serve free food to at least 5000 people in a month and such institutions covered under the provisions of section 10 (23BBA) of the Income Tax Act, 1961 (as amended from time to time) or registered under the provisions of section 12AA of the Income Tax Act, 1961, for Religious / Charitable purposes, or a company formed and registered under the provisions of section 8 of the Companies Act, 2013 or section 25 of the Companies Act, 1956, as the case may be, for Religious / Charitable Ipurposes, or a Public Trust registered as such for charitable/religious purposes under any Law for the time being in force, or a society registered under the Societies Registration Act, 1860, for Religious / Charitable purposes shall be eligible for grant under the scheme.
29. Integrate to Innovate Programme for energy Startups
Invest India has joined hands with energy sector companies to offer a unique lab-to-market opportunity for Indian startups through the Integrate to Innovate Programme.
Integrate to Innovate is a 3-month corporate acceleration programme for energy startups housed at the corporate premises.
The application for the programme is hosted on Startup India Hub – an online platform bringing together all stakeholders of the Indian startup ecosystem.
The programme provides an opportunity for collaboration and conversation around valuable energy transitions, offering startups an opportunity to bring their ideas to life with the guidance and support from corporates.
30. Ballistic Missile Interceptor AAD Successfully Flight Tested
DRDO conducted the successful test of the Ballistic Missile Interceptor Advanced Area Defence (AAD) at from Abdul Kalam Island, Odisha.
The endo-atmospheric missile, capable of intercepting incoming targets at an altitude of 15 to 25 kms was launched against multiple simulated targets of 1500 km class ballistic missile.
One target among simultaneously incoming multiple targets was selected on real time, the weapon system radars tracked the target and the missile locked on to it and intercepted the target with a high degree of accuracy.
31. North East Venture Fund for North Eastern region
North Eastern Development Finance Corporation Ltd. (NEDFi) under the Ministry of Development of North Eastern Region (DoNER) has set up the North East Venture Fund (NEVF) for North East Region.
The capital commitment to the fund is Rs.100.00 crore with an initial contribution of Rs.75.00 crore consisting of Rs.45.00 crore from Ministry of DoNER and Rs.30.00 crore from NEDFi.
The balance fund of Rs.25.00 crore has been committed by Small Industries Development Bank of India (SIDBI) in-principle.
32. SAATHI Initiative Launched
Ministry of Textiles and Ministry of Power have joined hands under the initiative SAATHI(Sustainable and Accelerated Adoption of efficient Textile technologies to Help Small Industries) in order to sustain and accelerate the adoption of energy efficient textile technologies in thepowerloom sector and cost savings due to use of such technology.
Energy Efficiency Services Limited (EESL), a Public Sector entity under the administrative control of Ministry of Power, will replace old inefficient electric motors with energy efficient IE3 motors which will result in energy and cost saving up to 10-15% in the first phase.
33. NITI Aayog launches Move Hack, global mobility hackathon
NITI Aayog has launched Move Hack, a global mobility hackathon to crowdsource solutions aimed at the future of mobility in India. Envisaged to be one of the largest hackathons globally, Move Hack is focused on 10 themes and structured over three legs: online, followed by Singapore leg, and the finals in New Delhi.
Transportation and mobility are emerging as potential drivers of innovation and economic growth of the 21st century.
Rapidly evolving technologies and business models for delivering mobility services have dramatic potential to transform the global transportation sector.
Mobility that ranges from pedestrian and personal transport to public transit and freight movement is extremely critical and impacts rural and urban daily lives.
34. NHAI to Sign MoU with SBI for a Long Term, unsecured Loan of Rs 25,000 Crore
National Highways Authority of India (NHAI) is getting an unsecured loan of Rs 25,000 crore from State Bank of India for 10 years with 3 years of moratorium on repayments.
This is the largest amount of loan to have been sanctioned to NHAI in one stroke by any institution.
This is also the largest long term unsecured loan sanctioned by SBI at a time to any entity.
An MoU in this regard will be signed between the two organizations in the presence of Shri Nitin Gadkari, Minister of Road Transport & Highways, Shipping, Water Resources, River Development & Ganga Rejuvenation in New Delhi.
35. Paryatan Parv' to be organized nationwide from 16th to 27th September, 2018
The Ministry of Tourism, Government of India in collaboration with other Central Ministries, State Governments and Stakeholders is organizing a "Paryatan Parv" across the country from the 16th to 27th September 2018.
The Parv is being organized with the objective of drawing focus on the benefits of tourism, showcasing the cultural diversity of the country and reinforcing the principle of "Tourism for All".
The Paryatan Parv will start with the India Tourism Mart 2018 (16th – 18th September 2018), which will further ensure wide participation from outside the country. The Paryatan Parv shall conclude with the World Tourism Day celebrations on 27th September 2018.
36. Election Commission of India Conducts First Ever Orientation Workshop on Election Management for IAS Asstt Secretaries
The Election Commission of India (ECI) conducted a day-long Orientation Workshop for IAS officers of the 2016 Batch in New Delhi today.
The workshop was aimed at familiarising the Assistant Secretaries with all facets of Electoral Management before they are required to handle crucial assignments in conducting Elections in their field postings soon.
37. Bermuda Triangle mystery 'solved,' scientists claim
British scientists believe 100ft 'rogue' waves could be the reason why so many boats have been sunk in the mysterious Bermuda Triangle (Also known as the Devil's Triangle).
Rogue waves – which only last for a few minutes - were first observed by satellites in 1997 off the coast of South Africa.
38. Delhi replaces Gujarat to top 'most investor-friendly' destination list
Delhi has toppled Gujarat from the top spot in a list of 21 states and union territories with the most investment potential, according to a report by economic think-tank NCAER.
The national capital is followed by Tamil Nadu, Gujarat, Haryana, Maharashtra, Kerala, Andhra Pradesh, Telangana, Karnataka and West Bengal.
The ranking of 20 states and one Union Territory of Delhi was based on six pillars -- land, labour, infrastructure, economic climate, governance and political stability and business perceptions.
39. "No Horn" campaign launched in Shimla, Manali
Himachal Pradesh Chief Minister Jai Ram Thakur has launched an awareness campaign named "Horn Not Ok" along with a statewide mobile app "Shoor Nahin".
The Chief Minister said "the state is known for its salubrious climate and peaceful environment.
He said blowing horns is not only causing unnecessary noise pollution but it is also harmful for health.
40. Pradhan Mantri Ujjwala Yojana Achieves 5 Crore Mark
Loksabha Speaker Sumitra Mahajan has handed over 5 croreth LPG connection under Pradhan Mantri Ujjwala Yojana (PMUY) in the Parliament House.
The Government launched Pradhan Mantri Ujjwala Yojana (PMUY) on 1st May, 2016 and it is implemented by Ministry of Petroleum and Natural Gas through its Oil Marketing Companies i.e., IOC, BPCL and HPCL through their network of distributors across the country.
Through PMUY, initially, 5 crore BPL households were targeted for providing deposit free LPG connections to BPL households by 31st March,2019.
41. 122 New Research Project proposals at a cost of Rs 112 Crore selected for funding under IMPRINT-2
For advancing research in the high education institutions, the government under the leadership of Prime Minister Shri Narendra Modi has approved 122 new research projects at a cost of Rs 112 crore under IMPRINT-2 covering Energy, Security, Healthcare, Advanced Materials, ICT and Security/Defence domains.
"Out of 2145 proposals, 122 best proposals were selected for funding under IMPRINT-II, advancing cutting edge level technology," Union HRD Minister PrakashJavadekar said in a statement.
"Of the 122 new IMPRINT projects sanctioned, 81 are sponsored by industry.
This industry-academic collaboration will bring excellence in research," Mr Javadekar said adding that the knowledge portal for monitoring the progress of research projects and to disseminate findings will be launched in October 2018.
42. Gadkari will inaugurate Bidder Information Management System (BIMS)
The Ministry of Road Transport and Highways (M/o RT&H) has developed the Bidder Information Management System (BIMS) to streamline the process of pre-qualification of bidders for EPC Mode of contracts for all National Highway works with enhanced transparency and objectivity.
BIMS would work as a data base comprising bidder wise information covering basic details, civil works experience, cash accruals and network, annual turnover etc.
Ministry of Road Transport and Highways Nitin Gadkari will inaugurate the system.
43. Rajya Sabha Passes Bill To Grant Constitutional Status To OBC Commission
A key bill to provide constitutional status to the National Commission for Backward Classes (NCBC) secured Parliament's approval with the Rajya Sabha passing the measure that will give the panel full powers to safeguard the rights and interests of the Other Backward Classes (OBCs).
The Constitution (123rd Amendment) Bill 2017 was passed after a spirited debate during which several members urged the Centre to make public the findings of the caste census and implement reservation accordingly.
It was cleared by the Lok Sabha on August 2 superseding the amendments earlier carried out by the Rajya Sabha.
44. Gurugram India's most polluted city
Gurugram, which has been NCR's most polluted for the past three days, was declared the most polluted among 62 cities in the country surveyed by the Central Pollution Control Board (CPCB), with air quality index (AQI) crossing the 300 mark.
With AQI hovering between 'poor' and 'very poor' categories, Gurugram is witnessing air quality this poor after a month.
45. Hardeep S Puri Launches official Trailer Of Film "Halkaa" Under the Aegis Swachh Bharat Mission
Shri Hardeep S Puri, Minister of State (I/C) for Housing and Urban Affairs launched the official trailer, music and poster of Bollywood film "Halkaa" under the aegis of the Swachh Bharat Mission (Urban), in partnership with the New Delhi Municipal Council.
"Halkaa" (Relief) is the story of an 8-year-old boy Pichku who aspires for a better quality of life.
The boy refuses to be part of the age-old practice of open defecation.
46. International Conference on Sustainable Growth through Material Recycling
NITI Aayog's International Conference on "Sustainable Growth through Material Recycling: Policy Prescriptions" was inaugurated by the Union Minister of Road Transport, Highways & Ganga Rejuvenation, Shri. Nitin Gadkari at Pravasi Bharatiya Kendra in the capital.
Vice Chairman, NITI Aayog Shri. Rajiv Kumar, CEO, NITI Aayog Amitabh Kant and renowned experts from all over the world in material recycling took part in the deliberations at the conference.
The day long conference brings together a host of experts for identifying policy prescriptions for the development and growth of material recycling in India towards creating more jobs, reduce dependence on exports, protect the environment and take steps towards adopting circular economy concepts.
46. President of India inaugurates 'Festival of Democracy' in Thiruvananthapuram
The President of India, Shri Ram Nath Kovind, inaugurated the 'Festival of Democracy' in Thiruvananthapuram on August 6, 2018 to mark the conclusion of the diamond jubilee celebrations of the Kerala legislative assembly.
Speaking on the occasion, the President said that politics, public life and the quality of democracy are a reflection of the essential ethos of a society.
As such, the Kerala assembly and its debates and discussions, the humanistic values that it has historically advocated and legislated on, are a mirror to the traditions of this state.
47. Digital payments set to become a trillion-dollar market in next five years
The digital payments market In India is expected to grow to US $ 1 trillion by 2023 led by growth in mobile payments, presenting huge business opportunities for players in the digital space. Mobile payments are slated to rise from $ 10 billion in 2017-18 to $ 190 billion by 2023.
These estimates are based on a study of Credit Suisse and have been mentioned in a booklet titled 'Digital Payment: Trends, Issues and Opportunities', launched by Mr. Ratan P. Watal, Principal Advisor, NITI Aayog and Member Secretary, EACPM, at a conference organised by FICCI and NITI Aayog.
This is the 2nd annual edition of the booklet on Digital Payments which was published in July 2017.
48. Indo-German Government to Government Umbrella Agreements
The Government to Government Umbrella Agreement on Financial Cooperation and Technical Cooperation 2017 under the Indo-German Bilateral Development Cooperation were signed in New Delhi.
Government to Government Umbrella Agreement on Financial Cooperation was signed to formalise an amount of up to Euro 610 million Reduced Interest Loan (RIL) and Euro 5.5 million Financial grant and the Government to Government Umbrella Agreement on Technical Cooperation was signed to formalise an amount of up to Euro 38.20 million Technical grant for various projects mainly in the field of Energy, Environment and Urban Development.
Hence, the total amount formalized through Umbrella Agreements is Euro 653.7 million (approx. Rs. 5253 crore).
49. RBI hikes Repo rate by 25 base points
On the basis of an assessment of the current and evolving macroeconomic situation at its meeting, the Monetary Policy Committee (MPC) decided to increase the policy repo rate under the liquidity adjustment facility (LAF) by 25 basis points to 6.5 per cent.
Consequently, the reverse repo rate under the LAF stands adjusted to 6.25 per cent, and the marginal standing facility (MSF) rate and the Bank Rate to 6.75 per cent.
50. TRAI calls for zero telecom equipment imports by 2022
The Telecom Regulatory Authority of India (TRAI) recommended the setting up of a Rs. 1,000 crore fund for promoting research and innovation in the communication sector.
51. Cabinet okay 51% stake for LIC in IDBI
The Union Cabinet on Wednesday gave its approval to the government's decision to reduce its stake in IDBI Bank below 50%, with Life Insurance Corporation raising stake in the bank to 51%.
The boards of IDBI Bank and LIC have both given their approval for the deal.
The Union Cabinet has approved conveying of no objection to reduction in Government of India shareholding in IDBI Bank Limited to below 50% by dilution,"
52. Telangana, Tech Mahindra ink MoU for India's first Blockchain district
Tech Mahindra and the Telangana government signed an agreement to establish the Blockchain district, a first-of-its-kind Centre of Excellence for Blockchain.
Blockchain is the fledgling technology that promises to change the way people and businesses transact, providing convenience and security.
53. RBI bars Fino Payments Bank from enroling new customers
Fino Payments Bank, one of India's first payments banks, has been barred by the Reserve Bank of India from adding new customers since the end of May.
The central bank in its auditing of payments banks in May found Fino Payments non-compliant with the operational guidelines laid down by it.
According to RBI's operating guidelines for payments banks, a customer can make deposits of up to Rs 1 lakh per account in a year.
Such banks cannot accept deposits beyond this limit.
54. France's IDEMIA gets NPCI stamp for RuPay cards
French company IDEMIA, a global leader in augmented identity, said it has become the first company to be given the certification to manufacture and personalise RuPay chip contact and contactless cards on the qSPARC v2 platform.
The qSPARC is a dual interface open loop payment specification, with the option of loading multiple payment applications on a single card.
The certification is issued by the National Payments Corporation of India, after testing all payment scenarios.
55. 'Umbrella Organisation' to revive Urban Co-op Banking
India's co-operative banking sector is set to undergo a transformation with the concept of Umbrella Organisation (UO) of Urban Co-operative Banks (UCBs) seen as an answer to issues plaguing the sector.
The Reserve Bank of India (RBI) has allowed non-fund-based umbrella organisations at State levels, where respective State federations will take the lead.
Gujarat is the first State in the country to have an UO for the UCB sector.
56. Apple Inc became the first $1 trillion publicly listed U.S. company
Apple Inc became the first $1 trillion publicly listed U.S. company, crowning a decade-long rise fueled by its ubiquitous iPhone.
The tech company's stock jumped 2.8 percent to as high as $207.05.
 
Started in the garage of co-founder Steve Jobs in 1976, Apple has pushed its revenue beyond the economic outputs of Portugal, New Zealand and other countries.
57. Japan pips China to become world's second-largest stock market
Japan has pipped China as the world's number two stock market, a Bloomberg report said.
Now, the Chinese market was worth $6.09 trillion next to Japan's $6.17 trillion.
Both markets are ranked after the US which is the world's largest at just over $31 trillion.
China lost to Japan after Chinese stocks and currency fell this year amid a trade spat with the US.
58. PM Modi to launch India Post Payments Bank on Aug 21
Prime Minister Narendra Modi on August 21 will launch long-awaited India Post Payments Bank (IPPB) that will have at least one branch in every district and focus on financial services in rural areas.
IPPB will leverage reach of 1.55 lakh post office branches to provide banking and financial service to people in rural area.
Last week, IPPB CEO Suresh Sethi said that IPPB will go live with 650 branches in addition to 3,250 access points co-located at post offices and around 11,000 postmen both in rural and urban area will provide doorstep banking services.
59. Indra Nooyi ends 12-year run as PepsiCo's CEO
Indra Nooyi is stepping down as chief executive officer (CEO) of food and beverage giant PepsiCo.
Nooyi, 62, will leave the role in October and remain chairman until early 2019.
Ramon Laguarta, 54, who has been a candidate to take over since a promotion last year to president, will be just the sixth CEO in the 53-year history of the company.