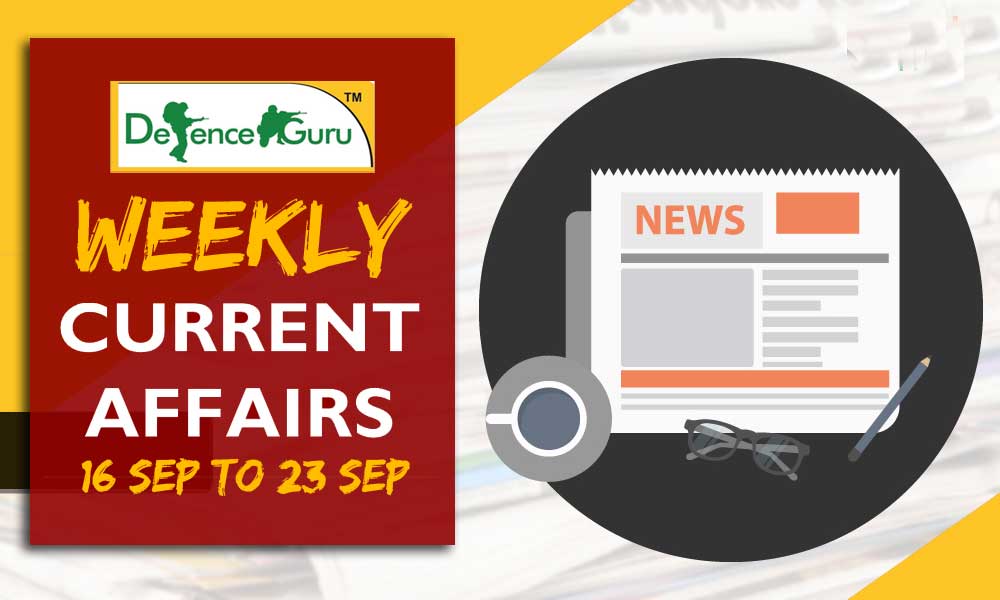 Weekly Current Affairs September 2018 - Week 3
Find weekly current affairs for NDA, CDS, SSB, AFCAT & all competitive exam preparation here. We are sharing Weekly Current Affairs 16 September - 23 September, 2018. Learn important current affairs of last week and latest GK questions. Weekly Current Affairs is a collection of important news and events that occurred every week.
Weekly Current Affairs September 2018 - 16 Sep to 23 Sep
1. National Insurance gets new CMD
Tajinder Mukherjee has been appointed as the new Chairman and Managing Director of National Insurance Company Limited (NIC).
•    She took charge from September 14.
•    Prior to her joining the NIC, she was the General Manager and Chief Underwriting Officer of New India Assurance.

2. Prashant Kumar takes charge as SBI CFO
State Bank of India said Prashant Kumar has taken charge as the Chief Financial Officer (CFO) of the Bank.
•    Before Kumar, Anshula Kant, who has been promoted as Managing Director of SBI, was the CFO.
•    Prior to this appointment, Kumar was designated as Deputy Managing Director (HR) & Corporate Development Officer of India's largest bank.

3. Moutaz Mousa Abdallah becomes Sudan's new PM
Moutaz Mousa Abdallah has become the Sudan's new Prime Minister. A 21-member cabinet was sworn in at the presidential palace in Khartoum.
•    Mousa Abdallah is also holding the finance portfolio in a bid to revive the country's ailing economy.
•    Sudan has been grappling with an acute foreign exchange shortage and inflation above 65 percent for several months.
4. Varun Dhawan and Anushka Sharma signed as ambassadors of Skill India Campaign
Varun Dhawan and Anushka Sharma have been signed on to promote and endorse the Skill India Mission, chaired by the Hon'ble Prime Minister Shri Narendra Modi.
•    Varun and Anushka will dedicate time to promote India's skilled talent and their fine work by engaging with them across different parts of the country.

5. Govt appoints MDs, CEOs in ten nationalised banks
Cabinet committee headed by Prime Minister Narendra Modi has appointed MDs and CEOs of ten state-owned banks.
These are:
•    Mrutyunjay Mahapatra: Syndicate Bank
•    Padmaja Chundru: Indian Bank
•    Pallav Mohapatra: Central Bank of India
•    J Packirisamy: Andhra Bank
•    Karnam Shekhar: Dena Bank
•    S S Mallikarjuna Rao has been appointed MD and CEO of Allahabad Bank
•    A S Rajeev: Bank of Maharashtra.
•    Atul Kumar Goel: UCO Bank
•    S Harishankar: Punjab & Sind Bank
•    Ashok Kumar Pradhan: United Bank of India.

6. Govt appoints four members to local boards of RBI
Rakesh Jain and Sachin Chaturvedi are among four people appointed members in local boards of the Reserve Bank of India (RBI).
•    Jain and Chaturvedi have been appointed as member in Southern local board and Eastern local board of the central bank.
•    Revathy Iyer and Raghvendra Narayan Dubey have been appointed as member in Northern local board of the central bank.
 
7. India's first woman IAS officer Anna Malhotra dies at 92
India's first woman IAS officer post-Independence, Anna Rajam Malhotra, died at her residence in suburban Andheri. She was 91.
•    Malhotra joined the civil services in 1951 and opted for the Madras cadre.
•    She married R N Malhotra, who served as the Governor of the Reserve Bank of India from 1985 to 1990.
•    She is also known for her contribution in setting up the country's modern port Jawaharlal Nehru Port Trust (JNPT) near Mumbai. She was the chairperson of the JNPT during the execution.
 
8. PNB wins Hindi implementation award
State-run Punjab National Bank (PNB) bagged the "Rajbhasha Kirti" award for outstanding performance in implementing the Official Language Policy during 2017-18.
•    The award, under the category of 'Nationalised Banks and Financial Institutions in Region A', was presented by Vice President M. Venkaiah Naidu to PNB Chief Executive and MD Sunil Mehta.

9. Dr. Raghupati Singhania conferred with civilian honour of Mexico
Chairman and MD, JK Tyre & Industries Ltd., Dr. Raghupati Singhania has been conferred with 'Mexican Order of the Aztec Eagle', the highest honour accorded to non-nationals by the Government of Mexico.
•    Melba Pría, Ambassador of Mexico to India presented the award to Dr. Singhania on behalf of the President of Mexico on the eve of 128th National Day of Mexico.
•    The top honor is in recognition of Dr. Singhania's exemplary leadership, his noteworthy services towards humanity and his efforts to strengthen bilateral ties between India and Mexico.

10. Kerala Tourism wins two Pacific Asia Travel Association gold awards
Kerala Tourism walked away with two prestigious gold awards of the Pacific Asia Travel Association (PATA) for its innovative marketing campaigns.
•    Kerala Tourism got the first gold for its 'Yalla Kerala' travel advertisement print media campaign in the Gulf countries.
•    The second gold award came for an innovative poster Kerala Tourism had developed for the third edition of the Kochi-Muziris Biennale (KMB).

11. Delhi airport gets top honour at ASQ Awards 2017
Delhi's Indira Gandhi International Airport (IGIA) has bagged the title of Best Airport to handle over 40 million passengers per annum (MPPA) by the Airport Service Quality (ASQ) Awards 2017.
•    According to the statement, the Delhi airport is now the seventh busiest airports in Asia and among the top 20 busiest airports across the world.

12. INSV Tarini crew bestowed with Tenzing Norgay Award
All-women crew of INSV Tarini has bagged the prestigious Tenzing Norgay National Adventure award for beating the odds in water with their enduring skills and sailing across the world for eight long months.
•    The award is the highest national recognition for outstanding achievements in the field of adventure on land, sea and air.
•    The women Navy officers had spent as many as 194 days at sea as part of a mission under the Navika Sagar Parikrama project that began in September last year.
•    The crew was also bestowed with Nav Sena Medal on the occasion of 72nd Independence Day.

13. Kohli, Chanu to receive Khel Ratna on September 25
Indian cricket captain Virat Kohli and world champion weightlifter Mirabai Chanu will receive the prestigious Rajiv Gandhi Khel Ratna on September 25, the sports ministry announced.
The list of awardees:
•    Rajiv Gandhi Khel Ratna Award: Virat Kohli and Mirabai Chanu.
•    Arjuna Awards: Neeraj Chopra, Jinson Johnson and Hima Das (athletics); N. Sikki Reddy (badminton); Satish Kumar (boxing); Smriti Mandhana (cricket); Shubhankar Sharma (golf); Manpreet Singh and Savita (hockey); Ravi Rathore (polo); Rahi Sarnobat, Ankur Mittal and Shreyasi Singh (shooting); Manika Batra and G. Sathiyan (table tennis); Rohan Bopanna (tennis); Sumit (wrestling); Pooja Kadian (wushu); Ankur Dhama (para-athletics); Manoj Sarkar (para-badminton).
•    Dronacharya Awards: C. A. Kuttappa (boxing); Vijay Sharma (weightlifting); A. Srinivasa Rao (table tennis); Sukhdev Singh Pannu (athletics); Clarence Lobo (hockey, lifetime); Tarak Sinha (cricket, lifetime); Jiwan Kumar Sharma (judo, lifetime); V. R. Beedu (athletics, lifetime).
•    Dhyan Chand Awards: Satyadev Prasad (archery); Bharat Kumar Chetry (hockey); Bobby Aloysius (athletics); Chougale Dadu Dattatray (wrestling).

14. Lucknow Metro First From India To Get This International Award
The Lucknow Metro Rail Corporation (LMRC) has become the first ever metro rail corporation from India to bag the International 'Royal Society For The Prevention Of Accidents' (RoSPA) Award.
•    LMRC has been given the Silver Award for its Phase 1A (North-South Corridor) in the Project/Infrastructure category for the year 2018.

15. Assamese film Village Rockstars is India's official entry to Oscars 2019
Assamese film Village Rockstars is India's official entry for Oscars 2019 in the Best Foreign Language film category.
•    The announcement was made by the Film Federation of India (FFI).
•    The Rima Das film was also named Best Feature Film at the 65th National Film Awards.
 
16. Mumbai Marathon gets IAAF gold label
The Tata Mumbai Marathon, to be held on January 20, 2019, was accorded the gold label by the International Association of Athletics Federations (IAAF).
•    The 16th edition of the race became the only gold label marathon in the country and joined the elite list of marathons in Asia.
•    The USD 405,000 event is set to witness over 46,000 participants running across six race categories.

17. SAFF Cup: Maldives beats India 2-1 to win title
India's quest for an eighth South Asian Football Federation Cup title ended as it suffered a 1-2 defeat against Maldives in the summit clash.
•    India, the defending champions, largely dominated the match with better ball possession and more shots at the opposition goal but the Maldives team scored from the few chances it got to lift the winners' trophy for the second time.
•    Maldives had also won the title in 2008 edition which it co-hosted.
 
18. 4th Eastern Economic Forum opens in Russia's Vladivostok
World leaders and business tycoons gathered in Russia's Far Eastern port city of Vladivostok to discuss cooperation at the fourth Eastern Economic Forum (EEF).
•    The three-day forum under the theme of "The Far East: Expanding the Range of Possibilities" has attracted thousands of attendees from more than 60 countries.

19. International Day of Democracy: 15 September
In 2007 the United Nations General Assembly resolved to observe 15 September as the International Day of Democracy.
•    Its purpose is to promote and uphold the principles of democracy and invite all member states and organizations to commemorate the day in an appropriate manner that contributes to raising public awareness.
•    The theme of the 2018 International Day of Democracy is 'Democracy under Strain: Solutions for a Changing World'.

20. International Day for the Preservation of the Ozone Layer: 16 September
September 16 was designated by the United Nations General Assembly as the International Day for the Preservation of the Ozone Layer.
•    This designation had been made on December 19, 2000, in commemoration of the date, in 1987, on which nations signed the Montreal Protocol on Substances that Deplete the Ozone Layer.
•    "Keep Cool and Carry On: The Montreal Protocol" is the theme for World Ozone Day 2018.

21. Exercise Aviaindra-18 Commences at Lipetsk (Russia)
Exercise Aviaindra is an Air Force level exercise between India and the Russian Federation. First Aviaindra was conducted in 2014 and has been planned as a bi-annual exercise.
•    Exercise Aviaindra 18 is being conducted at Lipetsk, Russia from 17 Sep to 28 Sep 18 and will be conducted in Jodhpur, India from 10 Dec to 22 Dec 18.
•    The Indian contingent for Ex Aviaindra departed for Russia on 15 Sep 18.

22. Germany launches world's first hydrogen-powered train
European railway manufacturer Alstom has launched world's first hydrogen fuel cell train.
•    French company said that the CoradiaiLint used fuel cells that turn hydrogen and oxygen into electricity.
•    In terms of speed, the new train can travel up to 140 kilometers per hour.

23. International Peace Day 2018
The global community is celebrating the International Day of Peace. The day is observed on 21 September every year.
•    The theme for this year is: "The Right to Peace – The Universal Declaration of Human Rights at 70".
•    This year, United Nations is celebrating the 70th year of the declaration of human rights adopted by the General Assembly.

24. 7th UNWTO Global Summit on Urban Tourism
The World Tourism Organization (UNWTO) is organizing the 7th UNWTO Global Summit on Urban Tourism: A 2030 Vision for Urban Tourism, on 16-19 September, in Seoul, Republic of Korea.
•    The Summit provides a unique platform to discuss the key issues shaping the future of urban tourism in the context of the 2030 Urban Agenda.

25. Closing ceremony: Indo-kazakhstan Joint exercise kazind 2018
Indian Army and Kazakhstan Army today completed the third edition of their joint military Exercise KAZIND 2018 in Otar Military area, Kazakhstan.
•    The two week long exercise had commenced on 10 Sep 2018.
•    The primary focus of the exercise was to train and equip the contingents to undertake joint counter insurgency and counter terrorist operations in urban and rural environment under mandate of United Nations.
 
26. More than 21 lakh people living with HIV in India
Maharashtra has the highest number of people living with HIV (PLHIV) in India which is around 3.30 lakh, contributing 15 per cent of total immunodeficiency virus-affected people in the country which is 21.40 lakh, according to the latest data by Health and Family Welfare Ministry.
•    Nationally, around 69.11 thousand PLHIV died of AIDS-related causes in 2017.
•    The report "HIV Estimations 2017" released on Friday compiled by the National AIDS Control Organisation (NACO) in collaboration with the Indian Council of Medical Research (ICMR)-National Institute of Medical Statistics (NIMS) is the 14th round in the series of HIV Estimations under National AIDS Control Programme (NACP).

27. PM launches "Swachhata Hi Seva"
The Prime Minister, Shri Narendra Modi, launched the 'Swachhata Hi Seva' Movement, to boost nation wide public participation in the Swachh Bharat Abhiyan, and catalyse the fulfilment of Bapu's dream of a Clean India.
•    The Swachhata Hi Seva movement aims at generating greater public participation towards Swachhta.
•    It is being organized in the run up to the fourth anniversary of the Swachh Bharat Mission, on October 2nd, 2018, which will also mark the commencement of the 150th year celebrations of Mahatma Gandhi.
•    The Prime Minister urged everyone to be a part of this movement and strengthen the efforts to create a 'Swachh Bharat'.

28. Power Ministry launches ambitious program on energy efficiency in Chillers
Ministry of Power, Government of India launched an ambitious program to encourage the deployment of Energy Efficient chiller systems in the country.
•    The Chiller Star Labelling Program has been formulated by Bureau of Energy Efficiency (BEE).
•    The program envisages providing star rating in terms of its energy performance. Initially, the program is launched on voluntary basis and will be valid upto 31st December 2020.
•    Chillers are used extensively for space conditioning of buildings and for industrial process cooling applications.

29. Narendra Singh Tomar chairs the 20th Central Employment Guarantee Council meeting in Bhopal
MNREGA is the largest employment generating scheme in the country. This scheme is demand based and provides employment to 5.5 to 6 crore people of the country.
•    This was stated by the Union Minister of Rural Development, Panchayati Raj and Mines, Shri Narendra Singh Tomar while addressing the 20th Central Employment Guarantee Council (CEGC) meeting that was held in Bhopal.
•    Shri Tomar said that the scheme is become more encompassing and 260 types of works have now been covered under it.
•    The Union Minister asserted that most of the banking issues that act as a hindrance for MNREGA wage payment will be removed through the recently launched India Post Payments Bank.

30. Jaipur Literature Festival begins in Houston
Jaipur Literature Festival was begun in Houston with a soulful music performance followed by stimulating discussions.
•    The festival is touted as the world's largest free literary festival.
•    The inaugural session also saw Congress leader and writer Shashi Tharoor discuss his book "Why i am a Hindu" with writer Namita Gokhale.
•    The annual festival began in 2006 and is held annually in Jaipur. This is the first time that it is being held outside Jaipur.

31. Hyderabad gets India's first dog park
Hyderabad is set to get country's first exclusive dog park.
•    The park, which is spread over in 1.3 acres, has been developed by the Greater Hyderabad Municipal Corporation at cost of Rs. 1.1 crore.
•    The park also has dog training and exercise equipments.

32. India-US military exercise begins in Uttarakhand
India and US armies on Sunday began a two-week joint military exercise in Uttarakhand to hone their tactical and technical skills in countering insurgency and terrorism in a United Nation peacekeeping scenario.
•    Battalion-strong Army personnel from the US and an equal number from India are participating in 'Exercise Yudh Abhyas 2018' at Chaubattia in Almora district.

33. Inaugural Edition of Bimstec Milex-18 Culminates at Pune
The Inaugural Edition of the BIMSTEC Nations Military Field Training Exercise i.e. MILEX - 2018 culminated on 16 September 18 after a Validation Exercise and an impressive Closing Ceremony held at Foreign Training Node, Aundh Military Station, Pune. Â 
•    The tactical drills showcased during the Validation Exercise included Hostage Rescue by insertion of troops from helicopters, Room Intervention as well as House Clearing Drill as part of Cordon and Search Operations, Raid on a Terrorist Hideout and neutralization of Improvised Explosive Devices(IED).
•    The entire exercise was monitored and controlled through the Joint Command Post established with representatives of the participating contingents.
•    The Exercise demonstrated the commitment and capabilities of the participating BIMSTEC National armies in working closely with each other to eradicate the menace of terrorism existing in different forms.

34. Second Flight Test of MPATGM Successful
Indigenously developed Man Portable Anti-Tank Guided Missile (MPATGM), was successfully flight tested for the second time from the Ahmednagar range.
•    All the mission objectives have been met.
•    The two missions on 15 and 16 September 2018 have been successfully flight tested for different ranges including the maximum range capability.

35. ISRO launches two British earth observation satellites onboard PSLV-C42
 The Indian Space Research Organization has launched its heavy-weight rocket, the Polar Satellite Launch Vehicle (PSLV), into orbit carrying two earth observation satellites of Britain's Surrey Satellite Technology Limited.
•    PSLV-C42 is carrying two earth observation satellites of Britain's Surrey Satellite Technology Limited (SSTL), NovaSAR and S1-4, weighing 450 kg each.
•    PSLV-C42 is the first fully commercial trip of the year, breaking a five-month-long lull, for the Indian Space Research Organisation (ISRO).

36. Dr. Mahesh Sharma releases National Museum Research Bulletin
The Minister of State for Culture (Independent Charge) and Environment, Forest & Climate Change, Dr. Mahesh Sharma released two important publications of the National Museum (M/o Culture), Sindhu Ghati Sabhyata:Ek Parichay (Hindi) and the National Museum Research Bulletin Number 10: Special issue (In House Publication), in New Delhi.
•    The National Museum Research Bulletin has been revived after a long gap of 16 years.
•    Speaking on the occasion, Dr. Sharma congratulated the efforts of National Museum to revive the research bulletin which he said will help to generate awareness about the activities of National Museum.

37. India – Morocco Tourism Bilateral meeting held in New Delhi
A bilateral meeting on Tourism Cooperation between India and Morocco led by the Minister of Tourism, Air Transport, Handicraft and Social Economy, Kingdom of Morocco, Mr. Mohamed Sajid and the Minister of State for Tourism (IC), Government of India, Shri. K. J. Alphons, held in New Delhi.
•    During this meeting both the Ministers agreed to enhance the tourism cooperation between India & Morocco and to work towards increasing tourist arrivals between both countries.
•    This meeting was followed by signing of an agreement of cooperation between the India Tourism Development Corporation and La Societe Marocaine D'Ingenierie Touristique, also known as Moroccan Agency for Tourism development (SMIT).

38. Piyush Goyal inaugurates the first ever India tourism Mart 2018
The Union Minister for Railways and Coal, Shri Piyush Goyal inaugurated the 'first ever' India Tourism Mart (ITM 2018) in the presence of Union Tourism Minister, Shri K J Alphons and the Tourism Minister of Morocco, Mr. Mohamed Sajid, in New Delhi.
•    The India Tourism Mart is being organized by the Ministry of Tourism from 16th to 18th September 2018, in partnership with the Federation of Associations in Indian Tourism and Hospitality (FAITH) and with support of State /UT Governments.
•    The function was held in presence of the Secretary, other senior officials of Tourism Ministry and Chairman/members of FAITH and also delegates from India and across the world.
•    Inaugurating the event, Shri Piyush Goyal wished the best to the Tourism Ministry to reach the ambitious goal of US$100 billion FTA receipts/year within 5 years.

39. PM, Bangladesh PM Sheikh Hasina, jointly unveil e-plaques for ground-breaking of two projects
Prime Minister Shri Narendra Modi, and the Prime Minister of Bangladesh, Sheikh Hasina, jointly unveiled e-plaques for the ground-breaking ceremony of two projects, via video conference.
•    External Affairs Minister of India, Ms. Sushma Swaraj, and Minister for Petroleum and Natural Gas, Shri Dharmendra Pradhan, also joined the proceedings.
•    The projects include: (a) India-Bangladesh Friendship Pipeline (b) Dhaka-Tongi-Joydebpur Railway Project
•    Speaking on the occasion, the Prime Minister described the cooperation between the two countries as an example for the world.

40. DAC Approves Procurement of Equipment Worth Rs 9,100 Crores
The Defence Acquisition Council (DAC), chaired by Raksha Mantri Smt. Nirmala Sitharaman, met and accorded approval for the procurement of equipment for the Defence Forces valued at over Rs 9,100 crores.
•    Pursuing the goal of indigenisation and self-reliance, the DAC approved procurement of two Regiments of Akash Missile Systems under 'Buy (Indian)' category from M/s BDL.
•    The Missile to be procured is an upgraded version of the previously inducted Akash missiles and will include seeker technology, possess 360 degree coverage and will be of compact configuration with reduced signature.
•    The upgraded Akash Weapon System is operationally critical equipment which will provide protection to vital assets.
•    The DAC also accorded approval for progressing Design and Development of Individual Under Water Breathing Apparatus (IUWBA) for T 90 Tanks.

41. Union Home Minister chairs Southern Zonal Council Meeting in Bengaluru
The 28th meeting of the Southern Zonal Council was held under the Chairmanship the Union Home Minister Shri Rajnath Singh in Bengaluru. Â 
•    The meeting was attended by the Chief Ministers of Karnataka and Puducherry; Deputy Chief Minister of Tamil Nadu; Finance Ministers of Andhra Pradesh and Kerala Minister for Social Justice & Empowerment and Minister for Tourism, Karnataka; Minister for Health, Puducherry and Minister of State for Home, Govt. of India, Lt. Governor of Andaman & Nicobar Islands and senior officers from Central and State Governments.
•    The Council reviewed the progress of the implementation of the recommendations made at the last meeting relating to security to fishermen, introduction of peninsular tourism trains, uniformity in allocation of funds in proportion to population of SC/ST for scholarship for all the courses, optimum harnessing of renewable energy available in the Southern States without endangering grid security and development of Puducherry Airport.
•    Thereafter, the Council took up issues which relate to Pulicat lake dispute between Andhra Pradesh and Tamil Nadu fishermen over fishing rights, menace of red sander smuggling in the holy Seshachalam hills, supply of Krishna water to augment the drinking water supply to Chennai city, issues relating to fishing in coastal States in Southern Zone, checking of Antibiotic residues in aquaculture shrimp export, scheme for modernization of State Police Forces in the States of Southern Zone, issuance of 'No Objection Certificate' (NOC) for LPG godown site plan, issues pertaining to Biofuels programme, etc.
•    Out of the 27 items discussed today, 22 were resolved in the meeting.

42. Dr Jitendra Singh inaugurates 'All India Pension Adalat'
The Union Minister of State (Independent Charge) Development of North-Eastern Region (DoNER), MoS PMO, Personnel, Public Grievances & Pensions, Atomic Energy and Space, Dr Jitendra Singh inaugurated the 'Pension Adalat'.
•    It was organised by the Department of Pension & Pensioners' Welfare, Ministry of Personnel, Public Grievances and Pensions, Government of India.
•    He also presented the 'Anubhav' awards 2018 to six pensioners for their contribution towards creating institutional memory for the departments.
•    On the occasion, Dr Jitendra Singh also launched a booklet—"An era of sustained  reforms for Central Government Pensioners" enumerating simplification of rules and steps initiated to strengthen the Grievance Portal and make it user friendly.

43. PM to lay foundation stone for India International Convention and Expo Centre
The Prime Minister, Shri Narendra Modi, will lay the foundation stone for India International Convention and Expo Centre (IICC) at Dwarka, New Delhi, on September 20, 2018. Â 
•    Located in Sector 25, Dwarka, the Centre would be a world-class state-of-the-art Exhibition-cum-Convention Centre, with facilities like financial, hospitality and retail services.
•    The estimated cost of the project is Rs.25,700 crores.  
•    The project is implemented by India International Convention & Exhibition Centre Limited, a 100% Government owned company under Department of Industrial Policy & Promotion, Ministry of Commerce and Industry.

44. Atal Bimit Vyakti Kalyan Yojna Rolled Out
The ESI Corporation during its 175th Meeting held in New Delhi under the Chairmanship of Shri Santosh Kumar Gangwar, Union Minister of State for Labour & Employment(I/C) has taken some very important decisions towards improvements in its services and benefits being provided to Insured Persons and their dependants.
•    Considering the change in employment pattern and the current scenario of employment in India which has transformed from a long term employment to fixed short term engagement in the form of contract and temping, the ESI Corporation has approved a Scheme named "ATAL BIMIT VYAKTI KALYAN YOJNA" for Insured Persons (IP) covered under the Employees' State Insurance Act, 1948.  
•    This scheme is a relief payable in cash directly to their Bank Account in case of unemployment and while they search for new engagement.  

45. Union Home Secretary launches 'e-Sahaj' portal for grant of Security Clearance
The Union Home Secretary Shri Rajiv Gauba launched an online 'e-Sahaj' portal for grant of Security Clearance.
•    The portal will facilitate an applicant to submit application online and also to view the status of his application from time to time.
•    Speaking on the occasion, the Union Home Secretary said that with the introduction of online portal, the process has become standardized, resulting in a process which will be faster, transparent and easy to monitor.
•    Various functionaries can access the application and documents online and take timely decisions.

46. ITU South Asia Office and Technology Innovation Centre to be established in New Delhi
The ITU South Asia Area Office and Technology Innovation Centre will be established in New Delhi.
•    This was announced by Mr. Houlin Zhao, Secretary General (SG) of the International Telecommunication Union (ITU), during the 4th BRICS Communications Ministers Meeting held in Durban, South Africa recently.
•    ITU is a United Nations specialized agency for Information and Communication Technologies, with membership of 193 countries and nearly 800 private sector entities and academic institutions.

47. MHA signs MoU with ISRO to set up an Integrated Control Room for Emergency Response
The Ministry of Home Affairs (MHA) and Indian Space Research Organization (ISRO), Department of Space signed a Memorandum of Understanding (MoU) for setting up of an state-of-the-art Integrated Control Room for Emergency Response (ICR-ER) in Ministry of Home Affairs.
•    ISRO will render its technical expertise for setting up of proposed ICR-ER whereas the project will be executed under overall supervision of MHA.
•    The proposed Control Room is expected to be established in next one-and-a-half year.

48. Successful Flight Test of Prahar
Defence Research and Development Organisation (DRDO) successfully flight tested the indigenously developed surface-to-surface tactical missile 'Prahar', from Launch Complex-III, ITR, Balasore.
•    Range stations and electro optical systems tracked the missile throughout its flight.
•    'Prahar' is a contemporary weapon system capable of carrying multiple types of warheads and neutralizing a wide variety of targets.

49. Inaugural Naval Flight Test Seminar held at Goa
The inaugural Naval Flight Test Seminar was held at Goa on 20 Sep 18.
•    The seminar witnessed some intensive brain-storming sessions on flight testing fixed and rotary wing aircraft towards integrating them on the aircraft carrier and small decks.
•    There were also a series of papers which were presented on weapon integration on service aircraft and towards building and sustaining the training for Naval Experimental Test Pilots and Flight Test Engineers.
50. Health Ministry partners with Dell and Tata Trusts
Ministry of Health and Family Welfare, here today exchanged the MoUs with the Tata Trusts and Dell to provide a technological platform for nationwide prevention, control, screening and management program of Non Communicable Diseases (NCDs).
•    Smt Anupriya Patel, Minister of State for Health and Family Welfare presided over the ceremony and also released the user manual for NCD application under Comprehensive Primary Health Care (CPHC) IT Solutions.

51. Vice President returns after successful visit to Serbia, Malta and Romania
The Vice President of India, Shri M. Venkaiah Naidu was on an official Visit to Serbia, Malta and Romania from September 14-20, 2018 and returned after a successful official visit.
Some key outcomes:
•    Support for India's aspiration to be on UNSC and for taking forward UN reforms.
•    Endorsement of India's stand on terror and support for early adoption of United Nation's Comprehensive Convention on International Terrorism.
•    Strong support for resuming EU-India trade agreement after Romania assumes Presidency of EU.
•    Business Forums generated a good deal of enthusiasm among the industrialists and businessmen in every country as they got to listen to the Vice President about India's transformative initiatives.  The growth story and the reports from World Bank, IMF quoted by Vice President enhanced awareness.
•    The leaders in all the countries expressed unequivocal admiration for India's economic growth and were eager to engage and partner with India politically, economically and culturally. In Romania, there was a special interest in Space and Aerospace. Malta expressed its desire to join the International Solar Alliance.
•    There was a clear demand for Parliamentary friendship groups and frequent visits by Parliamentarians.
•    The visit gave an opportunity for the members of India Diaspora to listen to the Vice President about the transformative agenda of the government and encouraged them to think of various ways in which they can contribute to the country's development. The vice President underscored the growing importance of India on the world stage and drew attention to four key features that need to be recognised. He called them 4Ds – Democracy, Demographic dividend, Demand and Diaspora.
•    The visit evoked a lot of interest among the top political leadership and there was an air of bonhomie in all the meetings. The banquets hosted by the President of Serbia and Malta as well as by the President of Senate of Romania provided an opportunity for sharing views on bilateral and multilateral issues with rare candour.
•    The address to the Serbian Parliament was very well received and the admiration for India as the largest democracy and a vibrant, well functioning polity was more than evident in the standing ovation the Vice President received at the end of his address.
•    MOUs entered into related to plant protection, tourism, air services, oil research, diplomatic training and maritime cooperation.
•    In all the three countries, there was considerable interest in Yoga and Ayurveda and in Romania, the Vice President launched two books on Ayurveda and inaugurated an Ayurveda Information Centre.

52. Odisha to name Jharsuguda airport after Veer Surendra Sai
The Odisha Assembly has passed a resolution unanimously to name the newly-constructed Jharsuguda airport after noted freedom fighter Veer Surendra Sai.
•    Prime Minister Narendra Modi will inaugurate the airport on September 22.
•    Earlier, the Civil Aviation Ministry in July had denied naming the airport after the freedom fighter citing the absence of a state assembly resolution on this.

53. PM to launch Pradhan Mantri Jan Arogya Yojana at Ranchi
The Prime Minister, Shri Narendra Modi, will launch the Pradhan Mantri Jan Arogya Yojana (PMJAY) at Ranchi, Jharkhand, on September 23, 2018.
•    Under this scheme, over 10 crore families will be provided health assurance worth Rs. 5 lakh each, every year.
•    The Prime Minister will visit an exhibition on the PMJAY. He will witness a demonstration of activities such as beneficiary identification, and e-card creation.
•    On September 24, the Prime Minister will inaugurate Pakyong Airport, which will bring the State of Sikkim on the country's aviation map.

54. President Inaugurates Centenary Celebrations of Dakshina Bharat Hindi Prachar Sabha
The President of India, Shri Ram Nath Kovind, inaugurated the centenary celebrations of the Dakshina Bharat Hindi Prachar Sabha in New Delhi on September 22, 2018.
•    Speaking on the occasion, the President said that languages connect people. There are numerous languages and dialects in India. All of them have their special nature and beauty. This diversity adds to India's culture and well-being.
•    He said that institutions like the Dakshina Bharat Hindi Prachar Sabha have played a very important role in strengthening the emotional unity of our country. He noted that the Sabha has developed a network of about 20,000 Hindi campaigners.

55. Ayushman Bharat to be launched by Prime Minister Shri Narendra Modi in Ranchi
India takes a giant leap towards providing accessible and affordable healthcare to the common man with the launch of Ayushman Bharat – Pradhan Mantri Jan AarogyaYojana (AB-PMJAY) by the Prime Minister, Shri Narendra Modi on 23rd September, 2018 at Ranchi, Jharkhand.
•    This is the "world's largest government funded healthcare program" targeting more than 50 crore beneficiaries.
•    Ayushman Bharat- Pradhan Mantri Jan ArogyaYojana (PMJAY) will provide a cover of up to Rs. 5 lakhs per family per year, for secondary and tertiary care hospitalization.
•    Over 10.74 crore vulnerable entitled families (approximately 50 crore beneficiaries) will be eligible for these benefits.
•    PMJAY will provide cashless and paperless access to services for the beneficiary at the point of service.
•    PMJAY will help reduce catastrophic expenditure for hospitalizations, which impoverishes people and will help mitigate the financial risk arising out of catastrophic health episodes.
•    Entitled families will be able to use the quality health services they need without facing financial hardships.
•    When fully implemented, PMJAY will become the world's largest fully government-financed health protection scheme.

56. 3rd edition of MahaBiz 2018 to be held in Dubai
The 3rd edition of acclaimed International Business Conference  'MahaBiz 2018' will be held in Dubai on 12th and 13th October 2018.
•    MahaBiz is considered a bridge for business opportunities between Maharashtra state and Gulf Cooperation Council (GCC) region.
•    GCC is a political and economic alliance of six middle eastern countries. It includes Saudi Arabia , UAE , Kuwait , Oman , Bahrain and Qatar.

57. Assam observed September 22 as Rhino Day
The Assam government observed September 22 as Rhino Day to generate public awareness on protection of the one-horned pachyderm.
•    A State Rhino Project in line with National Rhino Project will be launched in Assam soon for protecting the pachyderms from threats of poaching.
 
58. Reserve Bank licence for PayU to open NBFC arm
PayU India has received a licence from the Reserve Bank of India to operate its own non-banking financial company, a development that will provide a big boost to the Naspers-owned fintech major in growing its consumer credit business.
•    The NBFC, PayU Credit, which will be a subsidiary of PayU, is the latest offering from the company that looks to expand its suite of credit-focused offerings.
•    PayU, according to company executives, has an estimated 4,00,000 merchants on its platform.

59. RBI cancels licence of Tech Mahindra for issuing pre-paid cards
The Reserve Bank has cancelled the licence of Tech Mahindra Limited to issue pre-paid cards following the voluntary surrender of authorisation by the Noida-based company.
•    The certificate of authorisation (COA) was issued in November 2013, the Reserve Bank said in a statement.
•    Following the cancellation of the COA, the company cannot transact the business of pre-paid card issuance.

60. Iconic Time Magazine Sold for $190 Million in Cash
Time Magazine is being sold by Meredith Corp. to Marc Benioff, a co-founder of Salesforce, and his wife.
•    Meredith announced that it was selling Time magazine for $190 million in cash to Benioff, one of four co-founders of Salesforce.
•    The Benioffs are purchasing Time personally, and the transaction is unrelated to Salesforce.com, where Benioff is chairman and co-CEO and co-founder.

61. Vijaya Bank, Dena Bank, BoB to merge: Govt
The government said state-owned Bank of Baroda, Vijaya Bank and Dena Bank will be merged to create the country's third largest lender as part of efforts to revive credit and economic growth.
•    The move follows top lender State Bank of India last year merging with itself five of its subsidiary banks and taking over Bharatiya Mahila Bank.
•    Finance Minister Arun Jaitley said the merger will make the banks stronger and sustainable as well as increase their lending ability.
•    This merger will create third largest bank in India.

62. Agreement signed between Heavy Water Board and Greenstar Fertilizers Limited
An agreement has been entered between Heavy Water Board (HWB) and Greenstar Fertilizers Limited for routing of phosphoric acid through Solvent Extraction Plant, Tuticorin and supply of utilities and chemicals.
•    Heavy Water Board, a constituent unit of DAE, has diversified its activities and is pursuing bulk production of various special materials required for DAE.
•    This includes Nuclear Grade Solvents, Enriched Boron Compounds, Nuclear Grade Sodium and D Labeled compounds.
•    Greenstar Fertilizers Limited is a leading manufacturer and marketer of fertilizers in India. Greenstar manufactures phosphatic fertilizers at Tuticorin in Tamil Nadu.

63. India Post Payments Bank, Bajaj Allianz join hands 'to provide insurance to all'
State-owned India Post Payments Bank (IPPB) and private life insurer Bajaj Allianz Life Insurance Co Ltd (BALIC) have entered into a strategic partnership to provide life insurance solutions.
•    This partnership will leverage IPPB's last mile reach for building awareness about life insurance.
•    Both the companies came together to formally sign the Corporate Agency Agreement.

64. ICICI Bank teams up with HealthAssure to offer tailor-made facilities for NRI customers
ICICI Bank has tied up with health aggregator HealthAssure to provide tailor-made healthcare services to the bank's NRI Pro and Premia savings account holders and their family members.
•    With HealthAssure, customers will get a 'Health Pass', a personal concierge facility with a host of exclusive healthcare benefits in India.
•    Benefits include discounts of up to 50 per cent on check-ups and consultations with specialists at over 3,000 primary health-care centres in more than 1,000 cities in India.

65. India signs Loan Agreement with the World Bank for US$ 74 Million for Uttarakhand
A Loan Agreement for IBRD Credit of US$74 million equivalent for the Uttrakhand Workforce Development Project (UKWDP) was signed with the World Bank.
•    The Project objective is to improve the quality and relevance of training at priority Industrial Training Institutes (ITIs) and to increase the number of labor-market-relevant workers through short term training in Uttrakhand.

66. BRICS bank approves USD 525-million loan for infra projects in Madhya Pradesh
The New Development Bank (NDB) of the BRICS countries has approved a USD 525-million loan to Madhya Pradesh for infrastructure projects.
•    The Board of Directors of the NDB approved a USD 350-million loan for the Major District Roads Project II of Madhya Pradesh and USD 175 million for building and upgrading 350 bridges.

67. PPF, NSC, other small savings to give higher interest
Small saving schemes such as Public Provident Fund (PPF), National Savings Certificates and Post Office Deposit Scheme will fetch more in the three months period starting October 1.
•    PPF and NSC will earn interest at 8 per cent while Senior Citizens Savings Scheme, which has a tenure of five years, will fetch 8.7 per cent.

68. PNB drags Lanco Vidarbha Thermal Power to NCLT
Lanco Vidarbha Thermal Power Limited, a subsidiary of Lanco Infratech Limited, now faces proceedings in the National Company Law Tribunal with the Punjab National Bank dragging it to the tribunal in Hyderabad for resolution.
•    The diversified Lanco group's woes seem to continue with Lanco Infratech Limited already on liquidation process and another group entity tackling legal proceedings and the Vidharbha unit is now taken to NCLT, Hyderabad.
•    Petitioning the NCLT Hyderabad bench, the PNB has pleaded to take the case for the Corporate Insolvency Resolution Plan under the Insolvency and Bankruptcy Code.

69. IRDAI panel to examine fintech issues
IRDAI has constituted a committee, comprising its officials as well as senior executives of a few insurers, to study regulatory issues fin-tech poses for insurance.
•    Besides in a fast evolving financial technology landscape, the move comes amid the authority's emphasis on adopting a regulatory sandbox approach to experiment with fin-tech solutions.
•    With IRDAI Chief General Manager Randip Singh Jagpal as the chairperson, the committee would identify key regulatory issues and gaps pertaining to fin-tech in insurance.

70. Jharkhand govt inks MoU with NICL for Ayushman Bharat Scheme
The Jharkhand government has signed a Memorandum of Understanding (MoU) with National Insurance Company Ltd to provide medical facilities to the people of the state under the Centre's flagship health scheme – Ayushman Bharat Yojana.
•    The scheme will be launched nationally by Prime Minister Narendra Modi from Ranchi on 23 September.
•    As per information received, Jharkhand government and National insurance company have signed a MoU for quality and timely medical treatment to the citizens.
71. Corporation Bank inks pact with NeSL
Corporation Bank has signed an information utility (IU) agreement with National e-Governance Services Ltd (NeSL) to share financial and security information under IBBI (IU) Regulation 2017.
•    NeSL serve the needs of the banking system by providing data to insolvency professionals, adjudicating authority and the Insolvency and Bankruptcy Board of India.