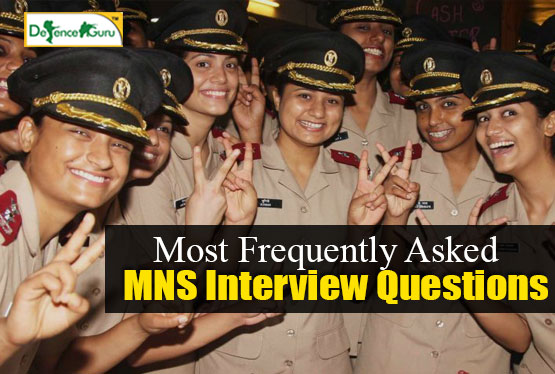 MNS INTERVIEW QUESTIONS
Are you willing to redefine women status in India, do you want to take girl power to another level, do you aspire to see empowerment of the female section of India? If so, then take your steps towards MNS because this is all about female leadership!
Military Nursing Service, commonly known as MNS is a brilliant opportunity under the umbrella of Indian Armed Forces, available exclusively for girls. Incepted in 1988, MNS is a sub- part of Armed Forces Medical Services (AFMC). Herein girls are employed for training as military nurses and further promoted to Sort Service Commission or Permanent Commission by the President of India.
Curious about the course? Well under MNS, girls from PCB (physics- chemistry- biology) stream in 10+2 level clear the entrance and get admitted into a 5 year B.Sc training program. The entrance process is three steps: written exam+ interview+ medical examination.
The limelight of today's article is the 3rd step, that is, interview session. Often students fear this round but it is as easy as a pie. Honest answers, some smartness, and lots of confidence are all that one needs to master this round.
Here is a list of most commonly asked questions in MNS interview:
Personal questions such as: General information about parents such as their name and kind of employment. In case your parents belong to Defence background the interviewing Officers might interrogate further.
Your family background.
Tell us about yourself, your strength and weaknesses?
What is your aim in life?
Why do you want to join MNS?
What motivated you to join Indian Defence/ MNS?
Why should we believe you are suitable for MNS? Note: here the Officers might trick you with the weak ideas/ misconception about MNS such as nursing, apart from military, is not a lavish or "high rated" career then why do you want to join?
Your education credentials
Previous course pursued or employment status.
Some questions in relation to subjects, that is, Physics, Chemistry, Biology are also asked especially Biology so as to test your academics.
Questions in the backdrop of Military Nurses are also put up. These include:
How can you serve best as a military nurse, the responsibilities and duties that you are ready to take?
What is your weakness when it comes to be employed as a military nurse?
Do you have any previous experience as a nurse in military? If yes, then elaborate.
How did you prepare for the MNS exam?
Tell us about the recent developments and amendments in MNS.
How did you enhance your knowledge of Military Nurses in last 1 year?
The questions are simple enough but you need to handle it with smartness. Follow these secret tips:
Always talk about the positive side of Military nurses no matter what comes up.
Be informative about Nursing career. Be long- term goal oriented.
Show how passionate you are about being a part of this field.
Above all, do expose your responsible, noble and helpful nature towards society because as a nurse you need to be kind and supporting towards the patient. That's the whole job: to 'nurse' them, to take care of them.
MNS, undoubtedly is a moralistic, decent and honorable profession. Being dominated by girls it is a major platform of women upliftment. So brace your interview skills with above notions and win this splendid opportunity.
Read More About : MNS Exam