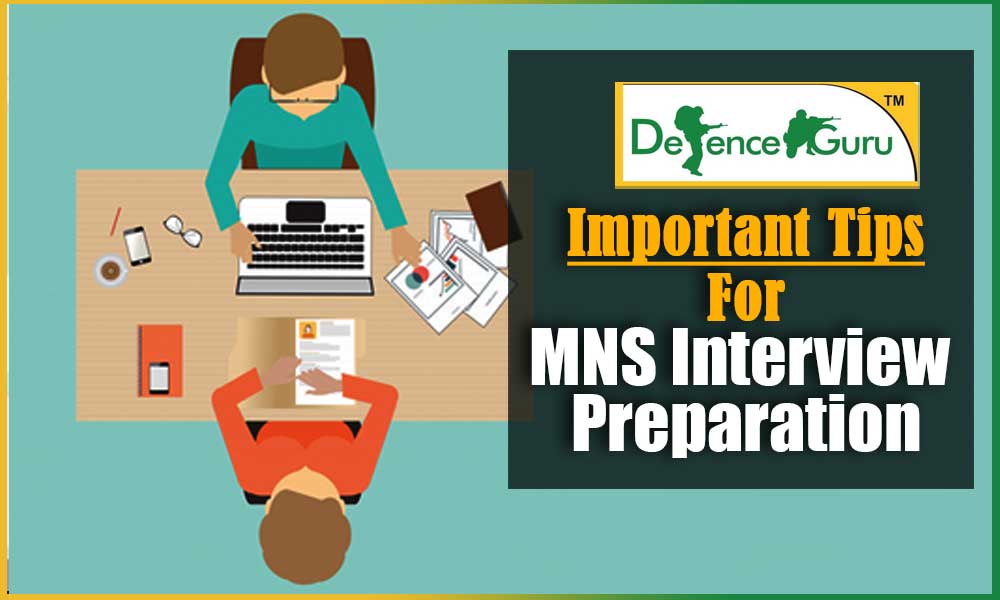 Dear Aspirants,
Heartiest Congratulations from Defence Guru team on clearing written test of MNS held on Jan 13th, 2019. I would like to share important tips for MNS interview preparation. First of all I would like to boost your morale that you have qualified the first stage of nursing career in Armed Forces. Appearing in the interview will be quite interesting and exciting for you. An aspirant should always put efforts for self motivation and it really works for the preparation for next stage i.e. Interview.
Interview is a process to know your inner skills and on the basis of this assessment, your selection is made confirmed. Basically it is conducted just to ensure the suitability of the candidate on the basis of personality traits whereas written exam is conducted to test your academic knowledge that you have gained in academics. So here a student must focus on the following points to make a strong and strategic preparation for it.
Self Introduction:
The interview begins with self introduction. A candidate is required to prepare it well. One should take it very carefully and should put efforts to make it ready in all aspects. One should give introduction in interactive manner rather than following a script for it. One should rehearse it well and should write it too. One should be creative in preparing one's introduction and should try to make it beautiful. To know the patter of self introduction just click the link below and read it.
http://defenceguru.co.in/description.php?srno=54/formal-introduction
Cross questions in Self Introduction:
The objective is to analyze your logical skills, common sense, presence of mind and power of expressions. An aspirant should work on each section of his/her self introduction. This requires your concentration and content for readiness. There are many section where an aspirant finds that he/she has never focused on that point for example knowing about one's place, meaning on one's name, about school, favorite subject, best friend and many more.
http://defenceguru.co.in/description.php?srno=68/cross-questions
Effective Communication Skills
Communication Skills plays a very important role in interviews. This is the foundation of one's overall performance. One should have a good command on language. If you are a beginner in it, work on sentence formation first so that you may start expressing your ideas in English. lack of English language becomes the greatest hurdle in interviews. One should start interacting in English language more and more to polish one's command on it. To know more about sentence formation click the following link.
http://defenceguru.co.in/description.php?srno=56/learn-to-make-sentences
one should be strong in tenses in order to make correct sentences and answering questions confidently. Usage of wrong helping verbs make a bad impression. Do refer the following topic for more detail.
http://defenceguru.co.in/description.php?srno=57/learn-tenses-and-make-sentences
for voice clarity, one should try to speak louder. Your loud voice shows your confidence whereas your slow voice shows your confusion, hesitation and diffidence. Now choice is yours what you prefer. I have written an article to improve voice clarity in interviews.
http://defenceguru.co.in/description.php?srno=59/voice-clarity
Body language and Eye contact
Your body language conveys the message along with your voice. One should understand the required body language in defence. Here you are supposed to be physically fit and mentally agile to take the challenging assignments.
http://defenceguru.co.in/description.php?srno=105/body-language-tips-for-ssb-interview
one should make proper eye contact with the interviewer. There are two phases to keep in mind for eye contact. One to one communication and one to many communication. If there is one to one communication, one should definitely maintain eye contact with the speaker. Actually it is not to be implemented forcefully in fact it is help for you so you must maintain proper eye contact with the person. If you maintain eye contact, you will feel comfortable with the interviewer and it will be easy to assess your skills since you in front of him in a live manner. Looking here and there somehow shows your nervousness and confusing state.
Sense of humor:
One should be good at repartee. There should be smiling face while you appear in the interviews. One should try to maintain a good tuning with the interviewer in order to make a better understanding with him. Read the following article for more detail.
http://www.defenceguru.co.in/description.php?srno=213/sense-of-humor-in-interviews-and-at-workplace
there are many other points which are important for your interview preparation of MNS. I shall be sharing more articles on the same. The given links for more details are helpful for you.
Stay connected with Defence Guru for more updates on MNS interview preparation.
By
Aditya Dubey
Head of the department (English and Interview Skills)
Centurion Defence Academy
2018 Defence Guru All Rights Reserved