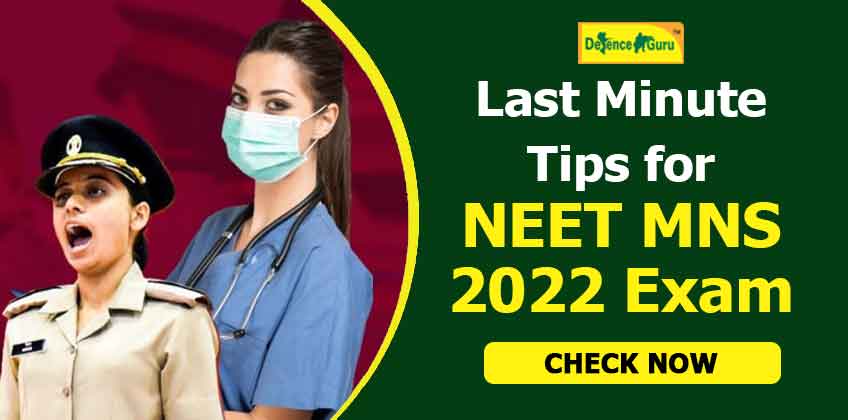 NEET UG 2022 will take place on July 17 according to the official notification released by the National Testing Agency (NTA). All medical applicants, including those interested in the Military Nursing Services - MNS, must pass the NEET-UG exam. When it comes to exam difficulty and the allocation of seats, NEET has emerged as the most coveted competitive exam. As a result, applicants preparing for the NEET MNS 2022 exam must understand the importance of last-minute preparation tips. Keep reading to learn more about NEET MNS 2022 preparation tips.
Before moving on to the final revision, the students must undoubtedly finish the complete NEET curriculum. Before finishing their NEET exam preparation, candidates must develop a plan based on their comprehension of fundamental concepts.

If candidates could spend adequate time reading, analyzing, and taking practice tests, it would be practical. It is necessary to create a reasonable timeline for revising the important topics, covering each topic fairly while simultaneously working over the exam questions from the previous year.

Candidates who want to join the Military Nursing Services as officers and are getting ready for the NEET exam should make sure they have a firm grasp of the fundamentals because performance on this exam will determine whether or not they are chosen to move on to the subsequent phases of the MNS exam.
Key Preparation Tips To Crack NEET MNS Exam 2022
Identifying the Vital Aspects
Candidates must recognise the critical areas where they need to improve because simply repetition of the concepts won't give them a strong base. You should therefore be aware of your strong and weak points and change your schedule accordingly.
As soon as you have finished the syllabus, begin working through as many practice tests and questions as you can. All of this will help you create a thorough exam strategy and offer you a realistic impression of the exam. As a result, your chances of performing well increase the more you exercise.
Make brief notes and add your own descriptions to support your knowledge if required. These useful notes will be of great assistance to you as you work through the entire syllabus. Starting with the NCERT books and spending enough time on the subjects that require improvement is recommended.
Identify Strong and Weak Areas
Candidates should never begin with challenging topics; instead, develop a strategy by concentrating on your strengths and areas of confidence. identifying your strengths and weaknesses in order to develop a proactive strategy for success in those aspects
Candidates should take this as an opportunity to attentively go over the self-prepared notes they have already written, which contain key concepts, formulae, solutions, diagrams, and other constituents that may require periodic revision. This strategy will help you finish the exam quickly and answer as many questions as you can.
Mock Tests & Previous Year Questions
Applicants can become acquainted with the actual exam environment by taking practice tests and answering questions from previous years. This also enables them to assess their performance and, in turn, identify their mistakes so that they can effectively correct them.
It might be wise to spend some time analyzing your preparation methods before making the decision to aimlessly study further. Spend a significant amount of time detecting, understanding, and resolving your shortcomings after each mock test you take.
Candidates who are taking a highly competitive exam, like the MNS, need to schedule their study time for best effectiveness. They should plan their daily activities so that they can take breaks and get enough refreshment to enhance their preparation.