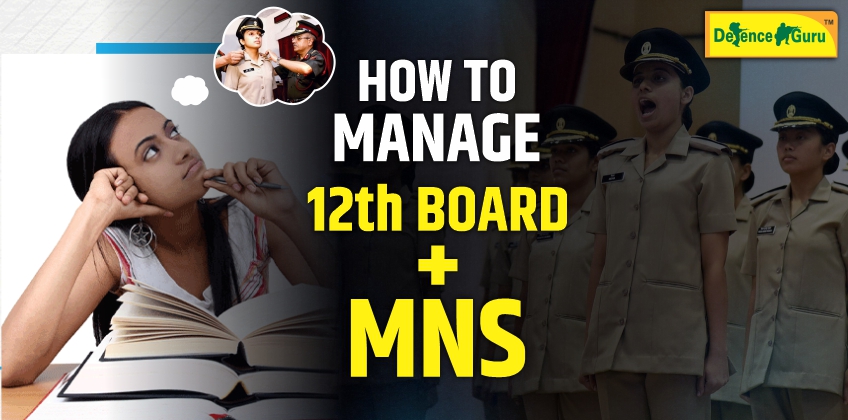 How to Manage 12th Board Exam with MNS Preparation
The most challenging task for those seeking to join the Military Nursing Services is coordinating MNS exam preparation with class 12th board exams. It is imperative for MNS aspirants to do well in their board exams as well as pass the Indian Army's entrance exam for the Military Nursing Services. As a result, for a young aspirant, building a strong correlation between the preparation for both of these exams appears to be a massive undertaking. A candidate can master both the class 12th board exams and the MNS exam effectively with a determined approach to learning and proper integration of the coursework. In this article, we'll go over some useful tips for preparing for both exams at the same time. But, before we get into the preparation plan, let's have a look at the fundamentals of both exams.
What is the MNS Exam?
MNS is a national entrance test for female applicants interested in joining the Military Nursing Service to serve the country. The Military Nursing Services - MNS examination is administered by the Director-General Armed Forces Medical Services (DG-AFMS) of the Indian Army for female defence aspirants who aspire to serve the nation by joining the elite defence forces. The MNS written exam has three sections: General English, General Intelligence, and General Science. It is conducted in two shifts at specified examination centers. The MNS Written Exam is conducted by the Indian Army at several locations across the country and is conducted online through a 90-minute computer-based test.
The exam consists of 150 questions divided into three sections: General English, General Intelligence, and General Science.
The MNS online exam will only contain objective-type questions, and there will be no negative marking.

A written test, an interview, and a medical examination are all part of the MNS selection process. In order of merit, an interview will be held with a certain number of written qualified candidates.

Following the interview, the approved applicants will undergo a medical examination by a Special Medical Board (SMB).

Only those candidates who pass the interview phase will be contacted for the medical examination, which could take 2-5 days.
Tips to Manage 12th Board Exam with MNS Preparation
The MNS exam is only for female candidates who have completed 10+2 in Physics, Chemistry, and Biology. Candidates for the Military Nursing Service exam must be participating in or have passed the 12th-grade exam with Physics, Chemistry, and Biology as compulsory subjects. As a result, students who have these subjects for their board exam will find it easier to prepare for the MNS exam at the same time.

Since the MNS syllabus combines the NCERT curriculum for Classes 11 and 12, it is better to start preparing for the MNS exam while still in school to relieve the hassle of balancing the board exam and MNS preparation. The value of time management cannot be overstated. A comprehensive time schedule must be created that includes all relevant topics and subjects in order to improve candidates' preparation levels in the timeframe available.

Candidates should concentrate on learning keywords, idiomatic expressions, and expanding their English vocabulary through regular reading and understanding. Be informed of general activities in and across the world, particularly in relation to current events in India, for general awareness. To examine yourself, your capabilities, and improve on your weaker areas while increasing your better ones, try solving last year's sample questions and taking regular mock tests.

To improve their problem-solving speed, candidates should develop a list of all the relevant formulas and check them daily. Make quick computations to cut down on the time it takes to solve the problems. To keep a greater level of consistency throughout the preparation, revise the concepts on a daily basis.

In interviews, communication is crucial, so having great communication skills is the cornerstone of one's overall success. Maintain proper eye contact with the interviewer because your body language reveals a considerable measure of your personality. This is the most crucial part of an interview, and it should be engaging and natural, as well as genuine as possible.
For getting satisfactory marks in General Science, a basic understanding of the 10+2 syllabus and acquaintance with some advanced topics contained in the MNS syllabus is sufficient. Similarly, General Intelligence assesses the candidates' general and mental awareness. It relies mostly on problem-solving and reasoning strategies. To pass the MNS written exam with flying colors, a candidate must have a thorough understanding of the MNS Syllabus, Exam Pattern, and Selection Process, as well as a well-organized timetable for consistent learning. Analyzing capacities for improved performance, as well as a regular practice and completing mock examinations, and also daily revision of vital concepts would assist MNS aspirants to pass the exam with ease.