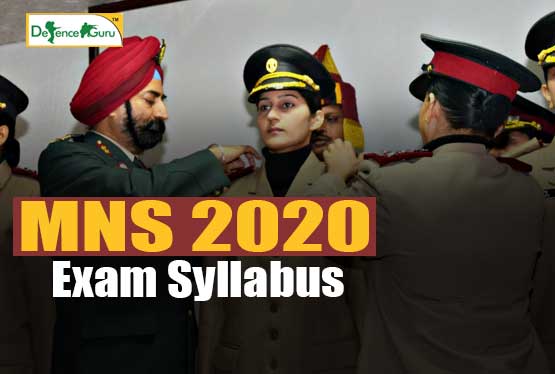 MNS 2020 Exam Syllabus
Syllabus is the central part of any and every course, training and competitive exam. Not only it gives you a list of topics to prepare but also depicts the level of that exam. Today I endeavor to highlight the syllabus of Military Nursing Service (MNS) entrance exam 2020.
MNS is an integral branch of Indian Army. Included as a part of the Armed Forces Medical Services (AFMS), MNS holds special position as it recruits only female candidates. It is managed under the Defence Ministry of India wherein the President of India grants Short Service Commission or Permanent Commission to the desirable Officers. The girls are admitted into a 4 year B.Sc nursing program after which they get employed as nurses in the Indian Army.
Only female candidates who have passed 10+2 examination with Physics, Chemistry and Biology are eligible to apply. They should have scored an aggregate of not less than 50 % marks in the exam.
It's a noble, philanthropic profession and if you want to be a part of it then start preparing for the entrance exam. You heard it right, to get into MNS each candidate has to appear for an online exam followed by interview as well as a medical examination.
Since the central concern of today's article is written exam of MNS let me tell you it's details.
The exam shall be in online mode from the very next year, that is, 2020
The paper will be objective based with Multiple Choice questions (MCQs).
There will be 180 questions and the time limit to complete it will be 90 minutes.
The subjects include: Physics, Chemistry, Biology, General English and General Intelligence.
With the release of MNS notification of the year 2020 many students have braced up the speed of preparation hence it's a crucial time to note the syllabus for a thorough study. Below is the complete curriculum:
General English MNS Exam Syllabus
Synonyms/ Homonyms.
Antonyms.
Spot the error.
Fill in the blanks.
Spellings.
Detecting Mis-spelt words.
Idioms and phrases.
One word substitutions.
Shuffling of sentence parts.
Shuffling of Sentences in a passage.
Improvement.
Cloze passage.
Comprehension passage.
Biology MNS Exam Syllabus
Taxonomy.
Cell and Molecular Biology.
Reproduction.
Genetics and evolution.
Human health and diseases.
Biochemistry.
Plant physiology.
Human physiology.
Biotechnology and its applications.
Biodiversity, ecology, and environment.
Physics MNS Exam Syllabus
Laws of Motion & Work, Energy, and Power.
Properties of Matter.
Electrostatics.
Current Electricity.
Magnetic Effects of Electric Current.
Electromagnetic Induction and Alternating Current.
Optics.
Dual Nature of Radiation and Atomic Physics.
Nuclear Physics.
Semiconductor Devices and their Applications.
Chemistry MNS Exam Syllabus
Atomic Structure.
p,d, and f – Block Elements.
Coordination Chemistry and Solid State Chemistry.
Thermodynamics, Chemical Equilibrium, and Chemical Kinetics.
Electrochemistry.
Isomerism in Organic Compounds.
Alcohols and Ethers.
Carbonyl Compounds.
Carboxylic Acids and their derivatives.
Organic Nitrogen Compounds and Biomolecules.
General Intelligence MNS Exam Syllabus
Analysis.
Number Series.
Observation.
Judgment.
Space Visualization.
Decision Making.
Problem Solving.
Similarities and Differences.
Figure Classification.
Visual Memory.
Relationship Concepts.
Non-Verbal Series.
Arithmetical Computation.
Analytical Functions etc.
Mark the month, April 2020 because next MNS exam shall begin in this month. Don't loose the opportunity to build up a great career ahead. Get yourself registered before 2nd December, 2019 and get into the mode of hard work because you have the caliber to win it dear.