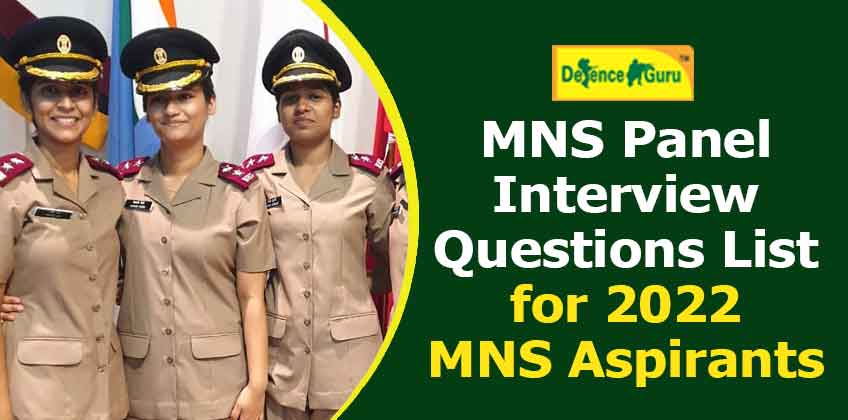 MNS 2022 Panel Interview Questions List
The selection procedure for the Military Nursing Service (MNS) exam is diverse and has numerous stages. The MNS Panel Interview is one of the most important stages in the MNS selection procedure. Candidates are questioned by assessors during the MNS panel interview regarding their individual opinions, achievements, and career aspirations. During the MNS Panel Interview, questions on your awareness of nursing services, your educational background, your interests and hobbies, as well as your goals and objectives, may also be discussed. In order to help MNS candidates clear their MNS panel interview with excellent grades, we are sharing the most important questions for the MNS panel interview 2022. To learn more, keep reading.
When it comes to the most rigorous career prospects for young female candidates who want to lead a daring lifestyle in the armed forces, the MNS exam is often the first option that is desired.

The Armed Forces Medical Services Colleges of Nursing hold it annually to select qualified female applicants for admission to the four-year B.Sc. (Nursing) course.

Candidates must create a strategy based on their awareness of basic concepts and learning since the MNS panel interview will be a deciding factor in the MNS selection process.

It is crucial to comprehend the core components of the Military Nursing Service, with an emphasis on its past and future, as well as to be competent and morally upright.

You should develop your preparation strategy after evaluating and assessing your personality traits and making sure you have a good understanding of the essentials of your fields of study.
Questions for MNS Panel Interview 2022
What can you tell us about yourself?

What motivated you to join the MNS?

What are your pluses and minuses?

Why do you favor nursing over doctors' services?

What are your long-term goals?

Who is your role model in life?

Why should you be selected for the Military Nursing Service?

Why did you decide to pursue a career in nursing?

How does your education relate to the profession you intend to enter?

What distinguishes nursing in the military (MNS) from nursing in the civilian world?

Are you familiar with your obligations and liabilities as an Army nurse?

Do you know how a nurse in the armed forces advances in their career?

Tell me about your educational background, beginning with ninth grade.

What objectives have you set for your life since enlisting in the Indian Army?

Name five of your flaws and five of your strengths.

Tell me about your interests and activities.

Name the three exercises in which the Indian Army takes part.

What motivated your preparation for the written test? For instance, what books did you use to prepare for the written exam?

Can you give some instances of courageous women who have influenced and motivated you throughout your life?

Give me the names of a few significant missiles that the Indian Army possesses.