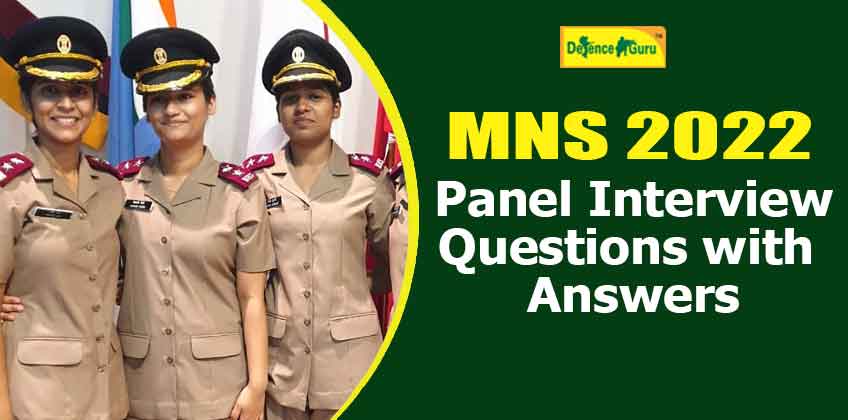 MNS Interview Questions with Answers
The MNS exam is typically the first preferred option when it comes to the most integrated career opportunities for young female aspirants with a daring lifestyle in the armed forces. It is held each year to select eligible female applicants for admission to the four-year B.Sc (Nursing) programme at the Armed Forces Medical Services Colleges of Nursing. The panel interview is crucial in determining the selection of candidates for the Military Nursing Service (MNS) exam. Thus, in order to help candidates perform to the best of their abilities during the MNS panel interview, we have provided the important questions for the MNS panel interview 2022, as well as a few sample answers to help candidates grasp the concept of answering clearly and unambiguously.
Candidates will now have to appear for five qualifying rounds under the new syllabus, with NEET being required to proceed to the next step, as we are all aware. After NEET, an 80-mark Test of General Intelligence and General English (ToGIGE) will be conducted. The final three stages include an objective-type psychological assessment test (PAT), an interview, and a medical exam.

As previously stated, the MNS panel interview will be a deciding factor in the MNS selection process. Candidates must develop a plan based on their understanding of fundamental concepts, learning, evaluating, and assessing their personality traits, as well as ensuring they have a firm grasp of the fundamentals of their subject areas, their preparation strategy, and their short-term and long-term objectives.

Identifying the vital aspects of the Military Nursing Service with a special focus on its background and future prospects, possessing the basic moral ethics and aptitude, a formal way of self introduction, being prepared for cross questions, and adequate knowledge of the defence forces, are all very effective techniques to pass the MNS panel interview with adequate marks.
Important Questions for MNS Panel Interview 2022 with Answers
Tell us something about yourself
This is a very generic question, and your answer will have an impact on the rest of the interview, as it will make your first impression and provide interviewers with the information they need to move forward. As a result, as a candidate for the Military Nursing Service, you must be prepared to answer this question, as it is almost certain that you will be asked it during your MNS panel interview. You should begin with greetings and telling about yourself, your native place, your academic qualifications, your interests and hobbies, and the current role that you are pursuing or have pursued before coming for the interview. Everything should be brief because this is just the beginning of a lengthy interview, so avoid making it lengthy in the starting.
Why do you want to join the MNS?
The first reason is that I have always wanted to join the armed forces. Furthermore, I have a sense of compassion and care for others, and I have some inherent qualities that support nursing services, such as caring for patients and assisting them in their early recovery. I also want to live an exciting life full of adventure, a dynamic learning environment, and the opportunity to serve those who serve the nation. As a result, in my opinion, there is nothing better than the Military Nursing Service.
What are your strengths and weaknesses?
Asking about strengths and weaknesses is an important step in the interview process, and it is a common question asked by interviewers. Thus, truthfulness is one of the most valuable aspects to get absolutely correct when discussing your strengths and flaws in an interview situation. Your strengths and weaknesses should represent the specifications of the role that you are going to lead. Make sure to highlight your essential skills for the Military Nursing Services and explain how you plan to gain or improve critical skills that you have little or no. In a broad sense, your capabilities should be skills that can be refined with profession. Because candidates' strengths and weaknesses differ, these aspects must be discovered by the candidates themselves as they get to know themselves better.
Why do you prefer nursing services over doctors'?
Nursing services and doctors, in my opinion, are both related to the medical field and are considered noble professions where we serve for a better purpose. Every day in a nursing career, we deal with different cases, and we will easily learn new things in this working environment. We have every opportunity to excel in our job profile in a dynamic work environment. Furthermore, nurses are held in high regard, and for good reason. While doctors diagnose and prescribe, nurses are concerned with their patients' overall well-being. It's not just about illnesses for nurses; it's also about personal connections. This is why I prefer nursing services over doctor services.
What do you understand by the term "bedside manner"?
"Bedside manner" is a popular idiomatic phrase related to the medical field which illustrates a doctor's approach or attitude to a patient.
Most Important Questions for MNS Panel Interview 2022
Introduce yourself to the Board Members

Where do you belong to?

Tell us something about your family background

What does your father do?

What is your ambition in life?

Who is your role model?

Why do you want to join the MNS?

What attracts you towards this service?

Why should you be selected for the Military Nursing Service?

What is your motivation behind joining the Armed Forces?

Tell us about your hobbies

Why have you selected the MNS as a career option for you?
Tell us something about your academic background

Where did you complete your schooling from?

What were your subjects in the 12th class examination?

How is your education related to the career you're going to pursue?

Which is your favorite subject?

Why did you choose nursing as a career option for you?

Do you have any prior experience in nursing?

Did you work on any course or project regarding nursing during your school?

Have you participated in any extracurricular activities during your schooling?
Why did you choose the Military Nursing Services as a career option for you?

How is the Military Nursing Services (MNS) different from civilian nursing?

How was your MNS entrance exam?

How did you prepare for the MNS exam?

What is your opinion regarding the Military Nursing Services?

Do you know about the course curriculum that you're going to pursue if selected?

What do you know about the Armed Forces Medical Services (AFMC)?

Are you aware of the duties and responsibilities as a nurse in the Armed Forces?

Have you noticed any recent amendments in the Military Nursing Services?

Do you have any idea about the career progression of a nurse in the Armed Forces?
Wings of the Indian Armed Forces

Commands and Headquarters of the Indian Armed Forces

Background of the Indian Army

Regiments, Battalions, and Weapons of the Indian Armed Forces

Awards and Honors Granted to the Personnel of the Indian Armed Forces

Important Days related to the Indian Armed Forces

Important Battles and Treaties related to the Indian Armed Forces

Chief Officers and Ranking in the Indian Armed Forces