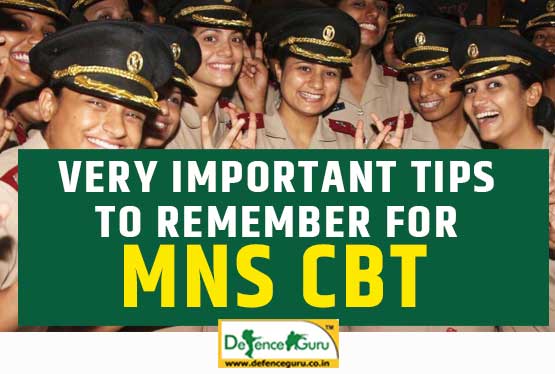 Important Tips for MNS Computer Based test
Good news for the MNS Warriors! Time has arrived when you can are going to sit for the much awaited exam MNS 2020 exam. For MNS aspirants the exam date for the B.Sc (Nursing) Course 2020 exams is 11 September 2020. The admit cards for the examinations will be released by 4th week of August on the website www.joinindianarmy.nic.in.
A perfect short can change the status for the match similarly you perfect attempt will lead you a step ahead into your career. For that perfect short 10 tips before attempting MNS 2020 CBT exam are shared in this article.
MNS 2020 exam is going to be a Computer Based Test (CBT), MNS warriors have recently passed 12th standard board exam so MNS CBT exam will be new for you. TEAM CENTURION make sure that your attempt do not get wasted and nothing can stop you in this process.
10 important points that you have to remember while attempting your MNS 2020 CBT Exam:
10 CBT MNS 2020 TIPS
Documentation
Check Your System
Listen to the Instructions to the Invigilators
Sign All the Formalities
How to Start
Do not Open New tab
Submission
Technical Glitch
Know About the Pattern
Practice
10 important points that you have to remember while attempting your MNS 2020 CBT Exam in detail.
Documentation – Documentation plays most important role when you appear at the examination centre. Be prepared when you arrive at the centre with the: Admit card, Valid ID proofs, Photograph and other document if instructed to you. Important tip is that always be prepared with 2-3 copies of the documents placed in a secured folder. Most important tip for the female candidates is that do not wear accessories at the centre. Yes you are instructed to remove any accessories if your are wearing at the centre sojust to avoid mess do not wear them.
Check your System- When you enter the examination hall check your system that is allotted to you as per your roll number at the examination centre. Ensure that the system is fully workable, perfectly fine and you do not get interrupted during your exam.
Listen to the instruction of the Invigilators- Listen to the instruction of the Invigilators at the examination hall as they are there to instruct you about time, formalities and actions while the examination. Do not skip their briefing and remember them because these instructions will help your smoothness during the examination.
Sign all the Formalities- Documents given to you at the examination hall has to be duly signed and insured from your side. Ensure that you do not miss signature in any document and if so happened inform the invigilators. 2-3 minimum documents are their along with thumb impressions, so assure that you signed them on time and accurately.
How to Start- When you enter your details and set enter a list of instructions appear in front of you. Now here comes the most important tip for MNS candidates, Do not ignore these instructions and Read the instruction thoroughly. Read and carefully understand each instruction before you start your examination.
Don Not Open New Tab- Firstly, this is illegal as it is strictly prohibited during the examination plus there are chances that in doing such attempt your Exam may suffer. Opening new tab can lead you into trouble as there are chances that paper tab can get automatically submitted, so to avoid this trouble never open any new tab on your system.
Submission- Ensure that once you have completed your paper then only enter submit button. Never click not it randomly and enter final submit once paper has been completed.
Technical Glitch- DO not get panic, if you come across any technical problem while you are attempting your exam then make sure without wasting a time you have to raise your hand and inform to the invigilators.
Know About the Pattern- Before attempting the exam know the exact MNS 2020 exam pattern and avoid any hassle during the exam.
Practice- Practice on CBT based test before your final day so that you can overcome your nervousness and uneasiness about the CBT paper. Before final attempt practice for: How to clear your answer, How to mark for Review, How to Submit your Answer.
TEAM CENTURION make sure that your attempt do not get wasted and nothing can stop you in this process. FOLLOW 10 important TIPS that will ensure your MNS 2020 CBT exam better performance. For Practice & Perfect attempt Just call on 9795977776 to purchase MNS Test Series at Rs 999 only and MNS Test Series With DOCS at Rs 1599 only.