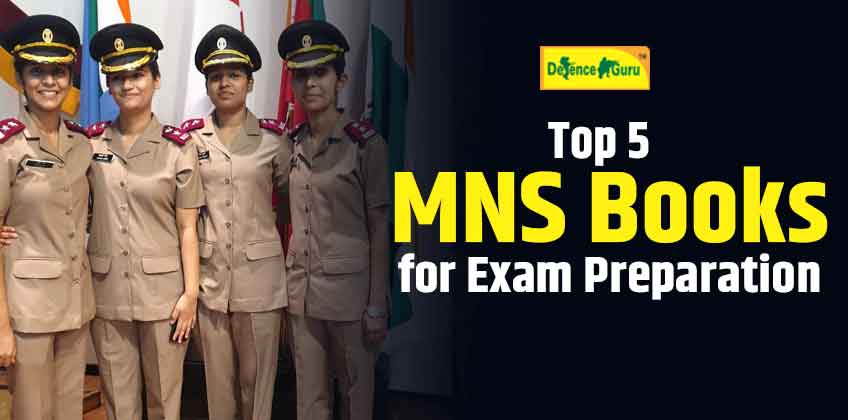 Best Books for MNS 2023 Examination
Inducting females into the Indian Armed Forces is an essential milestone toward gender equity since it promotes them to improve their status through career orientation. One such induction that contributes to empowering women and raising their role in society is the Military Nursing Service - MNS exam, which trains young female applicants to become Military Nursing Service Officers. Considering the high level of competition for the MNS exam, applicants who prepare systematically and use the best study materials are more likely to succeed. In this article, we will go through some of the best MNS books to prepare comprehensively for the upcoming MNS exam.
1. Centurion's MNS Guide
Centurion Defence Academy is best MNS Coaching in India, has developed its Exclusive MNS Guide for the first time in India to aid MNS applicants in their preparation for the Military Nursing Service Exam. The purpose of this MNS Guide is to encourage defence candidates to learn effectively and to provide them with the most up-to-date instructional methodologies. This Exclusive MNS Guide was created by Team Centurion to pique an aspirant's interest and assist her in achieving competence in order to pass the MNS exam with flying colors. This manual exemplifies our Research and Development team's unwavering dedication to helping MNS candidates realize their dream of joining the military.
This one-of-a-kind resource has been produced in accordance with the most recent syllabus and offers a thorough learning method. It contains the most thorough research resources accessible, covering a wide range of subjects such as English, Biology, Physics, Chemistry, General Knowledge, Defense Awareness, Reasoning, and even expert-led Interview Techniques. This unique resource provides a comprehensive review of the most critical concepts, each with a detailed explanation to help MNS candidates develop conceptual understanding.
Buy Now : Best MNS Book
2. Centurion's MNS e-Book
Centurion's MNS e-Book equips students to prepare for the Military Nursing Service exam through the digital platform. Students can avail the MNS e-Book directly from the Centurion Defence Academy Student App, which they can easily download from the play store. Centurion's MNS e-Book is freely available for registered students of Centurion Defence Academy, whereas, unregistered candidates can buy the e-Book at a reasonable cost to prepare for the MNS exam effectively.
For e-Book Download : Centurion Defence Academy Students App
3. Lucent's General Knowledge
The book is useful for every reader in general and for the aspirants of various competitive examinations. The subject matter of this book is comprehensive, thoroughly informative and very useful. The content of the book has been scientifically devised to cater to the needs of the candidates preparing for the competitive exams. The book contains chapters describing Indian History, the ages from the ancient period to the Modern period. Other chapters include Geography, Indian Polity, the Constitution, Indian Economy to give a vivid description of the subject matters concerned.
4. Arihant General Knowledge
General Knowledge is a compact version of all current events of the whole year. This book is divided into five key sections that include History, Geography, Indian Polity, Indian Economy, General Science and General Knowledge. A separate section has been provided for Current Affairs which provides accurate, perfect and complete coverage of facts and is useful for the preparation of various other competitive exams. General knowledge carries an important section in many competitive examinations. Keeping an updated knowledge of the current events helps not only in exams but also in everyday life. This book is a complete study guide that has been designed for female aspirants and is supported by the current facts & figures and examples.
5. BHI Editorials MNS Book
This book is a study kit that contains booklets of each subject asked in the examination including physics, chemistry, biology, general English, reasoning ability and numerical ability. To practice with detailed solutions, it is a must to go and prepare with the study kit, especially for beginners. It will clear all your concepts and give you a complete idea about the exam. This book will give you all the details about the Military Nursing Service preparation.