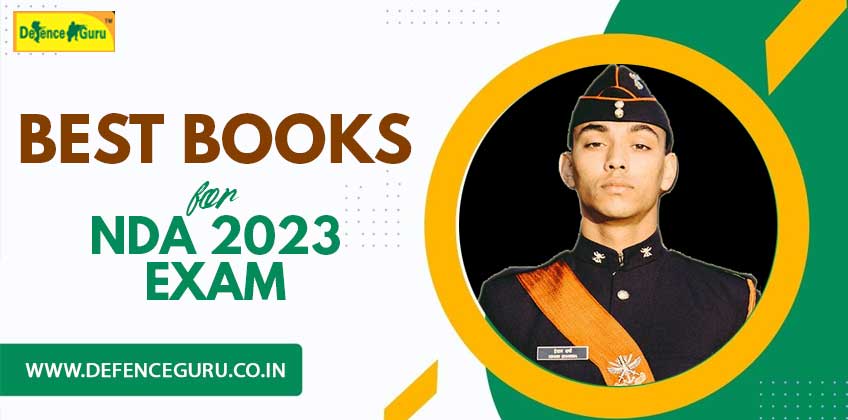 NDA is one of the most prestigious exams in India. Every year millions of candidates appear in this exam to make their fortune in Armed Forces as officers. After successfully qualifying for this exam, Candidates undergo 3 years training program at NDA, Khadakwasla. In NDA Exam, Two papers are conducted, 1st paper is mathematics and the second paper is GAT (general ability test). There will be 120 questions in the mathematics paper which will be of 300 marks. GAT will have 150 questions and it will be of a total of 600 marks. After successfully qualifying for SSB interview also, Candidate go to join their dream academy NDA, Khadakwasla.
Best Books for NDA 2023 Preparation
A serious NDA aspirant understands the importance of good books. Good Books can greatly reduce your extra efforts by reducing the time you use to look for multiple books and search for relevant topics from them. But Books designed and developed by the R&D Team of Centurion Defence Academy have no substitutes. These books are specially designed for NDA Exam and will greatly boost your preparation. These books do not have lengthy useless material. These books are written to the point and candidates' ease and comfort in NDA preparation have been considered while writing these books.
List of Important Books for NDA 2023 Exam
Mathematics Book for NDA
Mathematics covers the major portion of the NDA written exam and it is one of the most challenging area for so many aspirants. But Centurion Defence Academy's Mathematics will surely remove your maths fear from your heart. Because complex maths questions have been explained in an easy and short manner through unique short-cut tricks. These tricks are exclusively available in Centurion Defence Academy's NDA Math Book only.
Key Features:-
Specially pioneered by our maths experts having a student-friendly approach.
Complete Book for all defense exams. Students can refer to this book for any defense exam CDS, AFCAT, and Airforce Exams.
Any student from any board, be it CBSE, ICSC, or state board can use this book.
This Book is based on the latest NCERT pattern and covers the latest complete maths syllabus of the NDA exam.
This book's special focus is on algebra, so students' algebra fear will end after reading this book.
This book contains 5500 exam like MCQs for complete preparation for NDA.
Buy Now: https://www.amazon.in/Mathematics-Books-AIRFORCE-NAVY-Technical/dp/8193839226
English NDA Book
English is also one of the most challenging subject for students, especially for those students who are coming from Hindi medium background. English NDA Book has been written by Centurion Defence Academy's expert team considering the special needs of such hindi medium students. Centurion Defence Academy's English NDA Book makes your English strong and gives a strong foundation of grammar for the NDA exam and improves your vocabulary also.
Key Features:-
This book helps students to prepare for English from very basic to advanced level.
This book comprehensively covers vocabulary and all other grammatical topics like para jumbles, re-ordering, active and passive voice, etc.
This book contains a practice set after every chapter and these practice sets have exam-like questions
Buy Now : English Book
NDA/NA General Science Book
This is the best science book you can ever refer to for your NDA preparation. This book is based on the latest pattern of NDA and this book has been prepared considering the special requirements of NDA students. NDA/NA General Science Book thoroughly covers the entire physics, chemistry, and biology syllabus. Important points and key terms have been highlighted so that students can easily use this book to excel in the exam.
Key Feature:-
Comprehensive learning material for physics, chemistry, and biology.
An easier and unique approach for complex topics.
Topics are simply and effectively organized.
Exam-like questions at the end of every chapter.
Geography and Economics Book for NDA
NDA Aspirants never find a complete book for Geography and Economics. But Centurion Defence Academy's R&D Team has developed a complete book for Geography and Economics. This book gives you a unique conceptual clarity and concepts have been explained in a visual manner as well through many diagrams and maps. This book can be used for other defense exams like CDS, CAPF, or Territorial Army exams also.
Key Features:-
This book provides the most comprehensive coverage of the syllabus. This book covers Ancient History, Medieval History, and Modern History.
This book is very easy to understand because the study material in this book is very concise and to the point.
Practice sets have been given at end of every chapter, candidates can attempt these practice sets to test their level of preparation.
Many Maps and Diagrams have been added to make the book visually more understandable.
This book covers 100% syllabus of and leaves no topic untouched
General Knowledge Book for NDA
It is a big problem for almost all defense aspirants that they do not find a complete book for general knowledge book. But, Centurion Defence Academy's R&D Team has developed a unique General Knowledge Book that has all the required study material for NDA preparation. This is a complete General Knowledge book for all defense exams like CDS, AFCAT, MNS, etc.
Key Features:-
Complete coverage of the General Knowledge Syllabus.
It covers static topics, daily events, and important general knowledge of the world.
It covers not only General Knowledge but also the Defence section.
The most relevant topics for Defence Exam have been covered in this book very comprehensively.
Buy Now: https://www.amazon.in/General-Knowledge-Defence-Exams-English/dp/8193839269