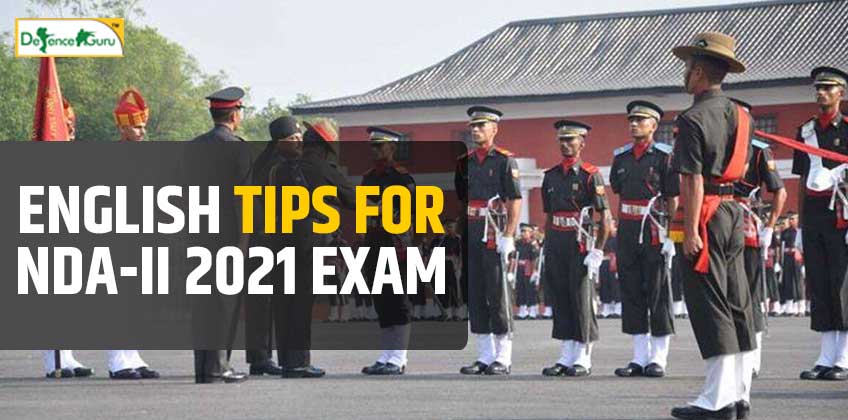 Dear Students,
Proper strategy of preparation makes you inclined with your productive approaches that lead to success in competitive exams. Knowing the syllabus, its sub sections and making a plan to go through them is essential in the beginning only. Here I take the opportunity to share my experiences of training students for a good score in NDA examination. There are three main sections of English subject in NDA examination.
Grammar
Vocabulary
Comprehension
The best approach to take it in artistic approach rather mugging up its contents. English has become our local language now days in communication. This language helps us conveying our messages internationally but it has vast scope in our national level communication as well. When it comes to speak to inhabitants of southern part of our country, people feel comfortable communicating in English as they find it quite useful. Keeping this fact in mind, this language is asked in most of examinations of government jobs.
"Learning a language is an art whereas logical aspects of grammar make one more confident in conversation."
The objective is to assess one's command over English language whether a candidate has rational approaches to use it in practical life or not. Many students feel that it is subject imposed on them and they find it tough to learn. I assure all the NDA aspirants that if they learn it practically and in enjoyable manner, they will find it quite voluptuous and amusing.
Understanding of the sections:
One must understand the section wise approach and should also link it with the pattern of the examination. Most of the times, students keep learning only one segment and keep other segments for future. As they get close to examination, they get busy with more and more model test papers and assessing their existing level rather than covering the basics and segment wise approach. Here I want to suggest that preparation is required to perform the best. One should just look for shortcuts in the beginning only to avoid haphazardness in the coverage of the contents. Students generally find Grammar section very appealing and keep giving their maximum time for the same. Here I want to suggest that Vocabulary and Comprehension are also the sections to be focused on. Although it is appealing to learn English through grammar but the expectations in exams are different. If you refer previous years' papers, you will find that vocabulary segment has been very scoring as it is majorly asked in the exams.
Paper Analysis of NDA-1 2021
Exemplary information makes the content more understandable so students, in order to convince you the hierarchy level of contents in your preparation, we better look at the pattern of NDA-I 2021. The segments are as follows.
Synonyms 10 Questions
Antonyms 10 Questions
Idioms and Phrases 10 Questions
Spotting Errors 10 Questions
Fill in the blanks 10 Questions
Total No of Questions: 50
Tips to enhance Vocabulary for NDA-II 2021
This analysis presents that one should prepare vocabulary section very seriously as it is the scoring segment. One should find effects methods of learning words. Memory linking technique is the best technique for learning words. To learn a word just perform three steps and the word will be with you forever. These three steps are
Step 1: Pronounce that word well and it will make you sure about its spelling as well.
Step 2: Get a keyword or common word which is already known to you.
Step 3: Make a scene in your mind, connecting the key word and meaning in that scene.
Have a proper collection of words. Set a target of at least 5000 words because when paper comes tough, very unfamiliar words are asked which put extra pressure on the candidate. When you have certain list with you, you automatically find time to revise it, maintain it with new words and also you are passionate in using them in your day to day communication.
"Learning Vocabulary has the vision of updating oneself with the latest scenario."
One should never find vocabulary a tedious job because you may be sure about your own list of vocabulary that you use in your communication but for others list
Tips to learn Grammar for NDA-II 2021
One should learn grammar practically. All the rules that you come to know while learning grammar should not be taken in mug up approach. In fact one should utilize those rules in one's communication and bring familiarity for the same. Grammar subject can be divided into two parts.
Fundamental Section
Analytical Section
Fundamental section covers Sentence Formation and Tenses, Active and Passive Voice, Direct and Indirect speech, Usage of Participles, Conditional Sentences, Question Tags, Modal Verbs, Degrees etc. whereas in analytical section, one should have a good command on parts of speech. Theoretical coverage makes concept clear but one should also learn the specific cases and exceptional cases which may be little complex at one way but its repetitive practice makes you sail through it. The analytical section also deals with the conversion of the words. Words which are already known to you, you should categorize them as per their recognition and the new words that you are going to learn now, you should analyze their parts of speech first then only you should proceed with the usage. The usage of words also becomes easy with the help of sentence formation. Subject Verb Agreement, Preposition, Conjunctions, Abstract Noun, Reflexive Pronoun are some of the mostly asked segments in exams. You should have a thorough practice for the same.
Tips for Reading Comprehension
Develop a habit of reading in incessant manner.
Take reading habit naturally and give a natural flavor to your art of reading.
Reading should have proper intonation as well.
Regular practice session makes you comfortable with reading and you get such a flow that assists you in getting what content is all about.
Beginners should read and write in their own language to give the summarized contents. This will surely enhance your articulation.
I hope these tips will surely help you in building your charm for learning language and make it scoring as well. Do share your queries for quick resolution. You may also join our Telegram Group for study material and quiz section. To Search you may just type "English By Aditya Dubey- Defence Guru".
Happy learning!
By
Aditya Dubey
HOD English
Centurion Defence Academy