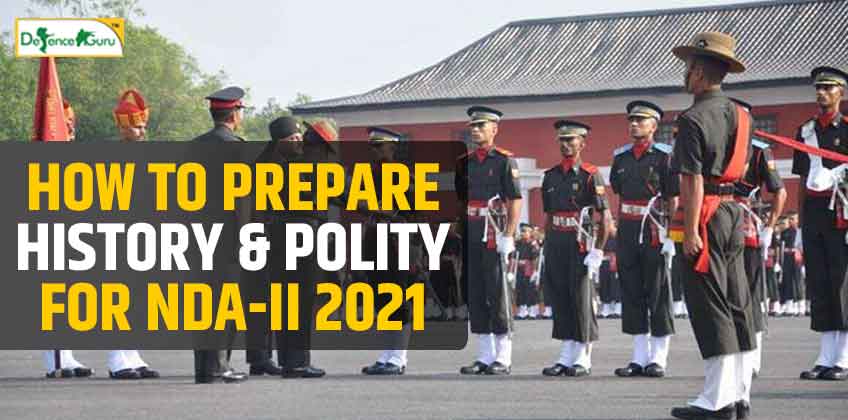 HISTORY PREPARATION FOR NDA-II 2021
History Syllabus of NDA –II 2021 can be divided into 4 sections-
(i) Ancient Indian History
(ii) Medieval Indian History
(iii) Modern Indian History
(iv) World History
A significant weightage has been given to History over the years As per the recent trend, at least (15-20)% weightage is given to History.
But then History is a very 'Vast' Subject. So what to do now?
A plethora of questions keep bombarding your head-How do I read History? What to focus on? Will I be able to cover the entire syllabus?
The answer to all your confusion is here-You have to think Smart! From the previous year papers analysis, We have observed that more weightage is given to 'Modern History'. So to make maximum benefit for the time invested, 'prioritize' in this order-Modern History (First Maximum priority), Ancient History (Second Maximum priority), Medieval History (Third Maximum priority) and World History (Fourth Maximum priority).
POLITY PREPARATION NDA-II-2021
So on an average of (5-8)% of the questions come from Indian Polity. Because of significance of weightage given in the exam, Polity as a subject becomes even more important in preparation process because it can be crucial in helping you to cross the minimum cut off or make you in merit list.
Polity is an important topic at all the stages of exam, it written or SSB. The significance of subject is carried forward even when you get service. It forms an important part of administration. The topics under polity range from-
Everything about constitution, Individual's rights and duties and responsibilities to structure, power, functions and responsibilities of various institutions of administration. It also discusses about various policies of Government, right-based issues of the vulnerable groups.
So, one has to abreast with the local happenings in around you. A sense of awareness is created in the mind of common man-about one's rights, duties responsibilities and help them to take an informed decision. It also helps in holding the government accountable for failing to serve its people.
This is what makes Polity Interesting and enjoyable. Hence forth, I recommend Polity to be read, not only as a Defence aspirant, but as an Indian too!!
By,
Yash Tripathi
Faculty (History & Polity)
Centurion Education Pvt. Ltd.