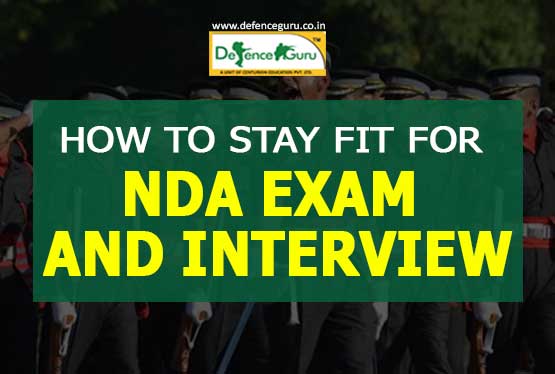 NDA exam and interview की तयारी में सुबह से श्याम तक मशरूफ होना सफलता के लिए जितना आव्यशक है उतना ही आवयशक है एक स्वस्थ मस्तिष्क का होना जिसके चलते सकारात्मक विचारों का निर्माण होता है|
Dreaming to join NDA, then surely after reading various article and watching several videos you know exactly what is the importance of physical fitness in NDA and most importantly importance of physical fitness in defence forces. To attain a healthy life and a dream job you need to focus primarily on your physical fitness. Tips for NDA exam and NDA SSB Interview fitness discussed in this article, "Get healthy Get smart Get NDA job".
How to stay physically fit for the NDA exam?

Want to have Officer Like Quality instantly…….
Earn it by your hard work and these brilliant, easy-to-practice tips in your daily routine from today onwards.
Basics Tips
Schedule your day – For at least 2 hours of Physical activity make fixed and permanent time table in your daily schedule
Regular check-ups- To keep track of your performance regular medical checks, dental treatment are compulsory
Daily Meals- Consult a dietician and take a prescribed diet if possible or otherwise make your own daily healthy meal chart
Physical Tips
Wake up early morning and start your day with physical activity like stretching , jogging, running etc.
To do Push-ups follow Planking exercises, Upper back exercises, Quadriceps and hip exercises
To do Sit ups follow Neck strengthening and regular sit ups
To do Swimming regularly that help to enhance strength and endurance, cardiovascular fitness, muscle toning and also plays a part in improving your sleep
To do Skipping for working on your footwork, coordination and balance
General Tips
Drink 2-2.5 liters of water daily in day, advisable to take warm water with honey and ginger in it for extra benefit
Eat meals on time i.e. take heavy breakfast, light lunch and little less dinner, advisable to have fruit salad in the morning & salad in dinner
Avoid junk and spicy food, eat natural green veggies and home made food
Sound sleep for around 7-8 hours in a day to increase concentration power
Optional Tips (for better performance)
Join some sport activity to be physically fit
Use 30 days fitness application for easy home workouts
Workout videos to boost your strategy
How to stay mentally fit for the NDA SSB Interview?

To have Officer Like Quality most important is courage, mental stamina, determination and self confidence. Mental fitness can be achieved easily with regular meditation and yoga. Some tips:
Meditation for 5 minutes everyday and slowly slowly increase your timing.
Yoga, it has the power to increase your mental stamina and increase your observation power
Playing mind games and solving puzzle like rubiks cube that will increase your brain power and improves the concentration power and problem solving skills.
Question is common and solution known to all of you that is how you can stay fit for NDA Exam and Interview. The strong will power and instant approach will help you to be the best and strong opponent in NDA.