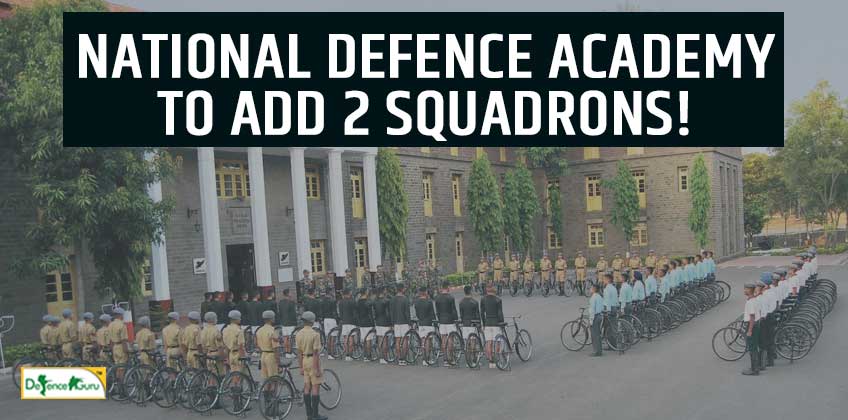 Good news …! Yes, My dear Defence aspirants… finally…NDA has come up with a big bang Good news! The National Concern is being addressed and reviewed!
Formally inaugurated at Khadakwasla, Pune, in 1955, the premier tri-service military training institution, The NDA currently has 18 squadrons. About 2,020 cadets are undergoing training at NDA at present. Each squadron has about 120 cadets.
Defence sources told that 2 more squadrons would be added to the existing squadrons, thus taking the overall strength to around 2,400 cadets. It will also cater for foreign cadets and IAF cadets training for ground duty roles. The government sanction letter to this effect has been accorded last month, the sources added.
Why 2 More Squadrons are required to be increased?
The National Defence Academy (NDA) is being expanded and its annual intake of military cadets will be progressively increased by around 400 to cater to the shortfall of officers in the armed forces.
The intake is also being increased keeping in mind the demand for training of foreign cadets and ground duty cadets of the Indian Air Force (IAF).
"The intake will increase. This will primarily cater for the current shortfall of officers in the armed forces, but also take care of the growing demand for training of foreign cadets from friendly countries and IAF cadets who are training for ground duty roles in NDA," a defence source said.
In a written reply to the LokSabha in 2019, Minister of State for Defence SripadYessoNaik had said that there was an overall shortage of 9,427 officers in the armed forces. This includes a shortage of 7,399 officers in the Army, 1,545 officers in the Navy and 483 officers in the IAF, against the authorised strengths of the three services.
Move to also cater to IAF ground cadets and foreign cadets
While the NDA has traditionally been taking IAF cadets as pilot trainees, the institution has started training air force cadets for ground duties since last year. The second batch of cadets reported in March-April this year.
Ground duty officers in the IAF include those in non-flying branches such as administration, logistics, maintenance and accounts, among others. These trainees were earlier trained directly at the Air Force Academy in Dundigal, Telangana. Now they will be trained both at the academy and the NDA.
As for foreign cadets, there are currently about 20 per course. "The aim is to take it to 50 per course," a second defence source said.
Sources said the additional vacancies would be released on a half-yearly basis, which means around 30-35 additional vacancies per course would be admitted.
Every year, two batches graduate from the NDA. The entire training period for a cadet in NDA is three years, which is divided into six terms.
Every six months, a single batch or a course of cadets graduate from the academy.
Benefits of Increasing 2 More Squadrons?
The problem of Shortfall of officers will be catered to in all three services.
No. of vacancies will increase resulting in more youth being employed and fulfilling defence dreams!
This news hereby is being happily welcomed by youth… especially Defence Aspirants! All the Best!
By,
Gurkirat Kaur
Personality Development Coach, Defence Career Mentor,
Center Head-Centurion Defence Academy