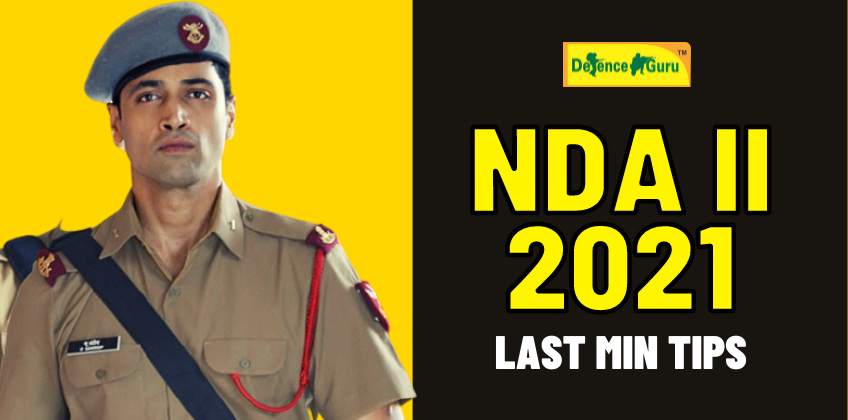 NDA 2 2021 Last Minute Preparation Tips
Serving the Indian Armed Forces continues as one of the most enticing career opportunities for young folks who want to have a lucrative position that encompasses a spirit of patriotism, solidarity, and an adventurous lifestyle. To be recommended for admission to the National Defence Academy, NDA aspirants must pass the NDA entrance exam and a subsequent interview conducted by the Services Selection Board - SSB. The UPSC conducts the NDA exam twice a year, and the NDA 2 2021 exam is set to take place on November 14, 2021, with female applicants going to appear for the first time. This article goes through the NDA exam in particular, as well as professional guidance for first-time NDA applicants on how to ace the exam. Since the NDA exam is one of the most competitive entrance exams in our country, comprehensive planning under the guidance of a qualified mentor is crucial for passing the exam with excellent grades.
Since the exam is only a few days away, attempts to comprehend new topics will yield no positive outcomes. Therefore, candidates should concentrate on revising the previously learned topics in order to achieve adequate marks. To assist prospective NDA applicants in achieving their goals, we've compiled last-minute preparation strategies based on the latest exam trends, competitive evaluation, and interactions with NDA-recommended candidates. Follow the below preparation tips to qualify for the NDA entrance exam with ease.
Pay special attention to revising the core concepts
Since the NDA entrance exam is only a few days away, grasping new concepts will be futile. As a result, in order to acquire appropriate marks, applicants should focus on evaluating previously learned topics. Recall your important notes, current affairs, and revise them thoroughly to comprehend the topics properly.
Analyze the exam format and devise your own plan
Strategic preparation is crucial to clear the NDA written exam, thus, candidates should analyze the exam pattern comprehensively to get an idea of the number of questions they should attempt. There are a total of 120 questions asked in the Mathematics paper where 2.5 marks are awarded for every right answer marked by a candidate. English is a substantial part of the GAT paper and it comprises 50 questions out of a total of 150 questions asked in the General Ability Test. There is also a provision of negative marking in which one-third part of the marks assigned to a question will be deducted on making a wrong attempt.
Don't waste too much time on difficult questions
There are two papers in the NDA entrance exam, Mathematics and General Ability Test (GAT). Mathematics covers 120 questions and GAT includes a total of 150 questions. Candidates need not attempt every question asked in the exam as there is negative marking for wrong answers. Thus, they should analyze the previous year's cut-off scores and attempt only the required number of questions without wasting precious time on difficult questions.
Master key formulae for your Mathematics paper
Algebra, Differential Calculus, Matrices and Determinants, Trigonometry, Analytical Geometry – 2D and 3D, Vector Algebra, Integral Calculus, Differential Equations, Statistics and Probability are all covered in the Mathematics paper. Since the majority of the topics in the Mathematics paper are drawn from the 12th-grade mathematics curriculum, applicants should concentrate on understanding their foundation and assessing their strong and weak areas of preparation. Candidates should take brief notes on significant mathematical topics and formulae in order to quickly review them and establish a practical approach to solving the questions.
Make a comparative analysis of previous exam trends
A candidate must also solve previous years' papers in order to gain a better knowledge of the nature and type of questions asked in the actual exam. Since current affairs are important in exams, applicants should focus on revising current affairs notes rather than trying to keep up with the latest news on the day before the exam. To pass the exam, one must grasp the minimal cut-off criteria; even if you are weak in one subject, you can still pass the exam by achieving the minimum cut-off in that particular subject and performing well in another one. The minimum sectional cut-off criteria range from 25 to 30%.
Don't be hesitant, and maintain your demeanor
Candidates should not be apprehensive the day before the exam and should strive to maintain a positive attitude. They should concentrate on examining past exam statistics and deciding how many questions they will attempt in order to meet the sectional cut-off score as well as the maximum aggregate score. A straightforward plan is required for strategic preparation in order to focus on each significant topic included in the syllabus. Candidates must be able to effectively manage their time in order to prepare for the exam in a uniform way.
Make sure you get enough sleep to be refreshed
Staying healthy before the exam is critical because it not only improves academic performance but also increases mental alertness, allowing you to focus rationally during the exam. Candidates should avoid overthinking and being concerned about the exam's outcomes. Follow the instructions on the admit card and make sure you get enough sleep so you can arrive at the exam feeling refreshed and invigorated.