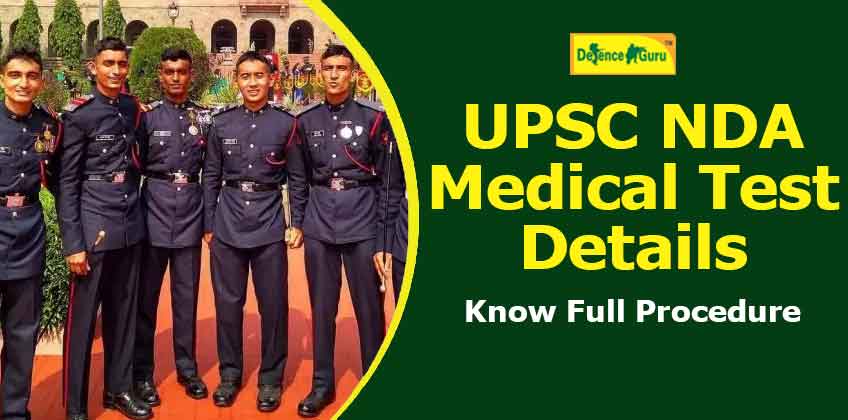 UPSC NDA Medical Test Details | NDA Exam 2 2022 के लिए Height & Weight कितना होना जरुरी
Physical toughness is an essential component that every defence aspirant should possess in order to perform military tasks properly. In military organizations, physical fitness is critical for improving morale, character development, reducing stress and anxiety, and developing a soldier's overall personality traits. Along with their studies, young defence aspirants preparing for the NDA exam must focus on their physical and mental fitness.
When it comes to the NDA exam, many written and SSB-qualified candidates are rejected during the physical fitness test and the medical examination. As a result, candidates applying for the NDA exam should get themselves medically examined in order to avoid disappointment at the final stage. In this article, we will go over the UPSC NDA medical test in detail.
Overview and Procedure of the NDA Medical Test
A candidate who has been recommended by the Services Selection Board will be subjected to a medical examination conducted by a Board of Service Medical Officers. Only candidates who have been declared fit by the Medical Board will be admitted to the academy. The Medical Board's proceedings are strictly confidential and will not be disclosed to anyone. Candidates who are deemed unfit will, however, be informed of the provisions of the Review Medical Board.
The primary responsibility of the Armed Forces is to defend the nation's territorial integrity. For this reason, the armed forces should always be prepared for war. Personnel in the Armed Forces receive rigorous training in preparation for war. The Armed Forces also assist civil authorities when needed, such as during natural disasters. Armed Forces candidates must be in good mental and physical health to perform such tasks. Such candidates must also be able to withstand the rigorous stress and strain of service conditions in order to perform their military duties in adverse terrain and unfavorable weather conditions, including sea and air travel, in remote areas, and in austere conditions with no medical facilities.
A medically unfit individual, whether due to disease or disability, can not only deplete precious resources but also endanger the lives of other team members during operations. As a result, only medically fit candidates are chosen to be trained for war. The Armed Forces Medical Services are in charge of selecting "Medically fit" individuals for the Armed Forces.
Candidates are also advised to correct minor flaws or ailments in order to expedite the completion of the medical examination at the Military Hospital after being recommended at the SSB.
Few of such commonly found defects/ailments are listed below:
(a) Wax (Ears)
(b) Deviated Nasal Septum
(c) Hydrocele/Phimosis
(d) Overweight/Underweight
(e) Under Sized Chest
(f) Piles
(g) Gynaecomastia
(h) Tonsillitis
(i) Varicocele
Female Candidates Height Measurement
The minimum height required for entry into the Armed Forces for female candidates is 152 cm.

Gorkhas and candidates belonging to Hills of North Eastern region of India, Garhwal and Kumaon will be accepted with a minimum height of 148 cm.

An allowance for growth of 02 cm will be made for candidates below 18 yrs at the time of examination.
Male Candidates Height Measurement
The minimum acceptable height for male candidates is 157 cm for the Army and Navy, whereas, the minimum acceptable height for the Air Force is 162.5 cm.

The minimum acceptable height will be 5 cm less for Gorkhas, Garhwal, Kumaon and individuals belonging to hills of North-Eastern regions of India.

The minimum acceptable height will be 2 cm less in case of candidates belonging to the Lakshadweep region of India.

A relaxation of upto 2.5 cm in height may be allowed in case the Medical Board certifies that the height of a candidate is likely to grow.

Candidates should note that there should not be any indication of maldevelopment or impairment in functioning of the bones or joints.
Chest Measurement for Male Candidates
The Chest of the candidates should be well developed with a minimum expansion of 5 cm after full inspiration. The full chest measurement should not be less than 81 cms.

The hearing ability of a candidate should be normal to hear a forced whisper in a quiet room with each ear at a distance of 610 cms.

The aspirants should have a sufficient number of natural and sound teeth to score a minimum of 14 dental points with no indication of severe pyorrhoea.
Requirements for the NDA Physical Test
The aspirants preparing for the NDA exam must be in such physical robustness that meets the prescribed fitness norms. The major requirements for the NDA physical test are given below.
Covering a distance of 2.4 km in 15 minutes

Skipping to build stamina

Minimum 20 pushups and 20 sit ups

Minimum 08 chin ups

Rope climbing 3-4 meters