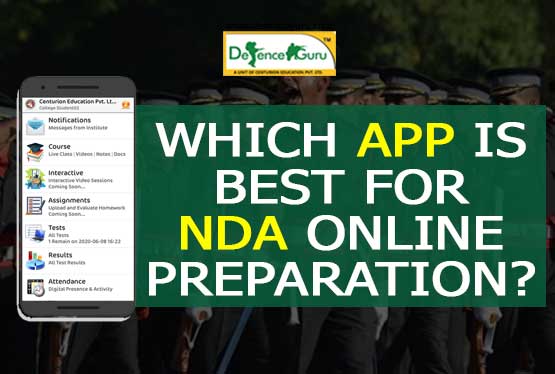 अगर सपने को पाना है तो समझदार नहीं पागल बना पड़ता है, begin your NDA preparation with the mission. तैयारी करे घर बैठे बिलकुल शानदार और दमदार while avoiding all your physical, mental and social barriers.
Amid COVID 19 drastic downfall on the educational front, Centurion Digital equips with the most relevant and reliable online learning source. अगर है NDA exam आपका TARGET तो समय को करे सही से इस्तेमाल, enrich your capabilities with a higher and broader perspective of online preparation for NDA by India's leading learning brand in defence education on ONLINE LEARNING MODE. CDAS App instils instantly "High on confidence, High on Josh".
The best Centurion Digital Application for NDA online preparation is far better than other funding applications that only believe in quality education and zero tolerance against quality depreciation.
What makes it different from thousands of learning Applications on Play Store are its uniquely designed features exclusively available for NDA preparation.
Unique Features of Centurion Digital App

NDA Daily Live Sessions

Live Session Interaction

Well- Scheduled Sessions

Live Comments

No Technical Error

Experienced Teachers

Latest Syllabus

Same as classroom experience binding the class to its perfection

Daily Live Sessions from Mon to Fri, Saturday Online Test and Sunday Result Announcement

Comment during live sessions to directly interact with teachers

The technically sound studio that assures uninterrupted disturbances in Live Classes

Exposure of 10+ years experienced with teachers

Understand concepts according to the latest syllabus of the course in Live classes, prepare notes topic-wise and explore the classes

NDA Doubt Clearing Sessions

Chat with teachers

Audio option

Doubt than chat with teachers even after class

After class stuck in a doubt or difficulty in solving question JUST CLICK image of the questions and send to CHAT section.
The question image is send to a particular teacher and within 24 hours that teacher will reply with solution

In Doubt clearing feature 'audio recording' features is available

SEND your query to teacher in a audio recording
RECEIVE within 30 minutes via written explanation or audio recorded explanation/solution from teacher

NDA Weekly Online Test

No need to purchase test series from outside, within application test series are available

Based on exact patterns as in the exam,
Filtered and relevant questions by R&D team as per the latest syllabus are marked where previous year questions and most important questions are exclusively included
Real time experience at home, same time limit, same paper pattern
Result declared within 24 hours, know your AIR (last week Top 3 students attending mock test for NDA crash course have been gifted English Book)

Scores

All India rank, marks obtained, performance chart

Result declared within 24 hours, know your AIR (last week Top 3 students attending mock test for NDA crash course have been gifted English Book)

Attendance

Indian Armed Forces key element is Discipline and CDA well known for its discipline as well

Daily digital monitoring of your punctuality & discipline
Each class and test digital attendance recorded for referring to parents,
Digital attendance track your performance growth

NDA Assignment

Upload & Submit your assignment

Subject-wise assignment option is available
For uploading complete assignment option is available

In case you skipped any class we will contact you know the reason and provide all the notes and recorded classes lecture

Feedback and Help Desk

To ensure quality content Feedback and Help desk is must

Raise query
Submit query
Query resolves within 24 hours

NDA Notification

Notification SENT to keep students updated about daily classes & weekly test schedule
100% trusted and used application on all defence aspirants mobile. Thousands of registered users, Million of visits on app in the last 1 years is one of the fastest growth rate of any defence learning App. Unique features for NDA exam preparation make it Best, Foremost, Smooth and Efficient.
Be an Efficient Learner! Save Time and Effort! Get Centurion Digital App.
Visit Centurion Defence Academy Website or Just Call Whatsapp at 9795977779 | 9795977776