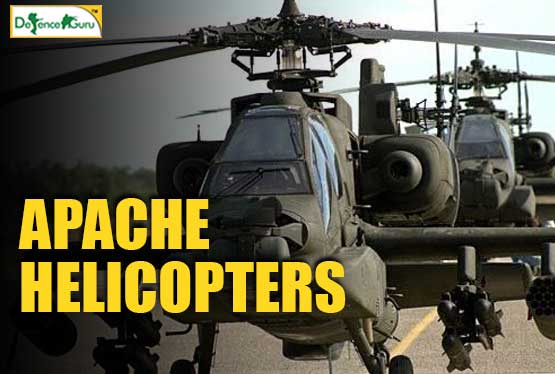 APACHE HELICOPTERS
The Apache helicopters have been the highlight of Indian Defence news since a long time. In total 22 of them have already been inducted by the Indian Air Force. They have added power and honor to Indian Armed Forces.
To further enhance the quality of Indian Defence equipments, the sources of Indian Army announced on 20th December, 2019, Friday that it is up for a deal of six AH- 64E Apache helicopter early 2020.
The deal is estimated to cost approximately $930 million.
As per the sources from Indian Army, the deal is under process, its file is with the Cabinet Committee on Security and is planned to be signed early next year.
Once the deal for AH- 64 E Apache helicopter is confirmed, the helicopters shall start coming by 2022.
Talking about the foundation of this deal, it was in 2017 when the Defence Acquisition Council as chaired by Arun Jaitely permitted the purchase of 6 Apache helicopters for the Indian Army from the U.S.
This year the Apache helicopters gained limelight as Indian Air Force inducted first batch of eight helicopters while all 22 of them are expected to come by the year 2020.
In a similar effort, the Indian Army is now working on its very own Apache deal.
Right now, the Indian Army Aviation Corps is operating only on Cheetah, which is quite small along with Advanced Light Helicopter (ALH) which when weighed, is less than five tonnes.
The bigger helicopters such as Mi- 35s and fixed wing Aircraft are being operated by the Indian Air Force.
There is certainly a necessity for well equipped and fast- paced helicopters in Indian Army. Hence this deal holds immense scope and benefit for the Indian Army as well as Indian Defence in general.