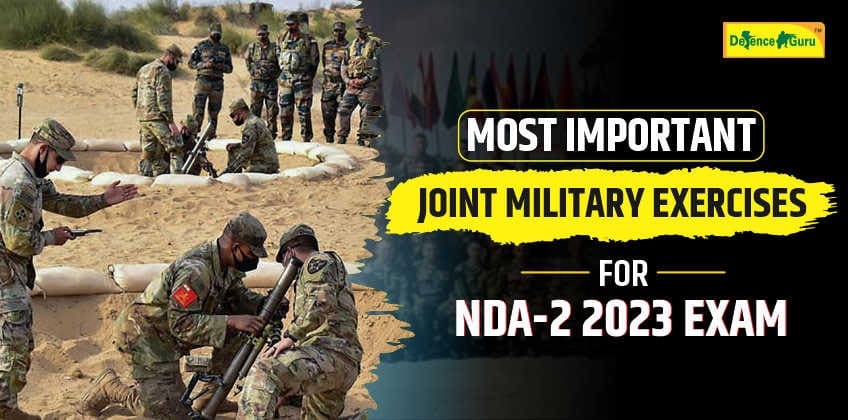 As the NDA-2 2023 exam is scheduled to take place on 3rd September. As you must be aware that current affairs are the most important part of the NDA GAT Paper. Around `15-18 questions are asked from this part in every NDA exam. Joint Military Exercises is the most important part of current affairs and around 3-4 questions are certainly asked from this part. So, It becomes very important to prepare these joint military exercises for the NDA-2 2023 as well as CDS-2 2023.
List of Joint Military Exercises Conducted in 2023

Joint Military Exercise

Participants

Venue

Edition

Nomadic Elephant

India and Magnolia

Ulaanbaatar, Mongolia

15th Edition

AJEYA WARRIOR-23

India and UK

Salisbury Plains in the United Kingdom

7th Edition

Ekuverin

India and Maldives

Chaubatia

12th edition

AL-Mohed AL-Hindi

India and Saudi Arabia

Port Al-Jubail, Saudi Arabia

_

FRINJEX-23

India and France

Pangode Military Station, Kerala

1st Edition

Desert Flag

Saudi Arabia

8th Edition

Dharma Guardian

Indian and Japan

Camp Imazu in Shiga province, Japan

4th Edition

TARKASH

India (NSG) and USA (US Special Operations Force)

Chennai

_

Ex-DUSTLIK

India and Uzbekistan

Pithoragarh, Uttarakhand

4th Edition

Exercise Trishakti Prahar

Indian Army, Navy, Air Force and CAPF

North Bengal

_

'Exercise Topchi 2023

Indian Army

the School of Artillery, Maharashtra

_

La Perouse

India, US, Japan, France, UK, and Australia

Indian Ocean Region

3rd Edition

EX Bold Kurukshetra

India and Singapore

Jodhpur Military Station

13th Edition

Air Defender- 23

NATO Countries

Germany

_

International Maritime Exercise/Cutlass Express 2023

India, Bahrain, Japan, Oman, Saudi Arabia, UAE, UK and USA

Gulf Region

_
These are some most important joint military exercises for NDA-2 2023 and CDS-2 2023. Aspirants who are going to appear in the upcoming NDA-2 2023 and CDS-2 2023 must prepare names of joint military exercises, participants, venue, and edition. These joint military exercises took place in 2023 only so these joint military exercises are very important for the NDA-2 2023 and CDS-2 2023.
Read More:
Know All About Kargil Victory Day and Kargil War