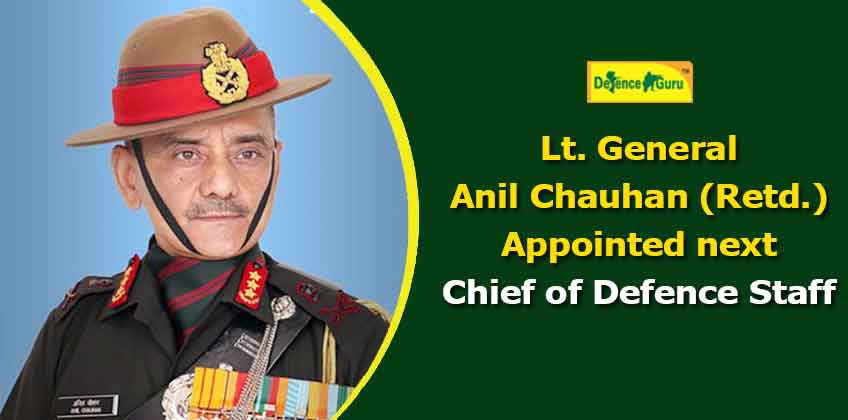 Former Eastern Army Commander Lt. General Anil Chauhan was appointed as the next Chief of Defence Staff (CDS) on 28th of September 2022 by the Governement. The post of CDS has been vacant since the tragic death of the country's first CDS Gen. BipinRawat in a helicopter crash in December 2021.
The Defence Ministry stated that the Government has decided to appoint Lt. Gen. Anil Chauhan (Retired) as the next Chief of Defence Staff (CDS) who would also function as Secretary to Government of India, Department of Military Affairs. After over three months of amending rules for appointment to the post of CDS, the Government finally appointed Lt. General Anil Chauhan after more than nine months of the post being vacant since CDS Gen. BipinRawat's sudden demise.In June 2022, the Ministry of Defence (MoD) through a gazette notification stated that any three-star officer under the age of 62 - lieutenant general, vice admiral or air marshal, whether serving or retired, would be considered under qualified candidates eligible to be appointed as CDS. This notification subsequently made Chauhan, who had already retired as a lieutenant general in 2021 at the age of 60, one of the key frontrunners among other qualified candidates. Whilst on 28 September 2022, the MoD officially announced that Chauhan had been selected as the second CDS appointee, ending nine months of the position's vacancy.
The directive of the CDS, as the primary military advisor to the Government, includes acting as a top-level link among the armed forces, creating integrated theatre commands, and prioritising capital acquisition for the modernisation of forces. Thus the office was created with a dual role, as the CDS is also Secretary of the Department of Military Affairs. Lt. General Anil Chauhan has been serving the army for over nearly four decades and has held several command, staff and instrumental appointments. He also has extensive experience in counter-insurgency operations in Jammu and Kashmir and North-East India. He is also an alumnus of the National Defence Academy, Khadakwasla and the Indian Military Academy, Dehradun- he was commissioned into the 11th Gorkha Rifles in 1981, and maintained a shining defence career spanning over 40 years. After his retirement Lt Gen Chauhan had made an effort to continue his contribution to national security and strategic matters as he has been associated with the National Security Council Secretariat. And for his distinguished and illustrious service in the Army, Lt General Anil Chauhan (retired) was awarded the ParamVishishtSeva Medal, UttamYudhSeva Medal, AtiVishishtSeva Medal, Sena Medal and VishishtSeva Medal.
With the appointment of the new CDS of the nation we embrace this new beginning to be our new step towards a brighter and better tomorrow. A new beginning which is promising, which offers hope, which has a new leash on life, which neither denounces nor belittles rather soothes and consoles by reconstructing the broken pieces of yesterday, mending them and reinforcing them with the courage and beauty like never before.