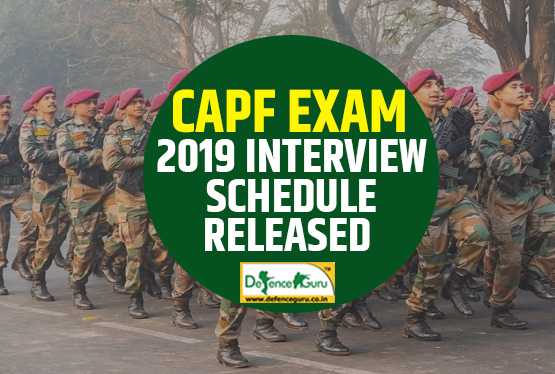 Union Public Service Commission on 6th October on its official website released Central Armed Police Forces (Assistant Commandants) Exam, 2019 Interview schedule. CAPF (AC), 2019 Personality Test/ Interview will be conducted at Union Public Service Commission, Dholpur House, Shahjahan Road, New Delhi-110069 w. e. f. 02.11.2020 as per the enclosed schedule for the 1st two weeks only.
The interview schedule released by UPSC is for the 1st two weeks only while the schedule for remaining candidates will be uploaded on the website of the Commission shortly. For timely updates of the e-Summon Letters of the medically fit candidates/Review Medically Fit candidates for Interview/ Personality Test, the candidates has to visit Commission's website (https://upsconline.nic.in) on 12.10.2020.
Interview Reporting Important Instructions:
- The candidates are advised to download their e-Summon Letter along with all its enclosures and take a printout thereof.
- The candidates will have to produce the printout of their e-Summon Letter at the time of Interview/Personality Test.
- In case the photograph is not visible or not available on the e-Summon Letter, candidates are advised to carry identical photographs for verification along with proof of identity such as Aadhaar Card, Voter Identity Card, Driving License, Passport on the date of the Personality Test/Interview.
- No paper Summon Letter will be issued for this Personality Test/Interview by the Commission.
- Candidates are advised to bring 2 recent identical photographs and all original documents, with a copy thereof, showing date of birth, educational qualification, caste/ community certificate etc., failing which they will not be interviewed.
Covid-19 Related Instructions:
- It will be mandatory for every candidate to maintain social distancing and personal hygiene all the times.
- Every candidate will wash or sanitize his/her hands at regular intervals, and will not spit in public place.
- The candidates will have to wear proper face mask all the time while they are in the Commission's premises.
- On reaching the Commission, all candidates will be provided a 'Sealed Kit' consisting of face mask, face shield, a bottle of sanitizer and hand gloves.
- The Commission has taken all precautionary and safety measures for contactless Interview/Personality Test in order to shield the interviewers and the interviewees appropriately.
Candidates scheduled to be reporting at Union Public Service Commission, Dholpur House, Shahjahan Road, New Delhi-110069 w. e. f. 02.11.2020 had to ensure all immediate measures before reaching at the centre.
To get detailed information on CAPF Notifications, Syllabus, Tips and Tricks, Admit Card Dates, Result, Cut off, Trend Analysis, Information about Physical Fitness Test and Medical Examination and Current Affairs, simple Follow us on You tube, Instagram, Twitter, Facebook. Visit our official website www.centuriondefenceacademy.com
Read articles related to defence and defence examination at defenceguru.co.in Be an Efficient Learner! Save Time and Effort! Get Centurion Defence Academy Student App. Download the App Now.
Visit www.centuriondefenceacademy.com Just Call or Whatsapp 9795977779 | 9795977776