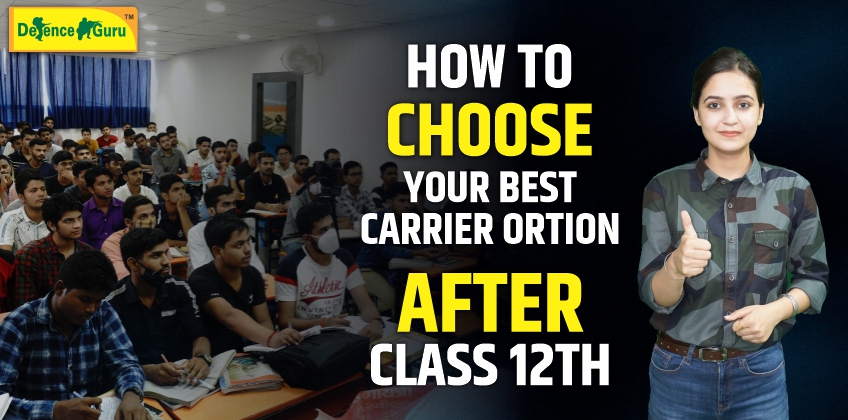 How to Choose your Best Career Option After Class 12th
Aspirants who have completed their 12th class exams may find it challenging to choose a career path. If you've already decided on a career path, you'll need to prepare for it either through an entrance exam or with the help of a coaching institute. If you're still hesitant, don't worry: choose a career in a subject that fascinates you and continue to research and interact with people from other professions to help find your direction. Medical and engineering are two of the most popular and rewarding courses after passing the 12th-grade exam. However, there is a lot of competition, which makes candidates consider alternative options, such as joining the military. However, if you are one of the selected students who are unsure of what to do next, we are here to assist you in determining the best career path for you.
Points to be considered while choosing a career option
Since the decision to pursue a career beyond 12th grade has become so significant, it is critical that you choose a path that is compatible with your abilities and interests.

If you want to pursue a traditional career like engineer or doctor, or an artistic profession like music or the arts, it's preferable to take a course in the same stream as your unique interests.

There are several courses that candidates can participate in to suit their career path, including degree courses, diploma programs, and even remote learning programs.

Candidates should thoroughly understand the course details, such as the syllabus and pedagogical methods, before making a decision to obtain a sense of what the course will be like.

It's crucial to assess the future prospects of the path you've picked so you can figure out what your passions are and how you can prepare yourself to follow them.

Though embracing your passions should be the primary incentive, the financial sustainability of a career route should also be addressed.

Candidates should see themselves intellectually, and if they know what they want to achieve, they may prepare accordingly to learn about the qualities that will help them get there.
A look at career options in the Armed Forces after 12th
After passing the 12th-grade exam, the majority of students attend college to further their education. While some prepare for IIT JEE-like exams in order to begin their studies in top engineering colleges, others in the Biology stream prepare for NEET in order to pursue a career in healthcare by getting entry into top medical colleges. Apart from these professional alternatives, there is another lucrative sector: the defence sector, which offers an exciting life in the Armed Forces with several perks. Let us go over the various career options available in the armed forces for a candidate who has passed 12th grade.
After completing their 10+2 examination, defence aspirants can now choose from a variety of services in their desired wing of the Indian Armed Forces.

After completing their 10+2 exam, a young defence aspirant can apply to the National Defence Academy (NDA). The Union Public Service Commission (UPSC) holds the NDA exam twice a year to select eligible candidates for admission to the prestigious National Defence Academy in Pune, Maharashtra.

Interested applicants can also take the Airforce X and Y Group examination, which is held twice a year by the Indian Air Force's Central Airmen Selection Board (CASB).

Female defence aspirants who want to serve their country by joining the elite defence services can take the Military Nursing Services - MNS exam, which is conducted by the DG-AFMS, Indian Army.

Candidates interested in joining the Indian Navy can take the Navy Artificer Apprentice (AA) and Senior Secondary Recruit (SSR) exam.

After passing their 10+2 examination with Physics/Mathematics, anyone interested in joining the Indian Coast Guard can take the Navik General Duty test.
We hope that this article will assist you in exploring the various career opportunities accessible to you after completing your 12th-grade exam. More information on defence exam preparation can be found on our website. You can contact our mentors for help with a variety of defence tests, including the Air Force X and Y Group, AFCAT, NDA, SSB, CDS, MNS, and Army TGC, and Navy AA & SSR.
Click Here To Register For Our Offline Batches Now
Feel free to get in touch with us through centurioneducare@gmail.com or you can also contact us on +91 9795977776 | +91 9795977779