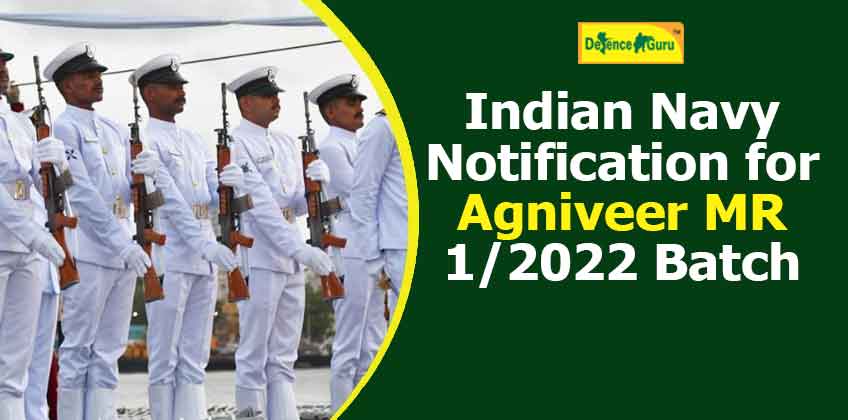 Indian Navy Issued Notification for Agniveer MR 1/2022 Batch - Check Now!
Indian Navy has issued the official notification for Agniveer MR 1/2022 Batch. Unmarried male and female candidates who meet requirements set forth by the Government of India for enrollment as Agniveer MR (Matric Recruit) are invited to submit applications online. From July 25 and July 30, candidates can only apply online for this position at www.joinindiannavy.gov.in, which is the official website of the Indian Navy. Read on to know more about Navy Agniveer MR recruitment 2022.
Overview of Navy Agniveer MR 1/2022 Batch
Particulars

Details

Exam Name

Agniveer MR 1/2022 Exam

Intake & Batch

01/2022 (December 2022 Batch)

Training Location

INS Chilka, Odisha

Posts Covered

Matric Recruit (MR)

Scheme Concerned

Agnipath Scheme

Exam Conducting Body

Indian Navy

Eligible Categories

Both Male and Female

Marital Status

Unmarried

Educational Qualification

10th Passed

Mode of Application

Online

Number of Vacancies

200 (40 for females only)

Official Website

Age Limit

01 Dec 1999- 31 May 2005

Online Application Starts From

25 July 2022

Last Date to Apply Online

30 July 2022

Selection Process

Shortlisting of Applications

Written Exam

Physical Fitness Test

Medical Exam
Male and female applicants who are interested in joining the Indian Navy through the Agniveer MR recruitment can submit their applications online beginning on July 25, 2022. Candidates are recommended to fill out the application form entirely and accurately to prevent any errors down the road.
Eligibility Criteria for Agniveer MR 01/2022 Batch
Educational Qualification
Candidates must have passed the Matriculation Examination (10th) from the Boards of School Education recognised by the Ministry of Education, Govt. of India.
Candidates should be born between 01 Dec 1999- 31 May 2005 (Both dates inclusive).
The Indian Navy only accepts unmarried male and unmarried female applicants for the position of agniveer. Candidates must promise not to get married before finishing their training. If a candidate gets married while in training or is discovered to be married despite having made a commitment not to, they risk being fired from their job.
Navy MR Training for 1/2022 Batch
Training for the Navy MR Training for 1/2022 course will commence in December 2022 at INS Chilka, Odisha. Candidates stand the chance of being discharged as "UNSUITABLE" at any point in their training or service because of unsatisfactory performance.
Indian Navy Agniveer MR Salary Package
Agniveers MR will be eligible to receive the "Seva Nidhi" package, which will include their contribution to the Agniveer Corpus Fund, a matching contribution from the Government, and interest on the accumulated sum, upon completion of the engagement period of four years.
Year

Monthly Package (INR)

In-Hand (70%) (INR)

Corpus Fund (30%) (INR)

Contribution by Government (INR)

1st

30000

21000

9000

9000

2nd

33000

23100

9900

9900

3rd

36500

25500

10950

10950

4th

40000

28000

12000

12000

Total Contribution in Agniveers Corpus Fund

Rs. 5.02 lakh

Rs. 5.02 lakh

Exit after 4 Year

Rs. 10.04 Lakhs as Seve Nidhi Package