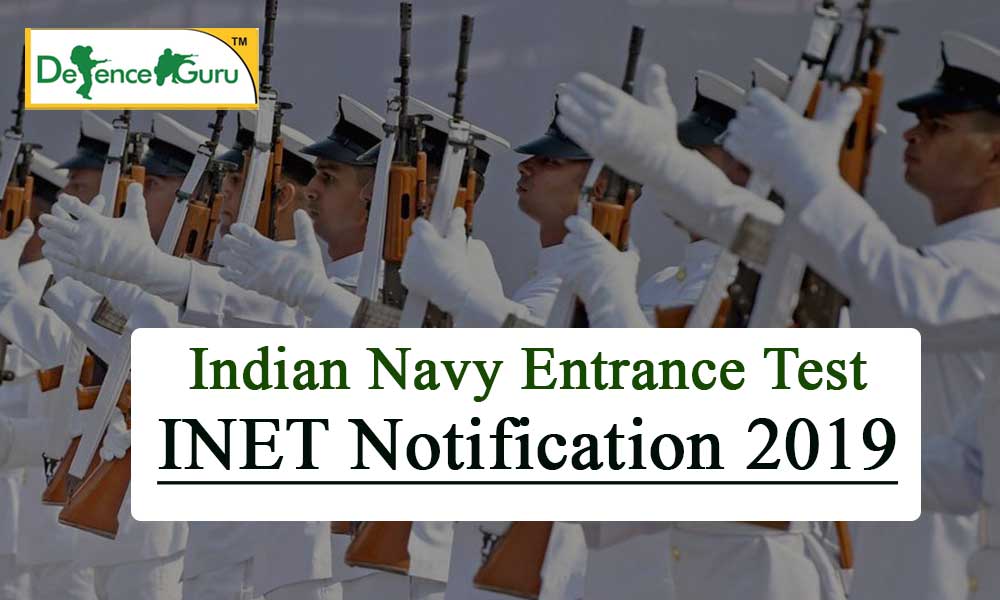 INET Written Exam Notification 2019
If you want to join prestigious Indian Navy after graduation then Team Defence Guru is going to share you notification of new officer entry for Indian Navy. Now candidates can avail more opportunities to join Indian Armed Forces.
Indian Navy is conducting an online exam INET (Indian Navy Entrance Test) for the first time for officer aspirants. Applications are invited from unmarried eligible men & women candidates for grant of Permanent Commission (PC) and Short Service Commission (SSC) in under-mentioned branches / entries in the Indian Navy for course commencing Jun 20 at Indian Naval Academy (INA) Ezhimala, Kerala. Candidates must fulfill conditions of nationality as laid down by the Government of India.

Naval Orientation Course (NOC) Regular – Pilot / Observer / Air Traffic Controller / Naval Armament Inspectorate Cadre / Logistics / Education / Information Technology / Technical (Engineering & Electrical)
DATE OF OPENING: 18 MAY 2019
LAST DATE FOR ONLINE APPLICATION: 29 MAY 2019
Who Can Apply
(a) Candidates who have passed Engineering Degree or are in the final year of Engineering Course in any of the above mentioned disciplines from a AICTE recognised educational institute can apply for branches / entries
indicated at Para 2 (a) - (e) & 2 (h) & 2 (j). The candidates will, however be required to pass final examination (BE/B Tech) with minimum 60% before joining INA. The candidates failing to meet minimum cut off %age will not be
permitted to join INA Ezhimala.
(b) Candidates who have completed their degree on the date of filling the application can apply for all Branches / Entries
Medical Standards. All candidates recommended by SSB will have to undergo medicals as per extant regulation. There is no relaxation in medical standard on any ground.
Relaxation in Height and Weight. Relaxations in height is permissible to candidates holding domicile of specific regions details of which are available on Indian Navy website www. Joinindiannavy.gov.in
Tattoo. Guidelines for tattoo are available on Indian Navy website www. joinindiannavy.gov.in
Pay & Allowances. Selected candidates are inducted as Sub-lieutenants. The admissible pay & allowances alongwith other facilities & privileges are available on Indian Navy website www. joinindiannavy.gov.in
Group Insurance & Gratuity. A basic insurance cover of Rs. One Crore (on contribution) and gratuity will be granted to the officer as per extant rules in force.
Leave Entitlements. On Commission, officers are entitled to Annual and Casual leave as per extant regulations. Leave during training period will be as per the Training Policy in force.
Tenure of Commission.
(a) Short Service Commission Selected candidates will be granted Short Service Commission initially for 10 years extendable by maximum 04 years in 02 terms (02 years + 02 years), subject to service requirement,performance, medical eligibility and willingness of candidates.
(b) Permanent Commission. Candidates inducted under PC will have to serve for a minimum of 20 yrs for pension and thereafter can continue to serve till the age of superannuation.
Duties of Officers. Please visit website www.joinindiannavy.gov.in for information on duties of officers for
respective Branches/Cadres.
Selection Procedure The selection procedure is as follows:-
(a) INET
(i) Examination Centre. All candidates, whose applications are received by due date, will be called for Indian Navy Entrance Test (INET) to be conducted in Aug 19 at one of the INET centres as per their choice, subject to availability of slots at that centre. Call up letters cum Admit Card for online examination indicating date, time and place, which is scheduled during Aug 2019 would be required to be downloaded from the official website www.joinindiannavy.gov.in tentatively by second week of Jul 19. Only Electronic mode of communication will be used while contacting the candidates at all stages of selection.
(ii) INET Syllabus. INET exam will be of two hours duration. It will contain 100 Multiple Choice Questions comprising Questions on English, Reasoning & Numerical Ability, General Science,
Mathematical Aptitude & General Knowledge. Each section will be of 100 marks with negative marking of one mark for incorrect answer.
(b) Shortlisting for SSB. IHQ of MoD (N) reserves the right to shortlist candidates strictly on the basis of INET rank cum preference & choice. However candidates are required to qualify in all sections of INET Exam to be considered for shortlisting to appear in SSB interview. No communication will be entertained on this account. SSB interviews for short-listed candidates will be tentatively scheduled from Oct 19 at Bangalore for pilot & observer candidates and at Bangalore/Bhopal/Coimbatore/Visakhapatnam/Kolkata for other branches/ entries. Shortlisted candidates will be informed about their selection for SSB interview on their e-mail or through SMS (provided by candidates in their application form). Candidates are advised not to change their e-mail/mobile No till selection process is over.
(c) SSB Procedure. SSB interview will be conducted in two stages. Candidates who clear Stage I will go to Stage II. Those who fail in Stage I will be sent back on the same date. Details of SSB procedure are available on Indian Navy website www. joinindiannavy.gov.in
(d) Medical. SSB recommended candidates are required to undergo medical examination as applicable to their entry. Candidates of Pilot entry are required to undergo PABT (Pilot aptitude battery test) followed by Aviation medical examination.
(e) Merit List & Appointment Letter.
(i) Merit list will be based on combined marks of INET & SSB.
(ii) Candidates recommended by the SSB and declared medically fit will be appointed for training as per all India merit of each branch / cadre based on availability of number of vacancies in various branches / cadres.
(f) Examination Fees Candidates (SC/ST/women candidates are exempted from payment of fees) are required to pay a fee of Rs 205/- (Rupees Two Hundred five only) through online mode. Admit card will be issued for the examination only to those candidates who have successfully paid the examination fee and who are entitled to waiver of examination fee. 
TRAINING
Candidates will be inducted as officers in the rank of Sub Lieutenant. Officers of all branches / cadres except the officers of IT will undergo 22 Weeks Naval Orientation Course whereas officers of SSC (IT) will undergo 04 Weeks Naval orientation Course at the Naval Academy, Ezhimala. This will be followed by professional training in Naval Ships and Training Establishments as per extant regulations
How to Apply
Candidates are to register and fill application on Indian Navy website www.joinindiannavy.gov.in. The candidates can apply from 18 May 19 onwards.
Indian Navy Entrance Test Exam Notification 2019