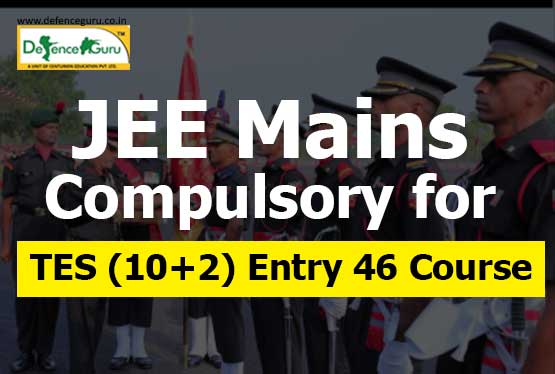 JEE Mains compulsory for TES Entry
Highlights:

Application notification in the month of May-June 2021

60% Marks in PCM mandatory
A buzz created among the 10+2 students who are aspiring to join Indian Army for TES Entry. Owing, however, to the close proximity of stigma in young male candidates about slight irregularity in the notification of the Indian Army we picked detailed analysis on particular TES 46 Course recruitment process.
Recent notification released on Indian Army website on May 22, 2020 holds:
"TES (10+2) Entry-46 Course: Jan 2022:- Online applications for TES-46 will open on Joinindianarmy.nic.in in the month of May-June 2021. JEE Mains has been made obligatory for TES 46 Course. This is an addition to the criteria of minimum 60% marks in PCM in class 12th."
The decision has been taken by the Indian Army for January 2022 batch recruitment process where JEE Mains is compulsory for TES (10+2)Entry 46 Course.
The eligibility criteria for TES 46 course includes:
JEE Mains is must
60% Marks in PCM (Physics, Chemistry, Maths) after 10+2
Age limit remains same as earlier TES 44 & 45 course i.e. 16 ½ to 19 ½ years.
Male candidates are eligible
Conducted twice in a year
Selection Procedure for TES 46 Course:
Application tobe released on May-June 2021 on joinindianarmy.nic.in
Candidates will be shortlisted for TES 46 SSB
SSB conducted for 5 days
SSB recommended candidates will face Medical Test
Merit Test based on medical test examination will be declared
Merit list ranked candidates will have to go through 5 years intense training procedure
Training Procedure for TES 46 Course
1 year training to be held in IMA, Dehradun (earlier OTA Gaya)
After completion of 1st year training,3 years training in CME Pune, MCTE Mhow, MCEME Secunderabad
Candidates successful in 3 years training will receive Engineering degree and Lieutenant rank
The last 5th year training is Post Commissioning Training for 1 year in CME Pune, MCTE Mhow, MCEME Secunderabad
What is TES Eligibility criteria till 2020 (TES 44 and TES 45)?
TES stands for Technical Entry Scheme where only
Male candidates can apply
Twice in a year
70% marks in PCM (Physics, Chemistry and Mathematics) after 10+2
Age limit 16 ½ to 19 ½ year
What is JEE Mains?
Joint Entrance Examination Main (JEE Main), formerly known as All India Joint Entrance Examination, is an examination organized by the National Testing Agency in India. JEE Main is conducted 2 times a year same as TES exam.
The most searched and heated topic in Indian Army analysis is dragged in this article for young minds who are planning to indulge in TES entry. Class 12th student can gear up their fighting spirit more vigilant and divergent as of now they have to face tough competition clearly based on technical perspective of engineering students by and clearing JEE mains.
Video Link for Important changes in TES 46 Course: Click here
To get detailed information on Notifications, Syllabus, Tips and Tricks, Admit Card Dates,Result, Cut off, Trend Analysis, Information about Physical Fitness Test and MedicalExamination and Current Affairs, simple Follow us on You tube, Instagram, Twitter,Facebook. Visit our official website www.centruiondefenceacademy.com. Read articlesrelated to defence and defence examination at defenceguru.co.in.