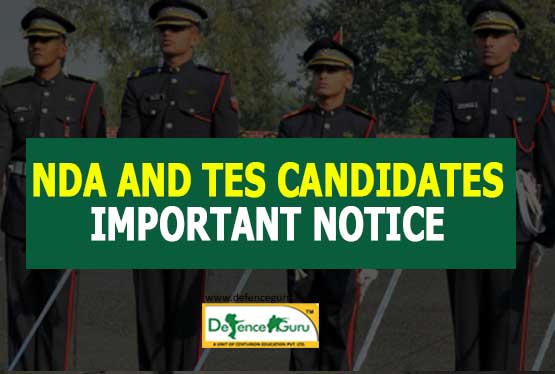 NDA And TES Candidates Important Notice
Indian Army in its recent notification published must-to-do procedures for the TES & NDA candidates. Yes, the Indian Army for the course of TES & NDA entries has released a common guideline. Candidates who have applied for both TES and NDA entries need to undergo a medical examination for the entries recommended.
Clear and precise set of instruction has been provided below for the NDA and TES common candidates.
PROCEDURE FOR COMMON CANDIDATES: TES & NDA ENTRY
The candidates who apply for 10+2 Technical Entry Scheme (TES) and National Defence Academy (NDA & NA) parallel courses need to undergo a medical examination by a Board of Service Medical Officers for the entries recommended.
Those candidates who are recommended for TES prior to their NDA SSB will have to undergo medical for TES and NDA (AF and Navy) separately.
If only NDA Army is their preference these TES candidates need not undergo NDA medicals again. The NDA medical examination will begin only after the candidate is declared FIT in TES medicals.
The candidates who are recommended in NDA prior to SSB for TES need not undergo medical for TES separately. The Medical Status for TES (10+2) will be same as NDA (Army) medical examination. A candidate declared UNFIT in NDA will be considered UNFIT for TES as well.
If the candidate is found UNFIT/ UNFIT IN ABSENTIA at any stage of medical examination in any entry i.e. TES or NDA & NA parallel courses he will be declared UNFIT for both the entries and no representation will be accepted thereafter.
Amid COVID 19 outbreak many restrictions and safety measures have been opted by the Indian Army leading to which, new set of instruction for the TES and NDA candidates are taken as a precautionary step in combating COVID 19.
To get detailed information on Notifications, Syllabus, Tips and Tricks, Admit Card Dates, Result, Cut off, Trend Analysis, Information about Physical Fitness Test and Medical Examination and Current Affairs, simple Follow us on You tube, Instagram, Twitter, Facebook. Visit our official website www.centuriondefenceacademy.com. Read articles related to defence and defence examination at defenceguru.co.in.
Be an Efficient Learner! Save Time and Effort! Get Centurion Defence Academy Student App.