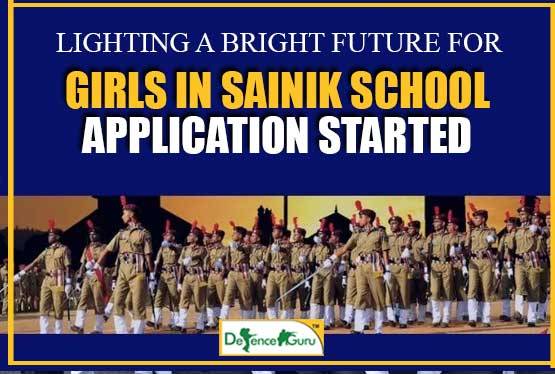 LIGHTING A BRIGHT FUTURE FOR GIRLS IN SAINIK SCHOOL- APPLICATION STARTED
Ever imagined girls and Sainik school together? The word female and Military is often seen apart in India and admission scenario in Sainik School was no different until today.
Yes, the 26 widespread Sainik Schools in India gave admission only to boys while the girl section was barded to study here. After years and years this October the trend came to an end when Defence Minister, Mr. Rajnath Singh permitted admission of girls in Sainik school.
The decision was well appreciated and its outcome is now seen in the availability of application form for girls for admission in Sainik school. Yes, you heard it right the application form have been released.
Sainik Schools Opens Application Form for Girls Candidates
On 26 November, 2019 Sainik School Society published a notification which invites girls all over India to apply for All India Sainik School Entrance Exam (AISSEE). The availability of admission is limited to the following branches of Sainik School only:
Bijapur (Karnataka), Chandrapur (Maharashtra), Ghorakal (Uttarakhand), Kalikiri (Andhra Pradesh), and Kodagu (Karnataka).
The applications can be submitted from 26th November, 2019 to 6 December, 2019 on the official website, that is, www.sainikschooladmission.in.
Add to the above, girls from general category or Defence background will have to pay a fee of Rs. 400 while those of SC, and ST category will have to pay a fee of Rs. 250.
Girls will be admitted to class 6th and class 9th. The age limit for admission in class 6th is from 10 to 12 years while the age limit for admission in class 9th is from 13 to 15 years.
For detailed notification you can log in to the official website of Sainik School.
The above news marks the beginning of a new development in Indian Defence. Interested or not interested, girls must not leave this tremendous opportunity. Give it a try and apply for AISSEE today.