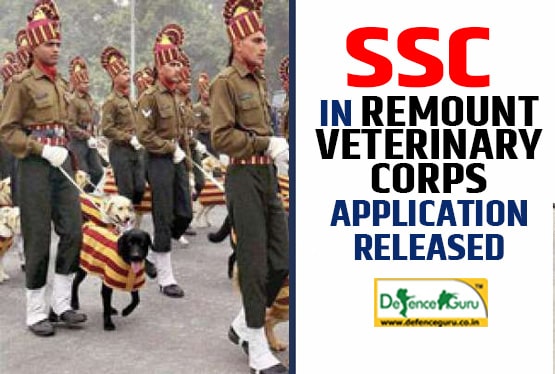 Indian Army - SSC in Remount Veterinary Corps Application Released
Indian Army had released notification on October 19 for Short Service Commission In Remount Veterinary Corps. Last Date of Application is10 Dec 2020 (5PM) and the applications received thereafter will not be considered. Under Short Service Commission In Remount Veterinary Corps candidate will be commissioned in the rank of Captain.
Applications are invited from qualified male veterinary graduates for Short Service Commission (SSC) in Remount Veterinary Corps of Indian Army.
HOW TO APPLY
Application on plain paper (21 cm x 36 cm) duly typed as per the format given in the advertisement.
The envelope containing application should be "Superscribed in Red Ink" indicating clearly "Application for Short Service Commission in RVC".
Application should be posted by ordinary, registered or speed post to reach at the following address:- Directorate General Remount Veterinary Services (RV-1) QMG's Branch, Integrated Headquarters of MoD (Army) West Block 3, Ground Floor, Wing No-4 RK Puram, New Delhi – 110 066
SSC in Remount Veterinary Corps PDF Given Below
The eligibility criteria for applications are given below:
| | |
| --- | --- |
| Age Limit | 21-32 years as on the last date of submission of application i.e 10 Dec 2020 |
| Educational Qualification | BVSc/BVSc & AH degree from any of the recognized Indian university or its equivalent foreign degree |
SSC in RVC Selection Procedure
Short listing of applications- Initial screening and short listing of applications will be done at Directorate General Remount Veterinary Services, Integrated HQ of MoD (Army) before forwarding them to Dte Gen Recruiting of IHQ of MoD (Army).
SSB Interview- Candidates whose applications are found in order shall be detailed to appear for the Service Selection Board on a specified date. Detailed instructions alongwith date and place of SSB will be intimated directly by Dte Gen Recruiting, IHQ of MoD(Army).
Merit list- Merit list of the candidates recommended by the SSB and declared medically fit will be prepared.
SSC in RVC Training, Terms and Conditions for Service
Selected candidates will be detailed on Post commission training at RVC Centre & College, Meerut Cantt.
Ante-date seniority: 12 months/24 months ante-date seniority will be granted to candidates holding post graduate/doctorate degree respectively in any discipline of veterinary science from a recognized university, recognized by VCI in India/abroad, prior to their commissioning in the Remount Veterinary Corps. The candidates must hold MVSc/PhD degree (Valid PDC/Degree certificate) on the date of commissioning for availing ante date seniority.
Suitability for retention of Commission: If an officer is found unsuitable within one year of the grant of commission, his commission may be terminated at any time before the contractual period of service for five years.
Promotion: Promotion up to the rank of Major while in SSC and thereafter, if granted PC, upto Colonel (TS) is time bound.
Tenure of engagement: All officers granted commission would serve the Indian Army for a period of five years from the date of conferment of commission subject to fulfillment of other conditions. The period of five years may further be extended by another five years subject to their performance.
SSC in RVC Pay, Allowances and other benefits
Officers, on commissioning in the rank of Captain are entitled to pay matrix of level 10(B) Rs. 61,300/-, Military Service Pay of Rs. 15,500/-, Non-Practice Allowance (NPA) @20% of basic pay, in addition to Kit Maintenance Allowance (KMA) and Dearness Allowance (DA) as admissible, at rates applicable from time to time.
Additional benefits like concessional accommodation, free ration/ration money for self only, free medical facilities for self and family, LTC, 60 days annual leave and 20 days casual leave, canteen facilities and group insurance cover are also admissible.
SSC in RVC application released on 19th October and last to apply is 10th December. Interested candidates are invited to apply for the post.
For complete details related to SSC in RVC SSB and Medical.
Contact 9795977776
SSC in Remount Veterinary Corps PDF