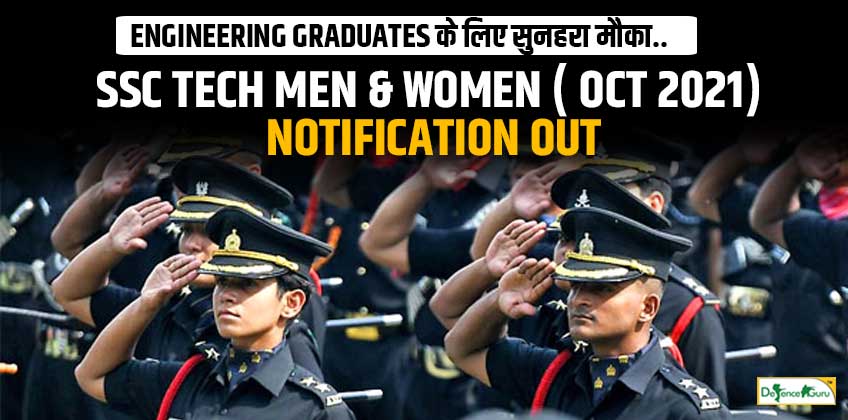 Applications are invited from eligible unmarried Male and unmarried Female Engineering Graduates and also from Widows of Defence Personnel who died in harness for grant of ShortService Commission (SSC) in the Indian Army. Course will commence in Oct 2021 at OfficersTraining Academy (OTA),Chennai, Tamil Nadu.Application Starts on May 25,2021 to June 23,2021 till 3:00PM.
Eligibility
(a) Nationality. A candidate must either be :-
(i) a citizen of India, or
(ii) a subject ofNepal, or
(iii) a person of Indian origin who has migrated from Pakistan, Burma, Sri Lankaand East African countries of Kenya,Uganda,United Republic of Tanzania,Zambia,Malawi, Zaire and Ethopia and Vietnam with the intention of permanently settling in India,provided that a candidate belonging to categories (ii) and (iii) above shall be a person in whose favoura certificate of eligibility has been is sued by Government of India.Certificate of eligibility will how ever not be necessary in the case of candidates who are Gorkha subjects of Nepal. A candidate in whose case a certificate of eligibility is necessary, willattachsuchcertificate alongwiththeapplication.
(b) AgeLimit

(i) For SSC(Tech)- 57 Men and SSCW(Tech)- 28 Women. 20 to 27 years ason 01 Oct 2021 (Candidates born between 02 Oct 94 and 01 Oct 2001, both daysinclusive).
(ii) Forwidows ofDefencePersonnelwhoDiedinHarnessOnly.

SSCW (NonTech) [NonUPSC] and SSCW (Tech)- Amaximumof35yearsofageason01Oct2021.

Note. The date of birth recorded in the Matriculation/ Secondary School Examination Certificate or an equivalent exam in ation certificate on the date of submissi on of application will only be accepted. No other document relating to age will be acceptedandnosubsequentrequest foritschangewillbe consideredorgranted.
(c) Educational Qualification for Applying. Candidates who have passed the requisite Engineering Degree course or are in the final year of Engineering Degree course are eligibleto apply. Candidates studying in the final year of Engg degree course should be able to submit proof of passing Engg Degree Examination along with marksheets of all semesters/years by 01 Oct 2021 and produce the Engg Degree Certificate within 12 weeksfrom the date of commencement of training at Officers Training Academy (OTA), Chennai,TamilNadu. Such candidates will be inducted on Additional Bond Basisfor recovery ofthe cost of training atOfficersTrainingAcademy (OTA)as notified from time to time aswell as stipend and pay & allowances paid, in case they fail to produce the requisite degreecertificate.

(d) Educational Qualification for Widows of Defence Personnel who Died in Harness
(i) SSCW(NonTech)(NonUPSC). GraduationinanyDiscipline.
(ii) SSCW(Tech). B.E./B.Techinany Engineering stream.
Note. Candidate studying in final year of Degree must ensure that she submits theproof of passing Degree exam by 01 Oct 2021 to Directorate General of Recruiting,failingwhich her candidaturewillbecancelled.
2. Vacancies. Candidates must note that only the Engineering streams and their acceptableequivalent streams, strictly as notified in the table below, will be accepted. Candidates with degrees in any other engineering stream(s) are not eligible to apply. Any variation between the nomenc lature of Engineering stream as given on the degree parchment / marksheet and that submitted by the candidate in his online application will result in cancellation of candidature.
(a) ForSSC(Tech)-57Men.175
(b) ForSSCW(Tech)-28.:14
(c) ForWidowsofDefencePersonnelOnly.: 2

3. Typeof Commission
(a) GrantofCommission.SelectedcandidateswillbegrantedShortServiceCommission on probation in the rank of Lt from the date of commencement of the course or the date of reporting at Officers Training Academy(OTA), Chennai,TamilNadu,whichever is later and will be entitled to full pay and allowances admissible to Lt duringtrainingperiod.Pay & allowances will be paid after success ful completion oftraining.
(b) Confirmation of Short Service Commission.On successful completion of Pre Commission training at OTA, Officer will be confirmed Short Service Commission (Technical) in the rank of Lt.
(c) Ante Date Seniority. One year ante date seniority from the date of commission willbe granted to Engineering Graduates of Short Service Commission (Technical) in the rank ofLt.
(d) No Ante Date Seniority for widows of Defence Personnel for SSC(NT). Widows of Defence Personnel selected for SSCW(NT) entry willbe granted Short Service Commission in the rank of Lieutenant but will NOT been titled to any ante date seniority.
4. Training
(a) Selected candidates will be detailed for training at OfficersTraining Academy,Chennai according to their position in the final order of merit (engineering stream-wise) upto the number of available vacancies and subject to meeting all eligibility criteria.
(b) Durationof Training-49weeks.
(c) Candidates will neither be allowed to marry during the period of training nor he/she be allowed to live with Parents/ Guardians.Candidates must not marry until they complete the full training at the Officers Training Academy. A candidate, if he/ she marries while undertraining, shall be discharged and will be liable to refund all expenditure incurred on him/ herby the government. This provision is also applicable to widows of Defence Personnel. Acandidate, who marries subsequent to the date of his/ her application, though successful atthe Service Selection Board interview and medical examination, will not be inducted fortraining,and his/her candidature will be cancelled.
(d) Training at OTA is at Govt expense. All candidates who successfully complete Pre-CommissiontrainingatOfficersTrainingAcademy,Chennaiwillbeawarded'Post

Graduate Diploma in Defence Management and Strategic Studies' by University ofMadras.
(e) Suitability to Retain Short Service Commission. If an officer is reported uponwithin a period of six months from the date of confirmation of Short Service Commission asunsuitable to retain his/ her commission, his/ her commission may be terminated at any time,whetherbeforeoraftertheaboveperiod.
(f) Liability of Service. Officers may be granted Short Service Commission in any Arm/Service and will be liable for service in any part of the world on selected appointments asdecidedbyIntegrated HeadquartersofMinistryofDefence(Army),from time totime.
(g) Tenure of Engagement. Officers (Male and Female) shall be liable to serve for tenyears. The said tenure, however, may be extendable by a further period of four years subjectto their opting for the same and found eligible and suitable for extension of service as per terms of engagement is sued from time to time.Officers who are desirous of seeking Permanent Commission (PC) may be considered for the same in the 10th year of service inaccordance with the eligibility and suitability as per terms of engagement issued from time totime. Those Offrs (Male and Female) seeking PC but are not granted the same, may opt forextension of service. Offrs found eligible and suitable for grant of extension of service as perterms of engagement issued from time to time, may be granted extension for a period of fouryearsonexpiryofwhichthey willbereleasedfromtheArmy.
(h) Cost of Training. The entire cost of training at OTA is at Government expense. Incase the Lady/ Gentleman Cadet is withdrawn from training academy due to reasons otherthan medical ground or the reasons notbeyond his/her control,he/she will be liable torefund cost of training @Rs.12,908/-per week till30 Jun 2021,thereaftera yearlyescalation of 8% p.a. will be calculated on the Per Capita Cost of Training for eachensuing year (or as notified from time to time) apart from allied charges as fixed by the government from time to time, for the period of his/her stay at OTA, Chennai.

SSC Tech Men & Women (Oct 2021) Notification Detail Video