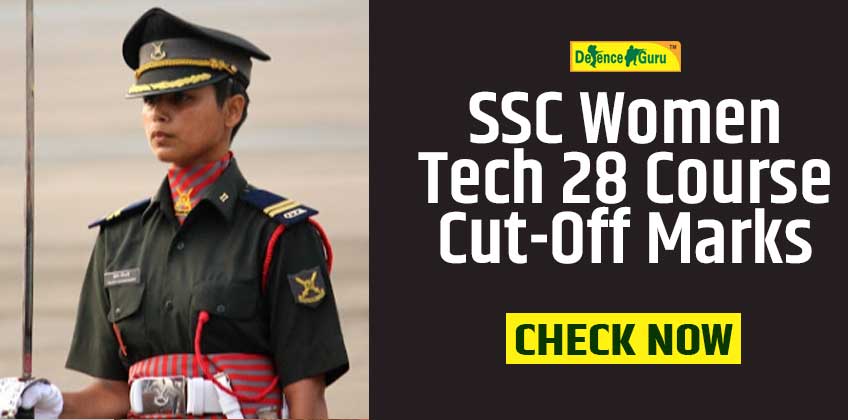 The Indian Army has published the SSC Tech 28 women cut-off marks for shortlisting candidates for SSC Tech 28 SSB interviews. Electrical/ Electrical and Electronics has the highest cut-off marks of 83%. Official Notification says "SSCW (TECH) - 28 (OCT 2021) COURSE – CUT OFF PERCENTAGE FOR SSB SHORTLISTING (UPTO 6th SEMESTER CUMULATIVE FOR ENGG DEGREE COURSE AND 2ND SEM CUMULATIVE FOR M.SC COMPUTER SCIENCE)."
Merit list is compiled on basis of marks obtained in SSB interviews only. Previous records of educational qualification, performances, background do not have any role in it. Here is the schedule for merit list and related dates. When we say cut off of SSC Tech for joining Indian Army, it refers to the minimum marks needed to get shortlisted for SSB (in Indian Army SSC Tech, candidates first apply and then they are shortlisted for SSB on basis of their scores in qualifying exam). Please note that SSB cut offs are not disclosed.
SSC Tech 28 women SSB date selection link is open now: SSCW (TECH)-28: DATE SELECTION LINK FOR SHORTLISTED CANDIDATES OF SSCW (TECH)-28 IS OPEN. THE CANDIDATES ARE REQUESTED TO SELECT DATE FROM DATE SELECTION LINK FROM THEIR PROFILE. DATE SELECTION LINK WILL REMAIN OPEN TILL 1500 HRS ON 22 JULY 2021.