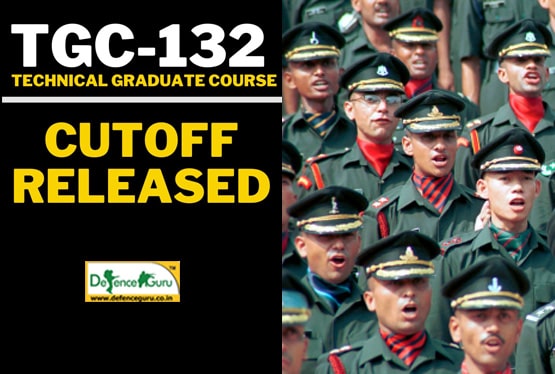 TGC 132 Cut Off
Indian Army released TGC 132 cutoff on its official website for recruiting unmarried male candidates. TGC 132 notification released in the month of July to which the cut off is released in the month of October. Only unmarried male candidates are eligible to apply for the 40 Vacancies of TGC 132 course commencing in Jan 2021 at the Indian Military Academy, Dehradun (IMA) for permanent commission in the Indian Army.
TGC 132 Shortlisted Candidates:
A technical entry by which any engineer with a good aggregate gets a chance for the grant of Permanent Commission in the Army for all arms/service courses. The shortlisted candidates are eligible to attend SSB through this entry. Candidates will be shortlisted on the basis of marks obtained in Graduation. Integrated HQ of MoD (Army) reserves the right to shortlist applications and to fix cutoff percentage of marks for each Engineering discipline/stream (cumulatively obtained up to 6th semester for Engg Degree course/ 2nd semester for M Sc. Computer science/ 8th semester for Architecture) without assigning any reason.
TGC 132 SSB Interview
Only shortlisted eligible candidates depending on the cutoff percentage will be interviewed at one of the Selection Centres Allahabad (UP), Bhopal (MP), Bangalore (Karnataka) and Kapurthala (Punjab) by Psychologist, Group Testing Officer and Interviewing Officer. Call Up letter for SSB interview will be issued by respective Selection Centres through the candidate's registered e-mail id and SMS only.
TGC 132 SSB Offline Batch
Following the TGC 132 cutoff and recruitment procedure, Centurion Defence Academy launched TGC 132 SSB Batch from 12th October and 19th October. TGC 132 SSB Batch marks the TGC 132 SSB Interview Stage 1 & 2 where Screening, Psychology, Interview, GTO guidance along with individual guidance & personality development will be provided in its depth.
JOIN Centurion Defence Academy TGC 132 SSB Batch commencing from 12th and 19th October
Visit centuriondefenceacademy.com
Contact: 9795977776