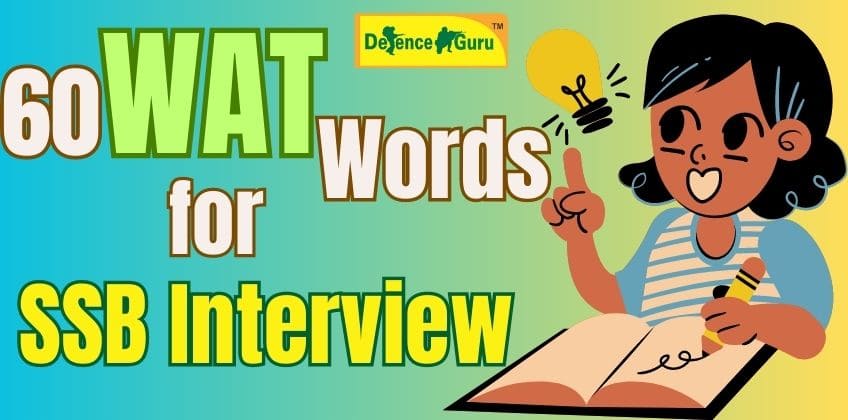 NDA-1 2023 took place on 17th April 2023 and Lakhs of NDA aspirants from every nook and corner of the country appeared in the NDA-1 2023 exam. Recently, the Union Public Service Commission released the results of the NDA-1 2023 written exam. SSB Interview Dates are also about to be announced very soon. So, It will be better if NDA-1 2023 written exam-qualified candidates start preparing for the upcoming NDA-1 2023 SSB Interview. In this article, we are going to provide a 60 WAT Words Practice Set for NDA- 1 2023 SSB Interview along with some solved WAT words so that you can make your SSB preparation perfect. We will be providing you with a 60 WAT Words Prace Set PDF so that you can download it and practice it by yourself.
WAT or word association test is one of the four psychology tests which are conducted on the second day of the SSB Interview (on the first in the case of AFSB). In this test, 60 WAT words are shown one by one and candidates are given 15 seconds to write a meaningful sentence for each word. These WAT words are shown on a big screen and candidates have to write their sentences on the sheet provided to them. This test is aimed at evaluating the thought process, imagination, ability to take decisions, and emotions of the SSB candidates. These qualities of candidates are evaluated based on the sentences written by him/her. That is why sentences should be meaningful, not absurd in nature.
Solved WAT Words for NDA-1 2023 SSB Interview
Here, we are providing 20 solved WAT words. Candidates can learn from these solved WAT words and practice WAT from the practice set pdf provided in the attachment.
WAT Words for NDA-1 2023 SSB Interview

Sr. No.

WAT Word

WAT Sentence

Love

Love binds people together.

2.

Enmity

Cooperation can reduce enmity.

3.

Humanity

Human is the foremost quality of a leader.

4.

War

War can be won with better planning.

5.

Anxiety

Interaction with friends reduces anxiety.

6.

Friendship

Helping each other in difficult times deepens friendship.

7.

Planning

Imagination helps in planning.

8.

Clandestine

Clandestine operations help in eliminating the enemy easily.

9.

Humongous

Even humongous tasks can be solved by proper use of resources.

10.

Courage

Courageous people don't lose hope.

11.

Liberty

Liberty given to children shapes their character.

12.

Survive

A knife is the best surviving gear in the forest.

13.

Adventure

Proper precautions should be taken before going on an adventure trip.

14.

True

A man of truth is respected everywhere.

15.

Death

CPR is the best save to a person from death in case of a heart attack.

16.

Active

Daily exercise keeps us active and healthy.

17.

Camouflage

Camouflage helps in concealment in the forest.

18.

Rights

People aware of their rights make democracy successful.

19.

Sharp

A knife can be sharpened by using a rough stone.

20.

Hindrance

Hindrances can be overcome with proper planning.
Read More:
SRT Questions for upcoming NDA-1 2023 SSB Interview
10 Common SSB Interview Questions for Repeaters
200 WAT Words for SSB Interview - SSB Preparation
Download 60 WAT Words Practice Set PDF