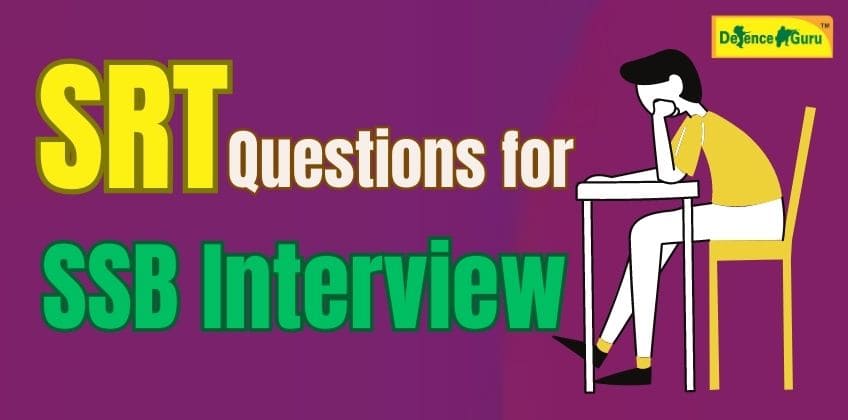 SRT Questions for upcoming NDA-1 2023 SSB Interview-Download PDF
Dates for the NDA-1 2023 SSB Interview will be announced very soon. If you have cleared the NDA- 1 2023 written exam, you must start preparing for the NDA- 1 2023 SSB Interview now. SRT or Situation Reaction Test is one of the four psychology tests which are conducted in the SSB Interview. SRT is one of those tests in SSB which frightens most of the SSB candidates because SRT includes different sets of situations. Sometimes candidates get very confused also in SRT. In this article, we are going to provide you with solved SSB SRT Questions as well as SSB SRT Question PDF for NDA-1 2023 SSB Interview. With the help of solved SRT Questions, you can learn how to solve SRT questions. You can practice SRT questions which are provided by us in the attachment.
What is SRT or Situation Reaction Test?
The Situation Reaction Test (SRT) is one of the psychological tests conducted during the selection process for the Services Selection Board (SSB) in India. The purpose of the SRT is to assess a candidate's ability to analyze a given situation and respond appropriately. During the SRT, you will be presented with a booklet containing 60 situations or scenarios. Your task is to write down the most suitable and practical response or action. In SRT, you are given 30 minutes to write responses for a total of 60 SRT questions. It means you will get 30 seconds to write a response on average. Practice and familiarity with various scenarios can help you become more comfortable and improve your speed and accuracy in responding to the SRT.
Sample SRT Questions and Answers for NDA-1 2023 SSB Interview
Here, we are providing some sample SRT questions and answers SSB Candidates can refer to these sample SRT questions and answers and form their responses.
SRT Questions and Answers for NDA-1 2023 SSB Interview

SRT Question

SRT Answer

You saw a clerk who is asking for a bribe to pass his pension papers as your father retired, you will….

Record a video of the clerk, and request to release the papers. If papers aren't released, send this video to superior officers and social media.

Your hostel inmate has a habit of stealing things. You…

Advise him not to do such bad acts and help him to find some freelancing work.

It was your last SSB Interview attempt and before attending the SSB you met with an accident, you will…

Write an email to SSB Board Authorities to change SSB Interview Date.

Your sister got an addiction to drugs, you came to know this from her friend. You will…

Confirm it with my sister, tell her the side effects of drugs, and help her in de-addiction.

You and your girlfriend were going in a lone Street and a few goons showed up and started teasing her, you will…

Run towards a public place and report this incident to the police.

You are going to sign a contract. Suddenly you got the news that one of your friends who had helped you once met with an accident and is in ICU. He will...

Ask my other friend to take care of my injured friend, sign the contract after properly reading it, and go to the hospital immediately.

He was traveling by train & suddenly a person snatches a purse from a lady and jumps out of the train. He will...

Immediately pull the chain, collect 3-4 people, catch the thief and hand him over to the police and return the purse to the lady.

It was raining very heavily outside and your sick friend called you for help. You will…

Called him what he needed, took an umbrella, and went to help him.

You were about to enter your bathroom and suddenly you saw a snake in the bathroom. You…

Immediately step back, shut the door, beware, everyone, call the forest department to catch the snake.

He had boarded the wrong train and came to know only when he was asked to pay money to TT. He will...

Paid the fine, took a bus, caught the right train, and continued the journey.
Read More:
PP&DT Pictures for Upcoming NDA-1 2023 SSB Interview
10 Mistakes That SSB Candidates Should Avoid in GTO
How to Prepare for the Upcoming NDA-1 2023 SSB?
Download Sample SRT Questions for NDA-1 2023 SSB Interview PDF