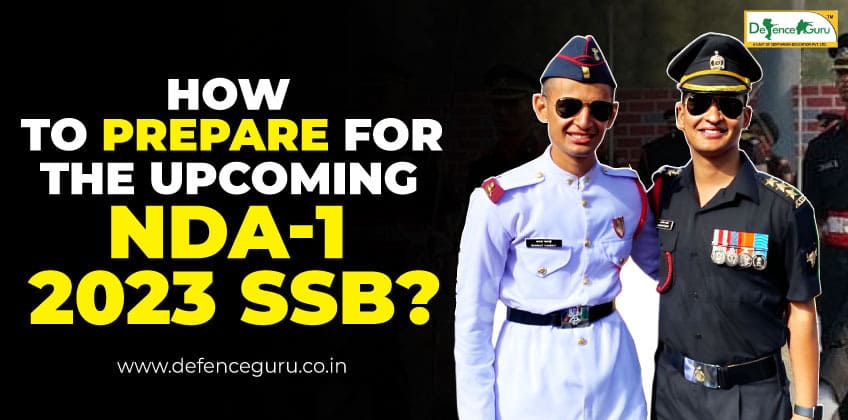 Best Tips for the Preparation of NDA-1 2023 SSB Interview
Most of you must have checked the answer keys and expected cut-off of the NDA-1 2023 Exam provided by us. Now, you must be wondering how to prepare for the upcoming NDA-1 2023 SSB. Through this article, we will provide you with a systematic plan to prepare for the upcoming NDA-1 2023. Candidates can follow this systematic plan for the upcoming SSB. This systematic plan includes both techniques and tips to prepare for the upcoming NDA-1 2023. This plan will benefit to a great extent if candidates follow religiously.
SSB Interview is a five-day selection process in which the selection board assesses Candidates based on several psychological and physical tests. This Service Selection Board includes Psychologists, GTO(Group Test Officer), and the Head of the Service Selection Board. There are four Army Selection Boards, four Air Force Selection Boards, and five Naval Selection Boards. In the five-day selection process, candidates undergo various tests such as OIR, PPDT, TAT, WAT, SRT, GTO, and Personal Interview. SSB is one of the toughest selection processes. Moreover, these tests are very complex in nature which makes SSB even tougher.
Systematic Plan for NDA-1 2023
You must have understood the importance and nature of the SSB Interview. But, Once you are prepared for SSB, you will not face any major during this five-day process. This systematic plan focuses on holistic preparation for your upcoming NDA-1 2023 SSB and covers the physical, mental, and communication aspects of SSB.
Systematic Plan for NDA-1 2023 is following as-
1. Know about SSB Process
The first step toward preparation for SSB is to know it first. You can not prepare for something unless you know about it well. Before starting preparation for SSB, note down the selection process of the SSB Interview. Collect information about tests and how they are conducted. Start with the Screening Process, then collect information about psychology tests like TAT, WAT, SRT, and SD (Self Description). GTO, which is one of the most important, includes several indoor and outdoor tests. You should know about all the tests of GTO in detail. If you are not able to understand the process, you can take help from youtube videos also.
2. Collect Material for Your Guidance
The second step should be to start preparation for these tests. To prepare for these tests of SSB, you can follow some standard books like 'My Appointment with Psychologist' and 'रणनीति' which is written by Shishir Dixit Sir the Chief SSB Mentor of Centurion Defence Academy. You can follow these books to get an idea about the tests of SSB in detail. These two books will guide you in the best possible manner.
3. Start Practicing for SSB Tests
After collecting material and understanding the tests of SSB, you should start practicing for these tests. You can make a daily schedule for practice which will include time for each test. Practice is very important for OIR as it will include questions of maths and reasoning which include questions related to age, series, dice, water image, mirror image, paper cutting, etc. You need to practice PPDT, TAT, WAT, and SRT also. You can download practice sets for practicing these tests.
4. Start working on your communication skills
Communication skills are very important for SSB Interviews as most of the tests are conducted orally. Most of the tests are group activities where you will have to actively interact with your group members. Without proper skills, you will not be able to perform these tests in a better manner. To improve your communication skills, you should talk to friends in English, you can watch the news in English, you can read books about communication skills, you can do group discussions with your friends also to improve your communication skills. You must understand that communication is not only about speaking but also about listening. You should try to listen to everyone actively.
5. Read Books about communication, international relations, and other non-fictional books
Reading Books will make you a knowledgeable person which is especially preferred by the Armed Forces. Reading books will widen your thought process so you will be able to think about unique ideas. Books will provide you with knowledge and facts that you can present during group discussions. Book reading as a hobby is appreciated very much during personal interviews. Candidates can read books like Pax Indica, Does elephant dance, India Unbound, How to make friends and influence people, Emotional Intelligence, My Experiment with Truth, etc.
6. Read Newspaper and Watch Debates on National and International Issues
Reading newspapers will make you aware of whatever is going on around you and in the world. The Armed Forces expect a well-aware officer and reading the newspaper is definitely going to make you an updated person. You should focus on national issues and international issues in the newspaper. But just reading the news is not enough, you need to analyse and understand the news as well. To analyse and understand the news, you can watch news debates. You should watch debates on the Sansd tv channel only as the experts called on the Sansd tv channel are very knowledgeable and sensible.
7. Start Doing Work Out and Increase your Stamina
Last but not least, you should start working on your physical strength and stamina. Some tasks in GTO will require physical strength and stamina. So, to complete those tasks properly you need to have good physical strength and stamina. You can start running and doing pushups, pull-ups, and chin-ups to increase your physical strength and stamina. Doing a workout is not enough, you need to maintain a good diet as well. You should take a balanced diet with more protein. You should not eat junk food because it may make you sick and it has high-calorie content that will make you fat.
This was the systematic plan for SSB preparation for NDA-1 2023. Candidates can follow this plan for sure success in SSB Interviews. This systematic plan has been prepared considering the nature and difficulty level of the SSB Interview. Defence Guru is a dedicated platform for defence exam preparation and here you can get all the required material for SSB preparation. Candidates can download this material and start their preparation for the upcoming NDA-1 2023 SSB.
Read More:
Top Five SSB Coaching in Dehradun
10 Tips to Complete 60 SRTs in 30 Minutes