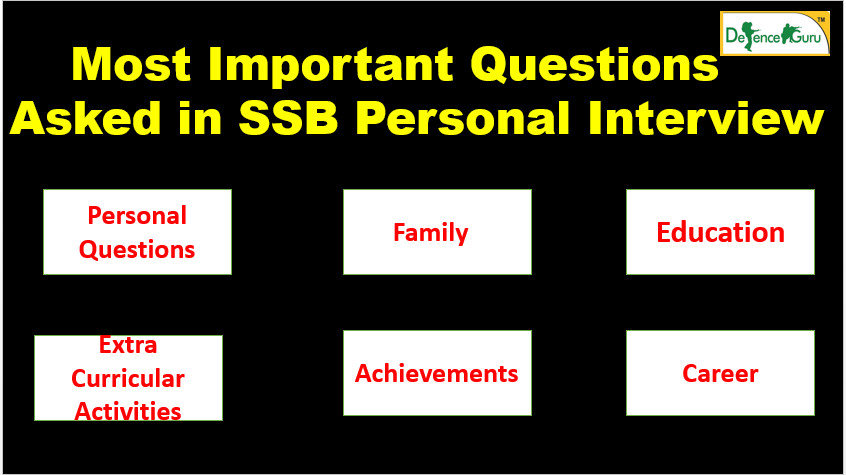 SSB Interview is a life time experience from which every candidate learns many things. During the SSB ,Personal Interview an important part of SSB is just between the two people as in other tasks it has been seen that candidates are performing in groups but in Personal interview in SSB the complete conversation is one to one. And it is the common way to explore the candidate to his depth. The questions asked are very simple and common. But the way and matter of reply by candidates are always different. Some questions are normally asked by IO related to certain fields and candidates must answer them. So, here Defence Guru is with some of those questions.
Most Important Lecturette Topics For SSB
Personal
Tell something about yourself?
What are the good and bad qualities of you and what efforts are you applying to overcome your bad qualities?
Explain yourself in a shortest way.
Which was the happiest and sad day of your life?
What is the best thing in you that your friends or family likes in you?
What are your strengths and weakness?
Do you have girl friend (For Boys)? Or Boy friend (for Girls)
How much salary you get and how you manage your expenses with them?
Biggest achievement of your life?
Do you Smoke/Drink?
Have you taken SSB Coaching before coming to SSB?
Reason behind your low percentage in academics?
How you support your family members/younger sister/brother?
 
Family
In your family Who is closer to you, father or mother? And Why?
What have you learnt from your father and mother?
Habits that you want to change in your father/mother?
Tell me something about your family background.
What is your contribution in family works?
How your elder siblings have helped you and how you have helped your younger siblings in education or other fields?
Parents are satisfied from your work?
When your family members appreciated your efforts?
Changes that parents want to see in yourself?
 
Education
Why there is fluctuation in your marks in 10th, 12th and graduation?
Whom you think is the main reason behind your low percentage?
Special achievement in your college/school life?
Highest/lowest marks in the subject and reason for them
Why you have not participated in sports activities?
Exams that you have given after your schooling/college?
Why you opted B.tech/B.sc/B.com after 12th ?
How did you managed time for studies, sports and co-curricular activities?
Have you ever failed in any examination in school or college? If yes, then why?
Who is your favorite teacher/ lecturer and whom you don't like? Give reasons for your likes and dislikes.
Which subject do you like the most and which you don't like and why?
 
Sports and Games
Which sports you like most?
Which will you prefer, indoor or outdoor games and why?
Any special achievement in Sports?
Team player name in relevant sports?
Who won Cricket/football/badminton Series?
What have you learnt from sports and games?
Tell me something about your involvement and achievements in sports.
What are the hurdles that you have experienced in your sport?
Why did you choose this specific sport/game over others?
 
Extra-curricular Activities/ Sports
Sports in which you have participated during School/College?
Have you joined NSS or NCC?
In how many activities have you participated so far and tell me about your achievements.
Being good in sports how you managed your studies?
You were not good in sports and subjects ? reason?
Which was the best and worst experience in your participation?
Being a captain what your roles and responsibilities?
 
Place of Maximum residence
Tell something about you city, district or state
Famous places and other important attractions of city/Districts
What are the basic problems in your district and if you are given a chance, what will you do to overcome them?
Achievements of Government of your state?
Tell me something about the history of your district and what is the famous thing in your district.
Distance between SSB Centre and your location?
 
Career
Why do you want to join Indian Armed Force?
What if you got rejected this time?
What other plans do you have for your career?
Who inspired you to join the Armed Forces?
How will you compare the Armed Forces with other government and private jobs?
 
Also read
Must Know About FIFA 2018 and Full list of award winners
Article 370 for Jammu and Kashmir by Sahwag Ansari
Interesting Facts about Indian Armed Forces that You must Know