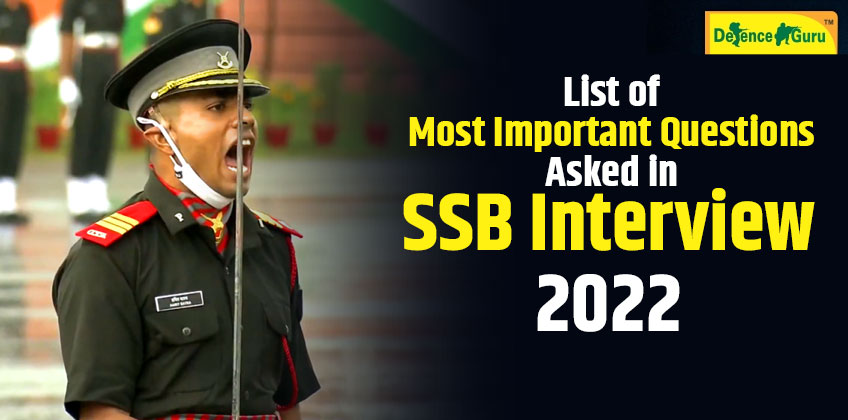 Most Important Questions Asked in SSB Interview 2022
The SSB interview is a dialogue between the candidate and the interviewing officer. The Interviewing Officer asks the candidates questions in order to evaluate whether or not they are qualified to lead the Indian Armed Forces. A candidate should endeavour to be honest and composed throughout the SSB Interview so that the Interviewing Officer does not receive the impression that the candidate is exaggerating a quality or has just a superficial comprehension of the issue. Here, too, the interviewing officer is looking for Officer-like qualities in candidates. The questions are simple and apply to everyday circumstances, but how you respond is crucial to your success in the SSB interview. As a result, we've prepared a list of the top SSB Interview questions to assist candidates in their preparation for the upcoming SSB Interview.
Individual questions are asked to learn more about your temperament and to assess your self-awareness and understanding.

Your thoughts must be precise and you should answer with absolute confidence when handling personal questions since you know yourself well.

Not only for the SSB Interview but also for success in life, one must have a thorough understanding of one's own personality, good and bad, strengths and shortcomings.

You can only speak with confidence if you believe in what you're saying; therefore, try to be specific and clear rather than saying something only to appear good.
SSB Interview Questions Related to Personal Background
Introduce yourself to the Board Members

What does your father do for a living?

What is your ambition in life?

Where do you belong to?

Tell us something about your family background

What intrigued you about this service in the first place?

What are your strengths and weaknesses?

Who do you look up to as a role model?

Why do you want to join the Indian Armed Forces?

Tell us about your preferences or how you spend your leisure time.

Why did you decide to pursue a career through the NDA/CDS?

Why should you be considered for a position in the Indian Army?

What is your motivation behind joining the Indian Armed Forces?
SSB Interview Questions Related to Academic Background
Tell us about your educational background.

What is the relationship between your education and the career you want to pursue?

Which subject is your preferred choice?

From where did you receive your education?

Have you ever taken part in any extracurricular activities while in school?

What are your perspectives on the Indian Armed Forces?

What were your subjects in the 12th class examination?

Why did you decide to pursue a career in defence?

Are you aware of your roles and tasks as an officer in the Armed Forces?

Why did you decide to pursue a career as an officer rather than a soldier?

What distinguishes officers from soldiers?

Do you have any idea about the career progression in the Indian Armed Forces?

What changes would you like to bring in the defence sector if selected as an officer?

Have you observed any changes in the Indian Armed Forces recently?
SSB Interview Question Related to Professional Career
Indian Armed Forces Commands and Headquarters

Regiments, Battalions, and Weapons of the Indian Armed Forces

Do you know what the term "defence indigenization" tends to mean?

What are the various wings of the Indian Armed Forces?

Background of the Indian Army, Air Force and Navy

What was the rationale for the creation of the Chief of Defence Staff (CDS) position?

Importance of joint warfare and theaterisation of the Indian Armed Forces

Awards and Honours Granted to the Personnel of the Indian Armed Forces

Important Days related to the Indian Armed Forces

Chief Officers and Ranking in the Indian Armed Forces

Why did you choose the Air Force instead of the Army or vice versa?

Important Battles and Treaties related to the Indian Armed Forces

Integrated Theater Commands of the Indian Armed Forces
SSB Interview Question Related to Miscellaneous Nature
COVID-19 (Coronavirus) impact on Indian Economy

World post-COVID-19

Modernization of Indian Armed Forces

Coronavirus: Impact on Global Economy

Climate Change and Pollution

E-Learning – Past, Present and Future

COVID-19 and Health infrastructure of India

Views on Bitcoin/CryptoCurrency

NEP: The New Education Policy

Bio-warfare as a new tool of global dominance

Influence of Social Media on Youth

Atmanirbhar Bharat: Call for self-reliance

Blockchain Technology – Pros & Cons
Read More