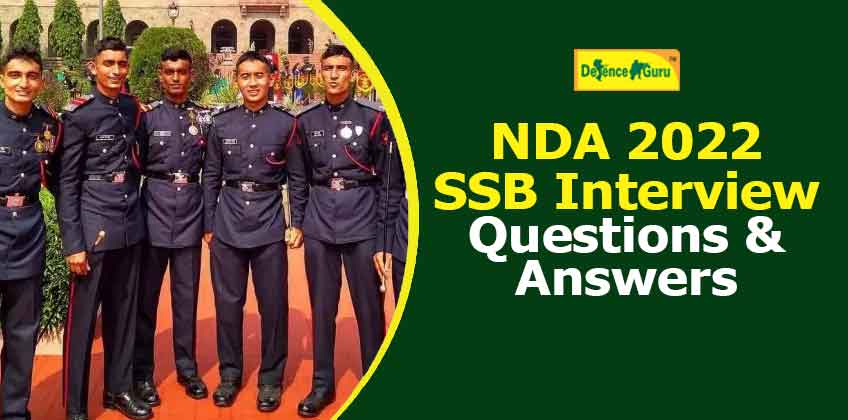 NDA 2022 SSB Interview Questions Answers
The most important factor in recommending a candidate for the Indian Armed Forces is the assessment by the Services Selection Board (SSB). If you answer questions correctly during your personal interview, your SSB score will undoubtedly improve. The interviewer may occasionally pose you with difficult situations and ask for your reaction. As a result, you should keep up with current events and be aware of what is going on in their immediate surroundings. SSB assessors use a variety of methods to evaluate a candidate's personality. As a result, these NDA 2022 SSB Interview Questions and Answers will assist you in exploring your personality and responding appropriately. We've also compiled a list of tricky SSB questions you might be asked during your upcoming SSB interview. Continue reading to learn more.
Key Points Regarding Questions Asked in SSB Interview
When dealing with personal questions, your thoughts must be precise, and you must respond with absolute confidence because you know yourself well.

Individual questions are posed in order to learn more about your temperament and to assess your self-awareness and comprehension.

You can only speak with confidence if you believe in what you're saying; therefore, instead of saying something just to appear good, try to be specific and clear.

Not only for the SSB Interview, but also for success in life, one must have a thorough understanding of one's own personality, flaws and all.
Since the evaluation by the Services Selection Board (SSB) is the most important aspect in the recommendation of a candidate, one must be familiar with how to respond to the questions asked by the interviewer. Thus, to help NDA aspirants excel in their SSB Interview, we are providing a few sample questions on SSB Interview with relevant answers. Furthermore, a list of the most important SSB Interview questions has also been provided in the below section.
Tell me about your strengths and weaknesses. What is the current state of your engagement with them?
The interviewer will ask you this question to see how much you know about yourself. These characteristics reveal everything about you while discussing your strengths and weaknesses. By asking this question, the interviewer is also interested in how much effort you are putting in to develop yourself. You could argue that everyone, including myself, has some strong and weak points. I am familiar with the internet and technology. Consistency and integrity are values that I hold dear. I admire people who are dedicated to their jobs and give their all. However, I have some flaws that I am constantly working to improve.
Will you return for another SSB interview if you fail this one?
The interviewing officer asks this question to assess your trustworthiness. You should not be concerned that the interviewer will reject you. This question is only meant to gauge your level of anxiety, excitement, and nervousness. You could say that I consider military service to be more than just a job; it is a way of life and one of the most honorable ways to live life to the fullest and serve the country. I've been fascinated by the bravery of the Indian army since I was a child, and I want to work with the best and serve my country.
Why did you apply for Army leadership roles? Do you not want to serve in the Air Force or Navy?
You must present a positive response that emphasizes all of your choice's admirable qualities without hesitation. You must respond in a way that demonstrates your admiration for all branches of the Indian Armed Forces as well as your preference for one in particular. You could argue that the first reason is that I prefer to join organizations in non-technical fields and perform my duties there. Because of the available options, I chose the Army over the Air Force and Navy.
What do you believe was the reason you were not recommended in previous attempts?
This question is intended to determine whether you are aware of your own limitations and shortcomings, as well as what you have done to address them. The interviewing officer is also interested in how well you've prepared for this situation. You could respond that I recognise that my physical prowess and verbal abilities were lacking in my previous attempts. I wasn't adequately prepared to give it my all. But I can assure you that I have been working on it diligently for the past three months and am now confident in myself.
Do you believe the United Nations has sufficient power to prevent a third world war?
You may respond like following the destruction of World War II, the United Nations was founded in 1945 with a single mission: to maintain worldwide peace and security. The UN does this by trying to prevent war, assisting parties in dispute in reaching an agreement, sending peacekeepers, and establishing the circumstances for peace to last and thrive. To be effective, these activities frequently overlap and should encourage one another. The United Nations Security Council is in charge of international peace and security. The Security Council is in charge of evaluating whether a threat to peace or an act of aggression exists. It encourages disputants to resolve their differences through peaceful ways and suggests techniques of adjustment or settlement terms.
What are your thoughts on the Russia-Ukraine crisis as an important issue in international relations?
You may answer like the Russia-Ukraine crisis is a long-running conflict that predominantly involves Russia, pro-Russian forces, and Belarus against Ukraine. From 2014 onwards, Russia provided military support to separatists in the Donbas while attempting to conceal its involvement. Russia started a full-scale invasion of Ukraine on February 24, 2022, after establishing a strong military presence on the border in late 2021. Geo-culture, geopolitics, and geoeconomics can all be used to analyze the conflict between Russia and Ukraine.
What is India's stance on the Russia-Ukraine crisis?
Your response should be like in the last several days, India has had to walk a diplomatic balancing over Ukraine, managing its connections with Moscow and the West. Delhi's initial statement to the UN Security Council (UNSC) did not specifically identify any country, but it expressed sadness that the international community's demands for diplomacy and discussion to be given a chance had gone unheeded. India chose to abstain from voting, but a close examination of its statement reveals that it went a step further and tacitly requested that Moscow uphold international law.
List of Additional Questions for NDA 2022 SSB Interview
Explain the top three equivalent ranks of each wing of the Indian Armed Forces?

What is the Armed Forces Special Powers Act (AFSPA)? When was it passed?

How do the Para Military Forces act to maintain law & order in the country?

How many layers are present in the atmosphere? In which layer do airplanes fly?

What is the significance of the Eastern Command of the Indian Army?

What would you do if your school or college caught fire?

In a sinking boat, who would you save? Is it your best buddy or an elderly lady?

What would you do if you were attacked and robbed late at night in another city?

Explain the latitudinal and longitudinal extents of India with the concerned locations?

What types of warships and ships does the Indian Navy use for different tasks?

State all laws of motion as defined by Newton along with daily life examples.

What are the latest procurements for the Indian Air Force from foreign countries?
Which article of the Constitution restricts the fundamental rights of the armed personnel?

Under which circumstances can the President of India declare the National Emergency?

Explain the recent collaborations and military exercises conducted by the Indian Army.

What is the supersonic missile that India has? Give information about this missile?

Why did the abrogation of article 370 become a controversial issue in the country?

Do you have any female companions? If not, why not?

Why is Siachen Glacier an important territory of the Union of India?

What is an Infantry Regiment? How is it different from the other regiments?

How often did you skip class in college? Did you do it because you wanted to play cricket with your friends?

Can you tell me the length of this room only based on the objects inside it?
What would your reaction be if I tell you that no matter how well you do, I'm not going to select you?

Would you rather have a beautiful or competent wife?

Explain briefly the Integrated Theater Commands of the Indian Armed Forces.

What role does the Chief of the Defence Staff (CDS) play?

How do you comprehend the modernization of the Indian Armed Forces?

In your twenties, what should be your top priority?

What are some of the frontline aircraft of the Indian Air Force?

Explain the relationship among resistance, current, and voltage with their meanings.

What are the major rivers of India? Name the rivers flowing from the west to the east?

Explain the ranks and profiles of the Commissioned and Junior Commissioned Officers.

Why does the issue of Kashmir remain a persistent one between India and Pakistan?

What changes would you bring in the Indian Armed Forces after getting recommended?
What does your father do for a living?

What is your ambition in life?

Where do you belong to?

Tell us something about your family background

What intrigued you about this service in the first place?

What are your strengths and weaknesses?

Who do you look up to as a role model?

Why do you want to join the Indian Armed Forces?

Tell us about your preferences or how you spend your leisure time.

Why did you decide to pursue a career through the NDA/CDS?

Why should you be considered for a position in the Indian Army?

What is your motivation behind joining the Indian Armed Forces?
What is the relationship between your education and the career you want to pursue?

Which subject is your preferred choice?

From where did you receive your education?

Have you ever taken part in any extracurricular activities while in school?

What are your perspectives on the Indian Armed Forces?

What were your subjects in the 12th class examination?

Why did you decide to pursue a career in defence?

Are you aware of your roles and tasks as an officer in the Armed Forces?

Why did you decide to pursue a career as an officer rather than a soldier?

What distinguishes officers from soldiers?

Do you have any idea about the career progression in the Indian Armed Forces?

What changes would you like to bring in the defence sector if selected as an officer?

Have you observed any changes in the Indian Armed Forces recently?
What are the various wings of the Indian Armed Forces?

What was the rationale for the creation of the Chief of Defence Staff (CDS) position?

How much do you know about awards granted to the personnel of the Indian Armed Forces?

Why did you choose the Air Force instead of the Army or vice versa?

Do you have any recommendations for SSB's future enhancements?

What are your alternative plans if you are not chosen this time?

In the last five days, how were your stay, food, and lodging?

When you compare your performance to past attempts, what differences do you notice?

How many points will you give yourself on a scale of one to ten for your performance?
Read More about