Top 5 SSB Coaching in India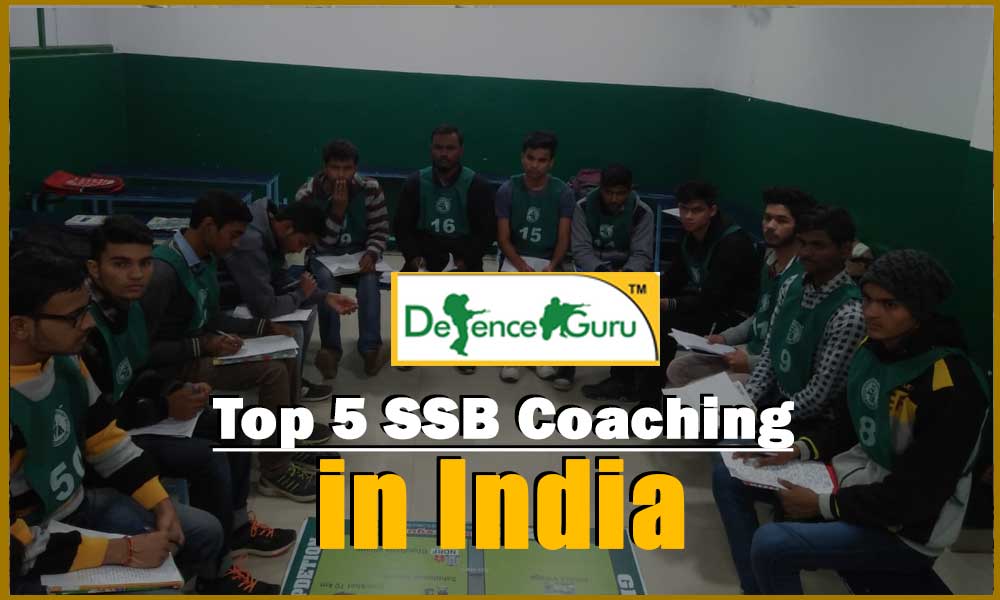 HOW TO APPEAR IN SSB INTERVIEWS
There are two ways of undergoing SSB interviews. First method is through applying and qualifying in the following entrance examinations.
National Defence Academy & Naval Academy examination (NDA & NA Exam)
Combined Defence Services Examination (CDSE)
Air Force Common Admission Test (AFCAT)
Second method is to apply various Army, Air Force and Navy courses and get SSB interview call letter.
For the following courses, direct SSB call letters are issued after short listing the candidates according to the academic marks.
Technical Graduate Course (TGC)
Tech Entry Scheme (TES)
Joint Advocate General (JAG)
Technical Short Service Commission courses SSC Tech
Non Technical Short Service Commission Courses SSC Non Tech
NCC Special Entry Scheme
University Entry Scheme (UES)
IAF's Meteorology Branch Course
Navy's Executive and Technical Branch entry
Navy's Pilot/Observer entry
Navy's Education Branch entry
So here we have seen the complete information about how to get SSB call letter and ways of becoming officer in Indian Armed Forces.
TESTS CONDUCTED AS PART OF SSB INTERVIEWS
There are numerous tests conducted during five day SSB interviews. All these SSB tests can be classified as either psychological tests or as GTO tests.
PSYCHOLOGICAL TESTS OF SSB INTERVIEWS
Trained SSB psychologist officers will organize the psychology tests of SSB and assess candidates according to their best judgement. Following are the various psychology tests conducted in SSB interviews.
Intelligence or OIR Test
Picture Perception & Description Test (PPDT)
Personal Information Questionnaire (PIQ)
Thematic Apperception Test (TAT)
Word Association Test (WAT)
Situation Reaction Test (SRT)
Self Description Test (SD)
Personal Interview (PI)
Pilot Battery Aptitude Test (PABT)
Conference
GROUP TESTING OFFICER (GTO) TESTS OF SSB INTERVIEWS
Group Testing Officer or GTO is responsible to conduct all GTO tests which are of outdoor and indoor nature. Following tests of SSB interviews fall under GTO tests.
Group Discussion (GD)
Military Planning Exercise (MPE)
Lecturrettes
Progressive Group Task (PGT)
Inter group Obstacle Race or Snake Race
Half Group Task (HGT)
Command Task
Individual Obstacles
Full/Final Group Task (FGT)
Best SSB Coaching in India
Want to crack SSB interview and looking for five day SSB interview procedure? Want to know about psychology and GTO tests of SSB interviews? Check out cool and best SSB coaching institutes. Your search for best SSB Coaching to crack SSB interviews ends here. In this Post Defence Guru share list of 5 Best SSB interview Coaching In India.
Top 5 SSB Coaching in India
1.Centurion defence Academy, Lucknow
Why Centurion defence Academy for SSB interview?
High Lights of Centurion defence Academy, Lucknow:-
Most experienced faculty members who have had long tenures at SSB and expert in their respective field of interviews, group testing and psychology.
Real GTO Obstacle (not miniature.
Psychological tests, Interview & GTO tasks in real test conditions.
All tests by experts senior defence officers who have served at various SSBs as President, GTO & Psychologist.
We Have A Team Of Officers Who Are Ex Ssb President, Gtos, Psychologists From Army, Air Force And Navy Guiding You Towards Success.
All Students Are Put Throug Out A Dossier Test On Arrival. Their Qualities Are Analysed And Individual Counseling is Done By The Psychologist.
The Only Institute Which Has Latest Outdoor Tasks And Individual Tasks Laid Out In Our Grounds to Give All Candidates An Actual Feel Of The Outdoor Task
All Candidates Are Given A Number Of Practices Of Dozier ( Screening Test, Including Verbal, Non-Verbal Reasoning And PP&DT).
All Dozier Tests Are Analysed, Explained, Practiced And Corrected Repeatedly.
Special Emphasis Is Laid On English Fluency And Personality Development Of The Candidates.
Favourite choice of defence aspirant preparing for SSB pan india in terms of best dossier assessment , Ex SSB faculty panel and upto point study material.
OUR DOSSIER BASED ON DAY WISE SSB INTERVIEW TESTS
Complete SSB interview goes on for five to six days depending upon the type of SSB interview. Here is the breakdown of SSB interview tests day wise.
FIRST DAY TESTS
During the first day of SSB interview only psychological tests are conducted. Following tests are conducted during the first day of five day SSB interview.
Intelligence Test
Picture Perception and Description Test (PP&DT)
Filling up of Personal Information Questionnaire (PIQ) forms
SECOND DAY TESTS
Following tests are conducted during the second day of SSB interviews.
Word Association Test (WAT)
Thematic Apperception Test (TAT)
Situation Reaction Test (SRT)
Self Description Test
THIRD DAY TESTS OF SSB INTERVIEW
Following tests are conducted on the third day.
Group Discussion test
Military Planning Exercise (MPE)
Lecturettes
Progressive Group Task (PGT)
Intergroup Obstacle race or Snake race
Half Group Task
Command Task
Personal interview for some of the candidates by president
FOURTH DAY TESTS
Following tests are conducted during the fourth day of SSB interviews.
Final Group Task (FGT)
Individual Obstacles
Interview for remaining candidates
FIFTH DAY TESTS
On fifth day, only final board conference is conducted and the results are announced by SSB board officials. Thus the following events and tests will be there on fifth day of SSB interview.
Conference
Announcement of recommended candidates
Other coachings for the SSB are
General Ranjit Academy
General Ranjit Academy is a premier SSB Coaching Academy and one of the best for SSB Interview Coaching, NDA, SSB Training, Soldier Recruitment and SSB Guidance. The Training Institute aims to provide training in a manner which makes an excellent platform for nurturing students for Defence forces (Army, Airforce, Navy, TA and Para-Military Forces).
Siddhu Defense Academy
Best Coaching Institute in Hardoi has surfaced as one of the best Defense Coaching Centers in Haryana. The Siddhu Defence Academy sharp preparing gets ready people to break the pined for resistance exams and interviews. NDA coaching, CDS coaching institute in Haryana. This protection guiding focus in Haryana has confidence in transforming the instruction into a rumored Job. Top Best SSB Coaching Center As the organization has effectively crossed the markup of 200 choices into upright assignments as pilot officer, acting sub-lieutenant, second lieutenant, Air Craftsmen and so forth it has set turning points for guiding foundations. As respects the past accomplishments, the SDA has contributed almost a large portion of the aggregate determinations accomplished for safeguard subsequent to 2012 in Haryana which without anyone else's input says a ton. No. 1 Airforce Coaching Centre in Haryana Nothing else verge on it.
Accent Coaching--
Accent Coaching Institute is known as best academy for preparation of SSB coaching in Hisar(Haryana). We at Accent Academy provide coaching for NDA (National Defence Academy) written examinations with expert guidance.
Baalnoi Academy
To tune a human mind to respond in a particular manner needs time and effort in right proportion and direction. Therefore, at Baalnoi we firmly believe that theory provides only a conceptual framework for understanding and that true learning happens only by application of theoretical concepts. At Baalnoi Academy the dry approach to learning is replaced by a teaching environment that allots specific task to candidates so that they form and use concepts.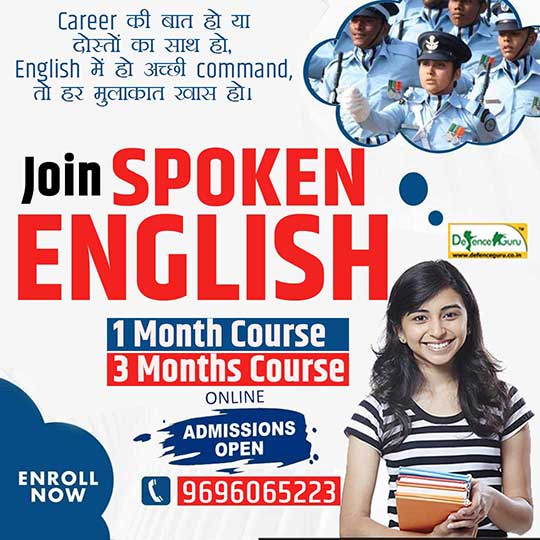 Leave a Reply
Defence Guru Team feels pleasure to appreciate from you ! Required fields are marked *.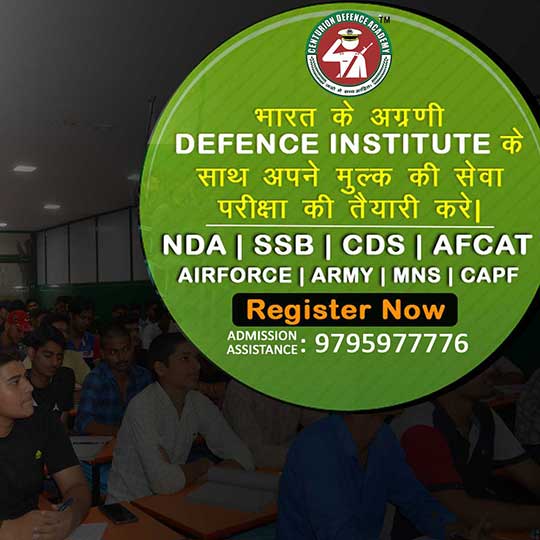 Newsletter Sign Up
Sign up to our newsletter and get exclusive deals you will not find anywhere else straight to your inbox!
-->