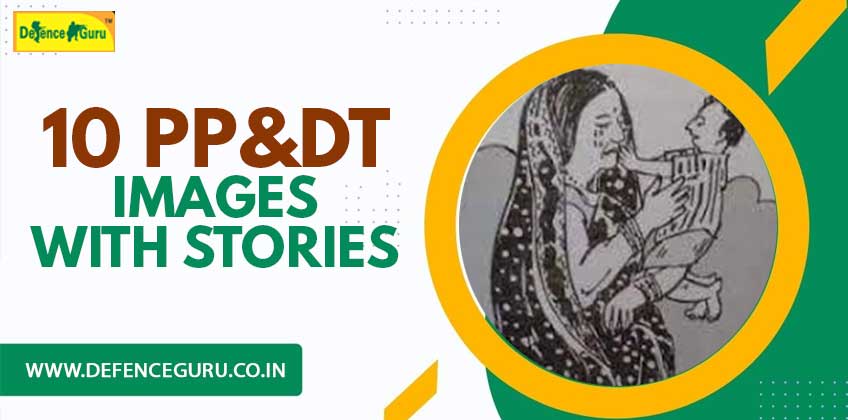 10 PPDT Pictures with Stories
PPDT or Picture Perception and Description Test is the second test in the five days SSB Interview. PPDT is conducted just after OIR (Officer Intelligence Rating) Test. During PPDT, Candidates are shown a hazy picture for 30 seconds and Candidates have to identify the number of characters in the picture, the age, the gender, and the mood within 1 minute. Candidates have to write a meaningful full story with a suitable title in 4 minutes.
After Writing Story, Candidates are divided into groups of 12-15 Candidates and they have to narrate their stories one by one. Candidates have to discuss their stories and reach at a common story.
How to Mark Characters in the PPDT
Candidates have to mark characters given in the picture and give information on the age, gender, and mood of the charecters. Candidates should mark the information in following way-
Particulars

Information

Age

Through number, for example 32 or 25

Gender

Male- M
Female- F
If not identifiable- O

Mood

Positive- '+'
Negative- '-'
Neutral- '0'
How to Write A Story for PP&DT?
Step- Identify the main character as the Hero of your story
Step- Describe What is going on in the picture
Step- Describe What led to the situation
Step- What the main character or Hero does through his/her actions
Step- Conclude your story with a positive outcome
We are providing you 10 PPDT Pictures along with stories so that candidates can learn about story writing in SSB PP&DT and increase their chances in screening.
1st PPDT Images
Educating People about Malnutrition
Sarla is a 35-year-old resident of Udaipur Village. Her 5-year-old son Raju was fallen sick due to malnutrition. She felt very sad and took her son to the local government hospital where her son was treated. She also learned about malnutrition from the Doctor. She decided that she will educate her villagers about malnutrition with the help of the Doctor. Sarla along with Doctor and Local Village Leader started a campaign to educate villagers about proper nutrition. She wrote slogans in the local language on nutrition and prepared a list of locally available nutritious food. She explained to people about the problems of malnutrition and how they can have a properly nutritious diet. Through the efforts of Sarla, the People and Children of Udaipur Village are living healthy and happy life.
2nd PPDT Images
Giving People Training for Organic Farming
Shubham is an Agriculture Scientist working in ICAR. He came to know from his father that Farmers in his village, Rampur are incurring huge losses in agriculture. So, Subham decided to help the farmers in his village. He decided to give provide them with training on organic farming so that farmers can earn more money at a low cost. He called some farmers in his village and explained the importance of organic farming and how they can earn more money through organic farming. He provided them with practical training on organic farming. He also helped farmers to take benefit of government subsidies for organic farming. Eventually, More Farmers started doing organic farming and now all farmers of Udaipur Village are earning high incomes from organic farming.
3rd PPDT Images
Educating Farmers about Government Schemes for Farmers
Shyam is a 24-year-old boy preparing for the civil services examination. When he came back to his village Karanpur after his exams, he found that most of the farmers in his village are poor and they do not have the proper equipment for farming. He decided to help the farmers of his village. He took the help of local pradhan to call farmers. Shyam explained about various government schemes like Kisan Credit Card Scheme, Kisan Samman Nidhi Yojna, and many other government schemes made for farmers. He kept on updating farmers about new schemes. He also educated them on how farmers can take information on new schemes and take benefit from these schemes themselves. Now, Farmers of Karanpur Village are living a prosperous life by taking the help of government schemes.
4th PPDT Images
Organising a Village Fair
Raju is a village pradhan of Bankepur Village. On every Basantpanchmi, a village fair is organised in Bankepur Village. For the proper organisation of the village fair, Raju called the elders and youth of his village to take suggestions. Raju incorporated relevant suggestions and delegated tasks to the youth of his village. He also contacted shopkeepers and entertainers for participating in the village fair. Raju decided to organise some competitions and games at the village fair. Village Fair was organised in a very well manner and all sections of people in Bankepur Village and nearby villages enjoyed the fair.
5th PPDT Images
Starting a Tree transplantation campaign
Ramesh is a social worker living in Radhepur Village. Recently, Rainfall in Radhepur village suddenly declined and draught-like conditions started to emerge. He wrote a letter to the local administration to confirm the cause of this situation. Local Administration told that due to deforestation Radhepur Village is facing such a situation. Ramesh decided to start a campaign for tree transplanting. He called the people of Radhepur Village and explained the whole problem. He explained to them how can tree transplantation can help to remove this situation. He asked for financial help from the government to buy trees. He along with the people of Radhepur village transplanted trees in every empty space. Eventually, Radhepur started receiving sufficient rainfall and drought-like situations also ended.
6th PPDT Images
Helping Accident Victims
Ankit is a 21-year-old B.sc nursing student. One day when he was going to his college in the morning, he saw that a car had hit a Tanga (Horse-Cart). Tangawala and the Horse were injured due to the impact of the accident. He immediately informed the Ambulance, Veterinary Ambulance, and the Police for immediate help. Meantime, He started giving first aid to the injured person. He also helped in admitting the injured person to the hospital and called the family members of the injured person. After inquiring about the treatment of the injured person, he left for his college.
7th PPDT Images
Helping Friend in Studies
Ashok and Ramesh are students of B.Tech at NIT Allahabad. Recently, the result of the mathematics test was announced. Ashok got good marks in the test but Ramesh could not get sufficient marks. Ramesh felt very sad because of his bad performance in the test. Ashok cheered up his friend and promised to help him in mathematics. Ashok started to teach him daily after classes. He also taught him different ways of solving questions. He also got good books from Library and gave them to Ramesh. Before the final exams, Ashok decided that they will study together and clear all doubts of Ramesh in mathematics. In the final results, Both Ashok and Ramesh got good marks in mathematics.
8th PPDT Images
Teaching Local Kids
Shreya is a student of the 12th class at St. Francis School. One day when She was going back to her home, she so that many poor kids were begging. When She inquired about their studies, she got to know that they do not go to school. Shreya decided that she will try to educate them in her free time. She got old books and study material from her friends and distributed them to the kids. She also asked the parents of the kids to enroll them in the government school. She started teaching them in her free time. Eventually, Kids started learning basic things and started attending school regularly.
9th PPDT Images
Controlling Riots
Abhishek is a newly appointed Superintendent of Police in Mau District. During a public demonstration, some miscreants started rioting. He was given the task to control the riots and calm down the protesters. Abhishek immediately rushed to the spot with the sufficient police force and appealed to people to calm down. He directed policemen to catch miscreants and meanwhile, he kept calming people. He requested people to protest peacefully with proper permission. Eventually, Abhishek was able to calm protesters and stop riots in the Mau District.
10th PPDT Images
Participating in Hiking Expedition
Prateek is a student of the 12th class in Army Public School. One day he read on the notice board that his school is organising a hiking trip. Being an adventure-loving person, Prateek immediately applied for the hiking trip. He got a list of hiking equipment from school and bought them. He started doing regular exercise for improving his physical power and stamina for hiking. He also read many online articles to prepare for his hiking expedition. During his hiking expedition, he actively helped his friends and guided them whenever they needed him. Prateek and All his Friends enjoyed the hiking expedition very much.
For your upcoming SSB Interview, you can join Top SSB Coaching for guidance.
Read More About
Top 10 SSB Coaching Institutes in India