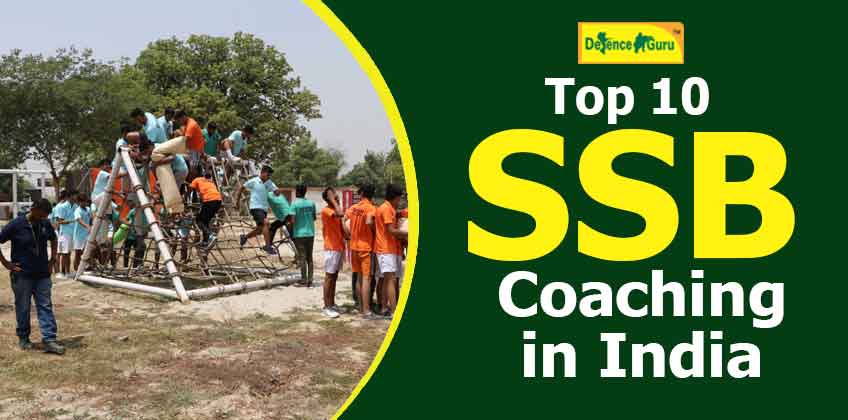 SSB Coaching Institutes in India
To identify attributes that are similar to those of officers in defence applicants, the Services Selection Board (SSB) conducts a personality and character evaluation. Candidates getting ready for the defence tests need to be aware that a good personality doesn't just appear. As a result, the SSB coaching center might be quite helpful to you as you prepare. Coaching facilities provide qualified assistance and direction for SSB interviews as well as a variety of prospects for joining the Indian Armed Forces. Candidates can read through the list below to find the best SSB coaching in India. Learn more about the top 10 SSB coaching institutes in India in the below sections.
Why Join Coaching Institute for SSB Preparation?
A candidate's personality must be thoroughly examined in the context of a competitive assessment test like the SSB. Without the guidance of an experienced mentor, this reflection cannot be holistically evaluated. Hence, with the guidance of a mentor, joining a coaching programme can help you analyze your personality traits and then prepare for the SSB Interview in line with those conclusions. The following are the main advantages of enrolling in a coaching programme for SSB preparation.
Increased Chances of Selection
Enrolling in a coaching institute can help you improve your chances of getting recommended.
Holistic Development of Proficiency
Extensive preparation for the written exam while also honing your skills for SSB Interview.
Mentorship under Experienced Professionals
An all-inclusive learning opportunity under the guidance of professionals to excel in the exam.
Thorough Understanding of Concepts
An integrated approach towards exam preparation with entire coverage of the vital topics.
Consistency in Exam Preparation
Guidance and support in maintaining a high level of consistency throughout your exam preparation.
Detailed Performance Assessment
Assistance in identifying your skills and shortcomings so that you can progress even more.
List of 10 Best Coaching Institutes for SSB Preparation
1. Centurion Defence Academy
Lucknow-based Centurion Defence Academy is a well-known defence coaching institution that gets students ready for the SSB Interviews with the highest success rate of recommendations. It is one of the most prestigious coaching institutes for the SSB Interview, with experienced faculty members and ex-military personnel as educators. Here, we'll go over other amenities offered by Centurion Defence Academy as well as why enrolling there can help SSB applicants improve their chances of being recommended.
With India's elite SSB Panel, which includes eminent defence professionals, ex-SSB Board members, and Indian Armed Forces veterans, Centurion Defence Academy offers both online and offline NDA exam preparation.

It has two locations in Lucknow, including India's largest GTO training facility, which prepares NDA candidates for group hurdles and other SSB Interview activities.

The Academy also offers a 21-day and 45-day SSB Interview training and guidance plan which includes Personality Development, Physical Robustness & Mental Alertness, GTO, OIR, and Group Discussion for successful results in the SSB Interview.

The Academy provides educational facilities, professional SSB interview guidance, hostel and mess facilities, sports facilities, physical fitness training, and extra-curricular activities to NDA applicants.
Benefits of Joining Centurion Defence Academy
Attending a coaching institute can help you increase your productivity and speed up your SSB preparation in constantly fierce competition. Centurion Defence Academy, the best SSB Coaching, provides students with a comprehensive training plan under the supervision and mentorship of experienced professionals. The following are the most significant benefits of joining Centurion Defence Academy.
Providing conceptual-based learning to ensure that the complete curriculum is covered with ample time for essential concepts to be reviewed.

Candidates can use model test papers, mock tests, and test series to get a feel for the real exam while retaining accuracy and time management.

Under the guidance of the SSB Panel, which is made up of ex-Indian Armed Forces officers with years of experience and competency, comprehensive SSB Interview preparation can help potential candidates achieve their best outcomes.

A well-equipped library and state-of-the-art infrastructure with all necessary amenities create an environment that promotes a positive and enjoyable learning experience.

Content and study materials that have been thoroughly researched and are based on the latest syllabus and exam pattern, as determined by the R&D department.
Click here for ONLINE REGISTRATION FOR ADMISSION to the new batches of SSB Interview.
2. National Defence Career Academy
National Defence Career Academy offers the SSB interview coaching classes in Jaipur, Rajasthan and written exams for the UPSC examinations NDA and CDS. National Defence Career Academy has officers who are well qualified and have extensive experience in effectively coaching centers for SSB interviews.
3. Pratham Pag Academy, Gwalior
Pratham Pag Academy is the first of its kind academy in Gwalior and nearby areas. The Academy is well known for its faculty and the amount of input the institution put in one's preparation for defence exam and SSB. Their live SSB sessions and individual performance assessment by teachers are the most appreciable part.
4. Cadeto India
Cadeto India Armed Forces Preparation Institute excels in the field of written exam preparation for Defence Exams like - SSB Interviews | NDA | CDS | AFCAT | Soldier GD | Group X & Y | & GATE | CAT | UPSC Civil Services | Banking | Other Exams. We are present in both Online / Virtual mode and Offline physical classrooms.
5. Sai Defence Academy Dehradun
Sai Defence Academy is the number one SSB coaching institute in Dehradun which is being run under the guidance of NDA Guru Alok Sir. The SSB syllabus of NDA Guru Alok Sir's Sai Defence Academy Dehradun has been prepared in such a way that the candidate can answer the questions asked in the SSB very well.
6. Edge Academy Kota, Rajasthan
"EDGE ACADEMY has set out to impart training and life skills with emphasis on enhancing 'HUMAN EDGE' through personality enrichment and excellence. Edge Academy offers a variety of Courses and Workshops including training for Joining Armed Forces and giving you Military like experience.
7. Saarthi Institute for Career Excellence
Saarthi Institute for Career Excellence is imbued with the spirit to transcend the youth of the country into future leaders as pillars of modern India. It has played a vital role in assessing and selecting the future generation of officers in the Indian Armed Forces.
8. Raksha Academy Ahmedabad, Gujarat
Raksha Academy is one of the best coaching institutes for SSB preparation. Its mentor is a retired Coast Guard Officer who has a rich experience of recruitment of officers and has designed the SSB training facilities at Raksha Academy, Motera to provide an actual SSB environment to the candidates to develop their confidence for better results in SSB.
9. Vision Defence Training Center Chennai
Vision Defence Institute is the best and most sought-after defence officer preparatory and training center located in Chennai. Their mission is to make your dream come true, achieve your goal of being in Uniformed services in Indian Army, Indian Navy, Indian Air Force, Indian Coast Guard, and Paramilitary forces in India.
10. Bright Career Academy, Shimla
Bright Career Academy firmly believes that as an educational institute, it is its duty to not only to enable the students to succeed in his pursuit of clearing the competitive exams but also to enact their bright young minds in the accession and intellectual augmentation of the society as a whole. They assert the students to explore the horizons of their capabilities and boost them into surpassing the limits of excellence.
Stages of the SSB Exam
Stage 1: Screening Test
In this initial stage, candidates undergo intelligence and aptitude tests. Those who qualify move on to the next round.
Stage 2: Psychological Testing
This stage evaluates the candidate's psychological suitability for the armed forces through various written and interactive tests.
Stage 3: Group Testing
Candidates participate in group activities, assessing their teamwork, leadership, and problem-solving skills.
Stage 4: Personal Interview
A comprehensive interview is conducted to assess the candidate's suitability for the officer role.
Important Tips for SSB Exam Preparation
Understand the Exam Pattern
Familiarize yourself with the exam pattern, including the types of tests and their respective durations.

Work on Communication Skills
Effective communication is vital. Practice speaking clearly and confidently to express your thoughts.

Develop Leadership Qualities
Engage in activities that nurture leadership qualities, as they are highly valued in the armed forces.

Stay Physically and Mentally Fit
Maintain good physical and mental health. Regular exercise and meditation can help enhance your overall well-being.

Common Mistakes to Avoid

Lack of Preparation
Insufficient preparation can lead to underperformance. Allocate ample time for studying and practice.
Overconfidence
Confidence is essential, but overconfidence can hinder your ability to learn and adapt. Stay humble and open to feedback.
Ignoring Time Management
Effective time management during the exam is crucial. Practice solving questions within stipulated time limits.
Read Also-

Top Five NDA Coaching in India