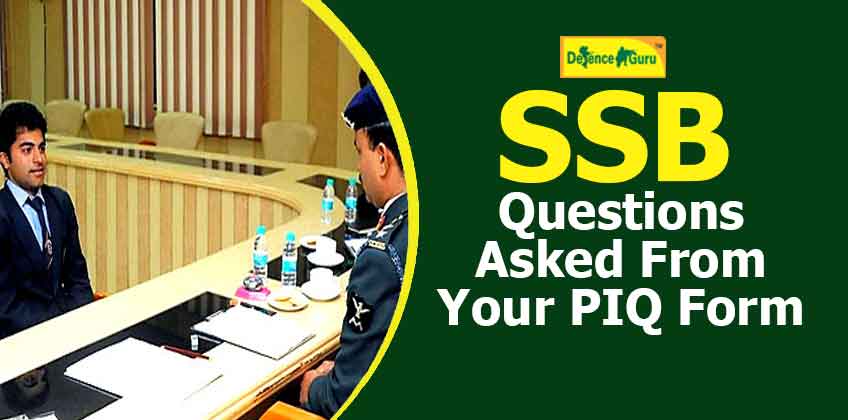 The SSB Interview comprises a variety of tests intended to measure leadership qualities in candidates. Defence aspirants who pass the screening stage of the SSB Interview are given the PIQ or Personal Information Questionnaire. Its primary objective is to check for consistency between your performance and what you wrote. It also helps assessors in evaluating your entire background, including your academic achievement, involvement in extracurricular activities, and overall personality traits. Candidates must complete three copies of the same PIQ form, one for each assessor, which includes a Psychologist, an Interviewing Officer, and a GTO. Read on to know more about the importance of PIQ and the important questions asked about it during the SSB Interview.
Importance of PIQ during different stages of SSB Interview
It facilitates assessors in forming a mental image of your casual attitude by examining at how you fill out the form and then comparing your responses to what you put in the TAT, WAT, SRT, and Self Description to see whether they are all authentic or if you are simply misrepresenting your personality.

It also assists in determining candidates' orientations and team spirit. For example, if someone writes in his or her PIQ that they are supportive in nature and enjoy working in a team, but they are unable to contribute to group tasks and become irritated unreasonably, the assessor may catch an illustration of his or her personality traits.

The most important thing you can do to prepare for the SSB Interview is to develop a type of self-introspection. When filling out your PIQ, make sure there are no discrepancies between what you write and what you actually do. As a result, the easiest thing to do is to fill out the form yourself, then continue asking questions about it, then assess your responses to come up with more counter questions.
Important Questions asked from PIQ in SSB Interview
What were the competitive exams you took and how did you perform on them?

What can you tell us about the previous city where you had your SSB interview?

Who is the most important person in your family, and why?

When we examine your performance in the 10th and 12th grades, why did your academic results decline?

What different preparations did you do this time to get recommended?

Tell me about your city and how you think it differs from others.

Why should we recommend you when SSB boards have already disqualified you?

How did you adapt to the lifestyle adjustment from school to the hostel?

Why not join the Army as a soldier if you are so eager to serve and defend your country?

In comparison to past SSB interviews, how did your performance differ this time?

Despite your IT expertise, why did you choose a non-tech course over B.Tech, which is a more prudent choice?

How do you play sports despite your busy schedule, as you mentioned?

In what ways do you believe your education will aid the development of the Indian Armed Forces?

Why are you unemployed despite being a well-educated and skilled young man?

Why did you choose the Army over the other services?

What extracurricular activities have you participated in and how well did you perform?

Why were you elected captain of your team, and what are your obligations as captain?

How well did you think you handled your responsibilities as a group leader?

What sporting activities have you engaged in, and how did you fare?

How do you manage your team and collaborate with members to achieve success as a team leader?

Why do you wish to join the Indian military rather than a civilian job?