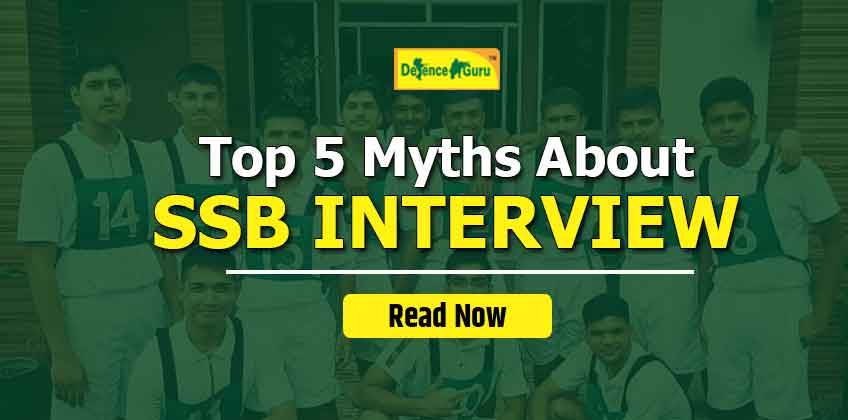 Myths About SSB Interview
Many candidates who appear for the SSB Interview have common misconceptions, such as those candidates with an army background or from one of the military schools have a better chance of being selected than candidates without an army background, in fact, both have equal chances and it all depends on your competence and character traits. Some applicants don't get an opportunity to speak during group discussions, so they start yelling in the hopes of getting filtered in, which isn't true because cooperation should be the primary goal here. These are some of the most popular SSB Interview myths among candidates who appear before the Services Selection Board. In this article, we'll go over the top 5 SSB Interview myths and how to avoid them, in order to help SSB aspirants dissipate these misconceptions and prepare meticulously.
Top 5 Misconceptions about SSB Interview
Many candidates believe that the number of candidates who will be chosen from each batch is predetermined. This is also a fallacy, as the assessor at the SSB Interview is not obligated to select a specific number of candidates. They simply recommended applicants who meet the criteria for entrance into the armed forces, and a final merit list is prepared, based on which the candidates are enrolled in various academies. Many candidates believe that officers are watching them from the train station, but this is not the case. The actual test of a candidate takes place only during the testing procedure.
1. The Privilege of Having a Defence Background
The benefit of having a military history is a frequent misconception among most SSB candidates. The only advantage of having a defence background is that you are aware of the Armed Forces' rules and traditions, which has no bearing on the recommendation process; rather, the parameters are high for you because they want you to have both fundamental and broad understanding of forces. Most of the candidates who did not have military experience passed SSB and were recommended, debunking this popular notion. The sole reason many people with military histories are chosen is that they are encouraged to live a lifestyle that is conducive to creating a personality that is suited for forces in a variety of ways.
2. Extra-Curricular Activities and Sports Must for Recommendation
Having a lot of extracurricular activities and sports shows that you're physically active, but they're not the only criteria for getting chosen because there's no single activity or action that determines whether you're chosen or not. Along with sports, strive to enhance your general awareness and academics to gain an advantage, as sports and extracurricular activities do hone your personality and psychology, but other factors are also important, and you will not receive the recommendation if you do not do so.
3. Proficiency in English Speaking and Communication Skills
Candidates with inadequate English are frequently concerned that they will fall behind because of their language skills. Despite the fact that this is untrue, many people believe that if their English is bad, they will not be chosen. Candidates should be aware that they must have strong communication skills as well as the ability to express themselves in a variety of languages, not only English. Although English is beneficial, it is not the main criterion for selection because you must be able to effectively communicate your thoughts and ideas.
4. Narrating Stories Based on Life of Defence Officers Only
Candidates who believe this myth should be aware that psychology is the scientific study of mind and behavior, which encompasses both conscious and unconscious phenomena such as feelings and thoughts. Some candidates try to impress the psychologist by writing prepared responses and stories with a large number of valiant activities and heroes performing a variety of acts, and then achieving a happy ending. Your reaction to a certain stimulus in the form of an image is what psychology is all about. You must write in accordance with your personality and be who you are, and if you confine yourself to stories and comments about officers and the armed forces, you are demonstrating a lack of imagination. Candidates should be able to construct their contextual stories and interpret them in the best possible way, as it is an academic discipline with a vast scope that crosses the borders between natural and social sciences.
5. Shouting in Group Discussion Makes an Impression
Yes, having a dominating yet courteous voice while participating in a group conversation is acceptable, but it does not appear to be appropriate in every case. Most candidates believe that raising their voice demonstrates their confidence or aggressiveness and that this is the sole attribute an officer must possess. Some candidates become angry and begin shouting during the group discussion process, which is a bad aspect, and candidates should be aware that their voice is not the only factor that determines their level of confidence. Candidates should bear in mind that voice modulation is highly important according to the needs of the hour, so they should keep their voices under control and ensure that they successfully communicate their thoughts to their teammates.
Read More About - Top 5 SSB Coaching in India