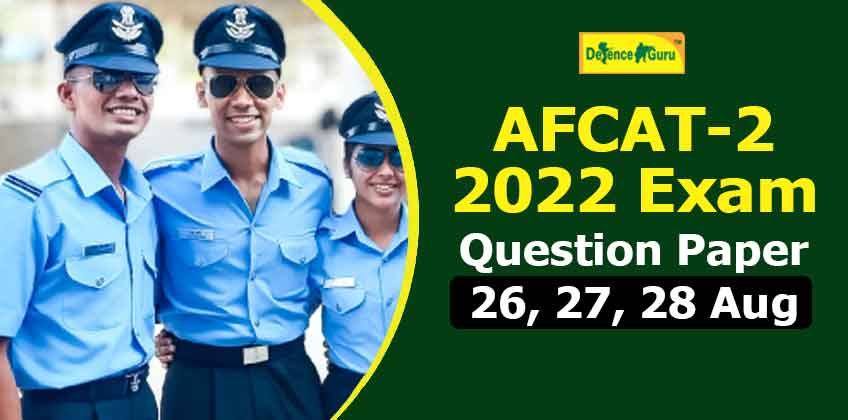 Questions Asked in AFCAT 2 2022 Exam (26th, 27th, 28th August 2022)
The important questions from AFCAT 2 2022, which took place on August 26, are listed below. Candidates preparing for the AFCAT exams on August 27 and 28 may gain some insight into the types of questions that will be asked. The Indian Air Force (IAF) held the Air Force Common Admission Test - AFCAT 2 2022 in an online format today, August 26th. Applicants who will be taking the upcoming exams on the 27th and 28th can now view the AFCAT 2 2022 exam analysis, which includes a list of important questions from the AFCAT.
The AFCAT 2 2022 exam was conducted today on August 26.

The paper's level of difficulty varied from easy to moderate.

The AFCAT 2 2022 exam was conducted on August 26 in two shifts.

The exam will be held on 27th and 28th August for remaining candidates.
List of Important Questions Asked in AFCAT 2 2022 Exam
Idiom related to Jaundiced Eye

Antonym of Haughty

One word substitution for an amusing and Interesting story

Tiger : Forest:: Otter : ?

Eye : Myopia :: Teeth : ?

Venn Diagram for Factory, Product, Machinery

Synonym of Reprimand

Synonym of Prejudice

Antonym of Crafty

Synonym of Precarious

Synonym of Proponent

Antonym of Intrinsic

Antonym of Colossal

Idiom related to haul over the coals

Idiom related to take time by the forelock

Odd One Out from Singing, Playing, Writing, Breathing

Odd One Out from March, November, August, July

86th Constitutional Amendment Act

Gandhiji presided over which Congress session

On which river Washington DC is situated

Which schedule of the Indian Constitution is related to Panchayati Raj

Which category of aircraft is TEJAS

Venn Diagram of Oil, Lamp, Wick

Motto of Territorial Army

Headquarters of the International Court of Justice
List of Important Questions Asked in AFCAT 2 2022 Exam (27th August)
Synonym of Placid

Synonym of Temporal

Synonym of Devolve

Synonym of Cajole

Antonym of Cardinal

Synonym of Trivial

Antonym of Archaic

Idiom of to hit the hay

Idiom of to kick the bucket

If two dice are thrown, find the probability that the sum of the number is divisible by 4 or 6?

Shanti Swaroop Bhatnagar award is related to which field?

First nuclear submarine of the Indian Navy?

Indigenously launched COVID-19 vaccine?

Who is related to Bahishkrit Bharat?

Who wrote the book "Why I am an Atheist"?

What is Supernova?

Question regarding the Attorney General of India

The Global Competitiveness Report is published by whom?

Question related to Green House Gases?

Question related to Grasslands

Countries which have signed CEPA in February 2022

Name of the engine used in Gaganyaan Mission?

Anju Bobby George is related to which sport?

Bal Gangadhar Tilak is related to which movement?
AFCAT 2 2022 Exam Analysis
| | | | |
| --- | --- | --- | --- |
| Section | Questions Asked | Good Attempt | Difficulty Level |
| General Awareness | 25 | 18-22 | Easy to Moderate |
| Numerical Ability | 20 | 12-15 | Moderate |
| Verbal Ability | 30 | 17-20 | Moderate |
| Reasoning & Military Aptitude | 25 | 20-22 | Moderate |
Three marks will be given to the applicants for each accurate response.

For each incorrect response, one mark will be deducted.

For questions that are not attempted, there will be no penalty.
We hope this article on the list of important questions asked in the AFCAT 2 2022 exam will assist you in determining the level of difficulty of the questions this year. Visit our website to find other key information on topics similar to those covered in the defence examinations. Contact us at https://www.defenceguru.co.in/ for comprehensive defence exam preparation, including AFCAT, CDS, NDA, and SSB preparation.