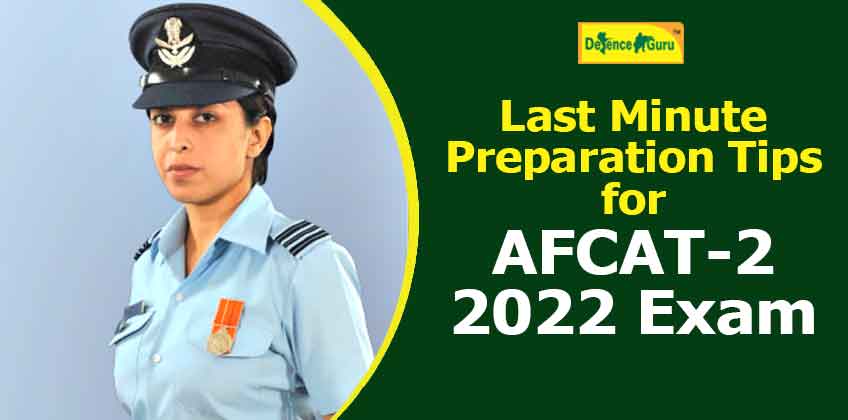 AFCAT 2 2022 Exam Last Minute Preparation Tips
The AFCAT 2 2022 Admit Card has been made available by the Indian Air Force on its official website. According to the information received, the Air Force Common Admission Test (AFCAT) will be conducted from August 26 to August 28, 2022. The Indian Air Force has devised a schedule for the online administration of the AFCAT 2 2022 exam at a variety of different locations throughout the nation on a selected date. In order to ace the exam, considering the short amount of time left before it, candidates must devote time to understanding key strategies for creating exam-cracking approaches. To learn more, keep reading.
Important Highlights of AFCAT 2 2022 Exam
As per the notification issued by the AFCAT-CDAC, the Air Force Common Admission Test will be held from 26th August to 28th August 2022.

The AFCAT 2 2022 exam will be conducted online at a number of different locations across the country as per the schedule decided by the Indian Air Force.

General Awareness, Verbal Ability in English, Numerical Ability and Reasoning, and Military Aptitude Test are among the key subjects covered under the AFCAT syllabus.

Individuals who are interested in the Indian Air Force's technical branches must also complete an additional online test called the Engineering Knowledge Test (EKT).

Candidates will be awarded three marks for every correct answer, however, for every wrong answer, one mark will be deducted as a negative marking.
Important Preparation Tips to Crack AFCAT 2 2022 Exam
With the help of the preparation tips mentioned below, you will be able to coordinate your learning for a better outcome by evaluating each subject and comprehending the importance of topics from an examination standpoint. Candidates who intend to take the exam must be able to comprehend the proper strategy for finishing up their AFCAT exam preparation. So, we've gathered some of the best tips that can help you pass the AFCAT 2 2022 exam. These tips will enable you to finish the extensive exam syllabus on time and take action accordingly, putting emphasis on your study sessions. To accelerate your AFCAT exam preparation, follow the ten important tips for AFCAT 2 2022 as mentioned below.
Understanding the Syllabus Weightage
The very first thing to understand is the weightage of the syllabus before you begin your AFCAT preparation for 2022. You'll have a better sense of what to concentrate on if you know which topics will be accorded more importance than the others. As a result, you will be able to properly organize your preparation strategy.
Focus on English Section
If you undertake your AFCAT English preparation with absolute commitment and the appropriate methodology, English is one of the subjects where you can score big with ease. According to the analysis from the previous year, about 25 to 28 questions appeared from this section. The majority of these questions deal with the following subjects: antonyms and synonyms, grammatical elements, idioms and phrases, and comprehension.
Major Aspects of English
Cover the content by concentrating on your understanding, vocabulary, grammar, and idiomatic expressions by learning at least two to three passages every day. To comprehend the basics, you can also consult books on elementary grammar. You can also find exercises to complete, rehearse, and strengthen your basic framework.
Focus on General Awareness Section
When it comes to the exam, the general awareness portion is significant. It requires less time to complete the questions, and if you are well prepared, it can significantly improve your score. Make sure you keep up with the most current developments, sporting events, and activities to improve your general knowledge. To help tremendously in your preparation, read newspapers, online news articles, watch videos, and keep up-to-date with current events.
Special Attention on Numerical Ability
For the Number Ability section, you will need to work on topics like Profit & Loss, Average, Percentage, Decimals, Ratio & Proportion, Speed, Time & Distance, Fractions, etc. Work on the topics first that will be assessed in the exam. To make it simple to find the formulae during revision, write them all down in one spot.
Attempting EKT is a Must for Technical Candidates
The EKT, or Engineering Knowledge Test, also includes a component that evaluates a candidate's knowledge of mechanical, electrical, and electronic systems, as well as computer science. The ideal way to prepare for the AFCAT for EKT is to evaluate your background information on the topics stated above and to constantly revise them.
Focus on Revising the Key Concepts
Candidates should examine all they learned in classrooms during their 10+2 cycle as well as the prescribed coursework in order to perform satisfactorily in the actual exam. Candidates should focus on developing a conceptual understanding of the listed areas and getting experience on sample papers to get accustomed to the AFCAT exam questions.
Physical and Mental Fitness is a Must
Additionally, candidates are advised to follow a rigorous schedule in order to maintain good physical and mental health and do well on exam day. In order to avoid marking inaccurate responses, candidates should read and understand the questions to get a feel of what is being addressed.
Follow a Strategic Approach
Candidates should keep track of their performance throughout the exam and avoid wasting time on difficult questions; instead, if they become stuck on one, they should move on to the next. Candidates should focus more on revision because doing so will help them get ready for the AFCAT in the best possible way.
Effective Time Management is Imperative
Candidates should work on improving their time management skills in order to successfully complete a sufficient number of questions within the allocated time, as time management has become so crucial in online tests. Therefore, in order to gain a better understanding, candidates are recommended to take as many online mock examinations as they can.
Conclusion:
The most significant aspect in achieving the highest score is adhering to the prescribed syllabus and exam pattern. To keep track of their timing, candidates should begin with their key strengths before moving on to their weaker AFCAT exam areas. For the AFCAT exam, candidates should focus on their speed and accuracy in order to master it with flying colors. You must create a thorough study schedule for each week in order to be successful in preparing for the AFCAT 2022 exam. Consider the importance of the topic and order them appropriately. Set aside time each day just for revision. You can improve your AFCAT preparation for 2022 by revisiting the data and concepts you have already learned.