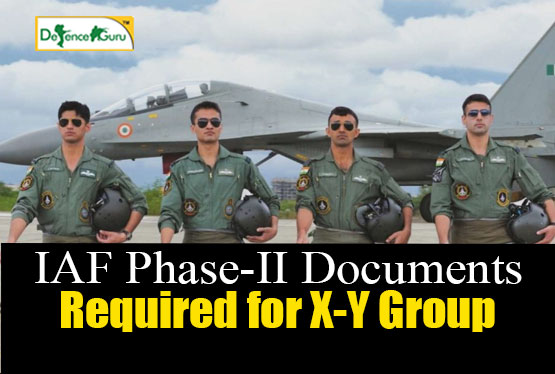 Documents Required For Airmen Phase II
Airmen entrance procedure under Indian Air Force is a two tier process. Phase 1 involves a written exam while Phase II incorporates 3 different stages.
Conducted by Central Airmen Selection Board (CASB), the Airmen exam aims to admit students for technical and non- technical category, that is, X and Y group. This is an exclusive opportunity to get entry into Indian Air Force just after you are done with your 10+2 level of education.
So what goes into the entrance? Well Phase 1 is a written exam following which there comes Phase 2. The latter is further divided into 3 parts:
Document verification
Physical Fitness Test (PFT)
Adaptability test 1 and Adaptability test 2 (AT 1 and AT 2)
I endeavor to shed light on document verification, the 2nd stage of Phase 2. Here is a list of all necessary documents that you have to carry so carefully note the following:
Color print out of application downloaded on final registration online.
Stationary items such as HB pencil, eraser, sharpener, glue, stapler, blue/ black ball point pen
10 copies of unattested recent passport size photograph.
Note: the photos need to match the one you uploaded in your application form
Original as well 4 self attested photocopies of matriculation pass certificate for verification of candidate's name, father's name and date of birth.
Original and 4 self attested photocopies of matriculation mark sheet.
Original and 4 self attested photocopies of Intermediate/ 10+2/ equivalent qualifying examination mark sheet.
For exceptional category: Certificate for SOAFP (Son of Air Force Personnel), certificate for sons of serving/retired/deceased Air Force civilian employees paid out of Defence estimates are to be downloaded as the case may be, from the download section of CASB web portal and brought along while reporting for phase –II of the Selection Test. Wards of retired Air force personal to produce original discharge book of their parents.
Also bring Phase- 1 admit card with Air Force seal and invigilator's signature on it.
Original and four Self-attested photocopies of Discharge Certificate (as issued from Indian Army/Indian Navy/Government Organization) is mandatory for candidates discharged from Indian Army/Indian Navy/Any other Government Organization.
Original and 4 self-attested photocopies of NOC from the employer for candidates presently serving in any government organization (if applicable).
Lastly, original and four self-attested photocopies of NCC 'A', 'B' or 'C' certificate (if applicable).
So if you have checked the Phase 1 result 2020, which you might have as it has been released on the official website, then start gathering the above documents to appear fully prepared for Phase 2.