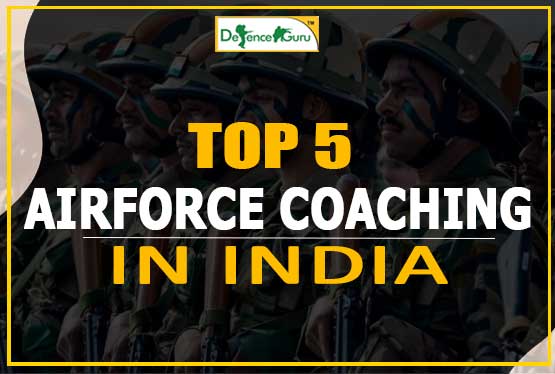 "Fly higher, higher and higher…. touching sky, viewing a broader and clearer world with a sense of dignity and self pride, leaving an impression of victory above all". When we are growing up, we all have our dreams and we have an ultimate passion to conquer our dreams, all starts with a small desire landing into a strong headed target to accomplish our dreams.
The most dignified and well suited career for youth in today's era is joining Indian Air Force; here the aspiration finds the satisfaction. You can go anywhere, anytime, anyplace as you're operating a machine that's a lot more powerful than you are. Idolize bigger, broader and deeper for yourself as nothing can put you back in achieving your dreams, but to fit into the right place take right step requires a perfect package of knowledge, support and guidance to rely on.
Relevant platforms and sources are available all around your reach, be the one among millions to make the best use of it and come out as victorious. Exams are conducted on time to time bases for the recruitment of fresh and aspiring candidates to choose Indian Air force as a career. To become a warrior in Indian Air Force, the overall information required by every aspiring candidate in qualifying the examinations for which they wish to participate and qualify in the Indian Air Force is available here.
Qualifying exam to join the Indian Air Force is Air force X group examinations and Air force Y group examinations. Choosing Indian Air Force as a career would mean becoming an air warrior ready to face the challenges; males can only apply in these exams to confirm their position. Air force X/Y group examinations is for selecting Airmen (soldiers). Group X is conducted for Airmen technical entry whereas Group Y is conducted for Airmen non-technical entry. Large number of students every year enrolls to confirm their seats in these examinations.
Here is a list of Best 5 Air Force Coaching in India that holds best results in selections of Indian Air Force examinations.
The Premier, the Finest and the best Defence coaching institute for the preparation of Air Force Group X, Y Examinations in Lucknow, India. The mission of Centurion Defence Academy is to inspire and transform outstanding young men and women into courageous, dynamic, intellectual and cultured young Air Warriors. CDA specializes in imparting training for SSB interviews for Army, Navy and Air Force Selection Boards for NDA, CDS, OTA, SSC, NA, AFCAT, TES, UES, JAG, TGC; Special Entry Scheme for Women; Army Candidates: (SCO), PC(SL), ACC; Navy Candidates: CW, SD, HET; Air Force Candidates: F(P), GDOC, Branch Commission and NCC- C certificate candidates for all wings and also offer written exam coaching for NDA/ CDS/ OTA/ ACC/ CAPF(AC)/ and AFCAT. Marking its victory throughout in so many years, Centurion is one of the leading institute in Defence preparation. CDA is known for its high quality deliverance in Air Force sector from years, with a well equipped renowned faculty members of highest caliber imparting their skills and experienced knowledge of information in building your future in Indian Defence in the most efficient and effective way. Centurion Defence Academy imparts training for Services Selection Board (SSB) Interviews for Defence Forces, including complete process for selection viz.; Interview, all Outdoor and Psychological tests, screening tests, Group Discussions, etc. The Academy has experience of creating 5000+ officers in this field and has best selection rate in past few years. The prime goal of this academy is supporting and encouraging youngsters for qualifying Air Force examination in all the levels of its selection. The institute delivered 60+ Selections in Airforce-II-2019 creating a new record of highest no. of selections inn India.
Special Features:
- Coaching programme designed in a scientific manner that develops both your knowledge and your problem solving ability.
- Provides air-conditioned classes, including audio-visual support, separate Hostel for Boys / Girls, Online Lab, Library, Weekly Mock Test, Online Test, Physical training, parade once a week, outdoor tasks, personalized training.
- Systematic approach to cover the conceptual topics and analytical approach to make you ready for the written exam.
- Separate Hindi & English Medium Batches.
- Chapter Wise Practice Problem and Unit Wise Monthly Test.
- Feedback & Parent Meeting.
- Free Study material for your course
- Free Online test series at own online lab
- Free Air force Phase-II Classes
- PD sessions & English spoken classes
- Backup classes and doubt clearing sessions
- Annual medical check-up
- Mobile app for all defence notifications
Force Defence Academy- Serving the nation with the best quality of services, force defence academy motto speaks well about its excellence in Defence Academy. Situated in Indore (Madhya Pradesh), this institute is handled by experienced professors who are experts in their subjects. Indian Defence is known for its overall capabilities and performance in nation, where Force Defence Academy leave no stone unturned in living up to this expectation. FDA provides training to its defence aspirants to join the Indian Army, Air force (especially X, Y group) and Navy (and allied services like the Coast Guard etc) at various levels of entry. The major thrust is on entry into the prestigious exams like NDA, CDS, Sainik school and RIMC etc. In addition, students are also groomed for selection for Sainik School, RIMC, Military schools etc.
Cadeto India – Started with a vision of providing the best education to students and aspiring candidates in the Indian Air Force, Cadeto India in Bengaluru, Karnataka is one of the best institute for Air Force X, Y Group preparation in South. The Institute has been set up with the purpose of grooming and developing students and Officer aspirants of Armed Forces, Air Force. Cadeto India Armed Forces excels in the preparation of written exam preparation of NDA, CDS, AFCAT, Soldier GD, Group X & Y and Other Exams also top by delivering good results in SSB Interview's and Personality Development. Cadito institute provides supplementary exams, Online / Virtual mode and Offline physical classrooms.
Global Defence Academy –Institute is in Dehradun, Uttarakhand, with the main of this coaching is in imparting quality education and training to all those who join the coaching to crack the Air Force X, Y Group test confidently and successfully. GDA conducts batches for various competitive examinations of defence exams like Air force, NDA, CDA, Indian Navy, AFCAT, NDA courses entrance exams. With the best experienced resources to expert training team to the smart classes on projector to enhance productivity, GDA have it all for you. The primary focuses of Global Defence Academy is commitment, good results, creativity and superiority and make an effort to work in the field of functionality to highlighting the target using candidate that brings us together.
Victor Growth NDA - Victor Growth coaching institute is in Thiruvananthapuram, Kerala, provides coaching for IMA, CDS, Army, Navy AA, SSR, Air Force (Group X, Y), AFCAT, SSB (SSB Interview coaching for NDA, CDS) exam preparation as well as for all the young aspirants. It has nurtured many brave and young aspirants with its excellent mentorship and guidance in the Air Force Group X, Y examinations. Headed with a team, Victor Growth provides complete grooming to aspirants who are going to face the Air Force Officers level exams. The key features are updated study material as per the current exam syllabus, well equipped audio-visual aids and meticulously designed study material, computerized coaching, use of LCD projector to make the academic lessons easy to grasp, while taking care of each candidates by providing personalized attention overcome his or her shortcomings.
The best Air force coaching institute for the preparation of Air Force X, Y group examinations is listed here, aspiring candidate can find an appropriate institute which suits their location and budget appropriately.