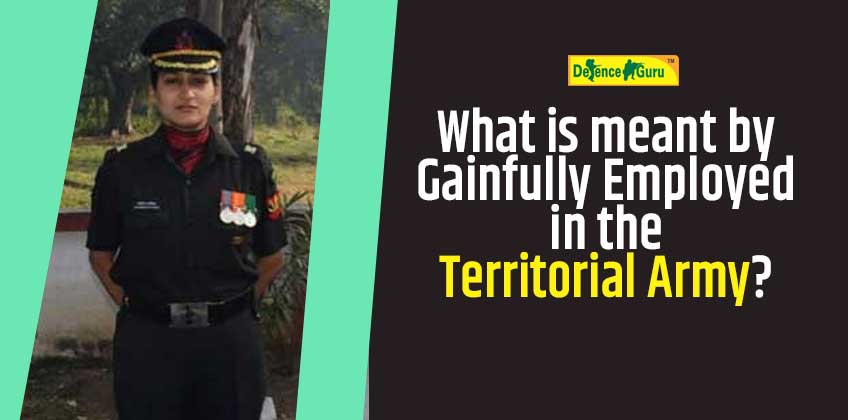 Are you trying to figure out the meaning of the term Gainfully Employed? If you have ever applied for the Territorial Army recruitment, you would probably have gone through this word. We will clarify the meaning of this term with suitable examples in the below sections of this article. Let's have a look at the Territorial Army first before we get into the definition of the term Gainfully Employed. The Territorial Army provides assistance to the regular Army in peacekeeping and civil administration thereby relieving it of static responsibilities. On 9th October 1949, the then Governor-General of India Shri C. Rajagopalachari formally inaugurated the Territorial Army which was restructured through the Territorial Army Act, 1948.
Every year online applications are invited from gainfully employed Indian citizens to join the Territorial Army as Officers and serve in a military atmosphere without giving up their primary occupations. Here the word 'Gainfully Employed' simply refers to a profession, an occupation, or any other source of income that provides an individual with a means of livelihood.
Gainfully Employed means an Indian citizen both male and female between the age group of 18-45 years who are indulged in either of the below-mentioned services are eligible to apply for the Territorial Army.
Central Government Service or,

State Government Service or,

Semi-Government Service or,

Public Sector Undertaking (PSU) or,

Private Sector or,

Self Employed or,

Family Business or,

A Legal Practitioner or,

A Doctor or,

A Teacher or,

An Engineer or,

A Farmer or,

A Businessman or,

Ex-Servicemen
The self-employed candidates are required to submit an Affidavit on Non-Judicial stamp paper which states their nature of employment and annual income along with a photocopy of PAN card and self-certified Character Certificate. However, the serving members of the Indian Army, Indian Navy, Indian Air Force, Central Police Forces, State Police Forces, Para Military Forces, and General Reserve Engineering Force (GREF) are not eligible to apply for the Territorial Army.
Candidate who qualify in written test of Preliminary Interview Board are required to bring the following documents in original along with self-attested copies at the time of Preliminary Interview Board to show income proof:
Latest income proof from the appropriate authority (i.e. Income Tax Revenue Department / Magistrate / Employer).
(l) Copy of PAN Card.
(m) Copy of Aadhar Card.
(n) Copy of latest Income Tax Return (ITR) filed.
(o) Employees of Railways are required to submit No Objection Certificate authenticated by Railway Board.
THE FOLLOWING APPLICABLE CERTIFICATE BE COMPULSORILY PRODUCED AT THE TIME OF INTERVIEW:
(a) CERTIFICATE TO BE RENDERED BY CANDIDATES EMPLOYED IN CENTRAL GOVT/UNION TERRITORY/ STATE GOVT/ SEMI GOVT DULY AUTHENTICATED BY HEAD OF OFFICE
(b) CERTIFICATE TO BE RENDERED BY SELF EMPLOYED PERSONNEL (SELF CERTIFIED BY THE CANDIDATE)
(c) CERTIFICATE TO BE RENDERED BY CANDIDATES EMPLOYED IN PRIVATE SECTOR (TO BE AUTHENTICATED BY HEAD OF OFFICE)